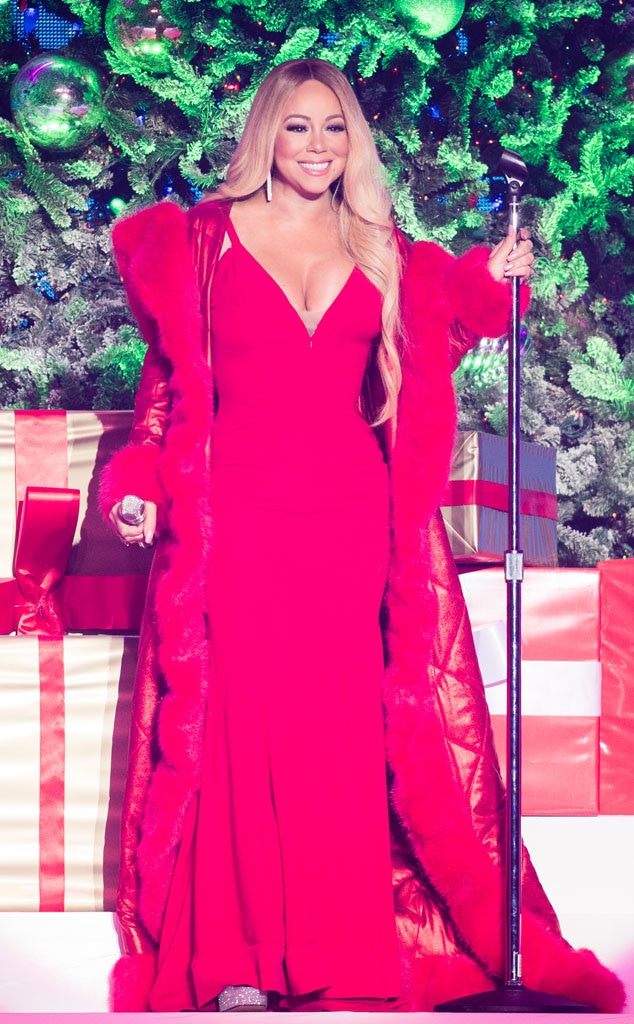 Samir Hussein/WireImage
Benjamin Franklin once famously wrote that "in this world nothing can be said to be certain, except death and taxes."
All due respect to our Founding Father, who clearly had no way of foretelling this particular piece of the future, but we'd argue that there are, in fact, three facets of life that one can always count on: those first two and, additionally, that every holiday season, Mariah Carey's seminal track "All I Want for Christmas Is You" will re-enter the Billboard Hot 100 chart.
In the 25 years since the elusive chanteuse first released the legendarily festive album appropriately entitled Merry Christmas, of which the aforementioned title served as its lead single, on October 28, 1994, she's gone on to become the unofficial Queen of Christmas, singlehandedly revolutionizing the idea of the seasonal release while remaining absolutely peerless in terms of impact and success despite how many of her contemporaries have followed in her footsteps.
It may seem unfathomable now, given her long reign as pop's queen of Christmas and the many pretenders to her throne who release album after album each holiday season, but when there once was a time when Christmas albums were considered a thing of embarrassment, something only aging artists long past their prime turned to in the hopes of some minor success. They were certainly not the sort of thing you'd expect from a pop diva who'd just released what would go down as the most successful album of her storied career—1993's Music Box, her third studio album that's gone on to sell 28 million copies worldwide and gone down as one of the best-selling albums of all time. 
So when Tommy Mottola, then both her manager and husband, suggested that, for her fourth studio album, she get a little festive, it was almost completely without precedent. 
"20 years ago, Christmas music and Christmas albums by artists weren't the big deal that they are today," Walter Afanasieff, a frequent collaborator of Carey's in the first decade of her career who co-wrote all of Merry Christmas' three original songs, including "All I Want for Christmas Is You," with the singer, told Billboard in 2014. "Back then, you didn't have a lot of artists with Christmas albums; It wasn't a known science at all back then, and there was nobody who did new, big Christmas songs."
The idea presented such a risk, in fact, that Mottola wrote in his 2013 book Hitmaker: The Man and His Music that when Carey was shown the now-iconic album cover, she said to him, "What are you trying to do, turn me into Connie Francis?" 
Nevertheless, he managed to convince her that the project had appeal and work on the album began in the final days of 1993, when Carey began recording covers of the classic holiday tracks that would make their way onto Merry Christmas, like "Silent Night" and "Joy to the World." Eventually, it came time to create the album's trio of new tracks, with Carey and Afanasieff beginning writing ballad "Miss You Most (At Christmas Time)," the gospel-influenced "Jesus Born on This Day" and the glossy pop of "All I Want for Christmas Is You" deep in the summer of 1994. According to Afanasieff, the latter only took them 15 minutes to write. "It's definitely not 'Swan Lake,'" he told the New York Post in 2014. "But that's why it's so popular — because it's so simple and palatable!"
Like most entertainment meant to be consumed during the most festive time of year, Carey had to get creative to feel the holiday spirit while recording at a time of year where the rest of the world was more likely to be relaxing at the beach. "We had Christmas trees and lights brought into the studio to get us in the mood," Afanasieff told the Post of the track, which was recorded in August in New York City. "There was even talk of bringing in some snow at one point, but we didn't go with that, thank God!"
By mid-October, a rumor began to circulate that Carey was readying the release of a holiday album. And two weeks later, Merry Christmas arrived. It debuted at No. 30 on the US Billboard 200 with 45,000 copies sold in its first week. By week five, it peaked at No. 3. By the end of 1994, it had sold a total of 1.85 million copies. 
While promoting the album in Australia, the Queen of Christmas mentality jumped out. "I made this album because I love Christmas-time, it's my favorite time of the year," Carey said. "I'm the most festive person under the sun – the day after Thanksgiving I'm out shopping for the tree, putting up decorations and Christmas shopping and everything. So it was just for me to have fun and hopefully, for my fans, it'll be something they can enjoy." 
While "All I Want for Christmas Is You" was an immediate standout, peaking at No. 6 on the Billboard Hot Adult Contemporary and at No. 12 on the Hot 100 Airplay charts in the first week of January 1995, the song was deemed ineligible for inclusion on the Billboard Hot 100 because it hadn't been released commercially as a single. It wasn't until that particular rule lapsed in 1998 that the song could chart, peaking at No. 83 in January 2000.
The song would take on new life, however, when Carey allowed it to be included in the 2003 hit film Love Actually, introducing it to a new generation nearly 10 years after its release. By December 2005, the song had topped the Billboard Hot Digital Songs chart, but was kept from returning the the Hot 100 because of another rule that kept what they publication considered to be "recurrent singles" from re-entry. So, every December, like clockwork, from 2005 to 2008, the song would top the Hot 100 Recurrents chart. In 2012, that rule was revised to allow songs in the top 50 onto the official Hot 100 and, right on cue, "All I Want for Christmas Is You" did just that, re-entering at No. 29. By 2017, it would reach No. 9, giving Carey her 28th top ten in the country and first in nearly a decade. In January of this year, it reached No. 3.
As Afanasieff admitted to Billboard on the album's 20th anniversary, no one involved ever expected "All I Want for Christmas Is You" to be the sort of once-in-a-lifetime hit it became. "To think of it as a single that's going to No. 1, that's going to drive an album…we didn't have an inkling of that," he said. "That's not what the time was. That's what made it such a modern phenomenon: Because it's not like "White Christmas" or "Jingle Bells" – the song doesn't have any of those traditional elements, but it became a huge pop hit."
And one whose success no one has been able to replicate since, despite the many, many efforts from just about every other artist currently recording music. "I'm not totally sure what to say, because to me, it's kind of a cosmic occurrence that happens once every five billion years," the songwriter explained. "By the way, thousands of original Christmas songs have been written in the last 20 years. It's not like no one writes Christmas songs—everyone is trying to get a Christmas song. But for whatever reason "All I Want For Christmas Is You" just became that song. It's kind of something you never would have thought, and you can't really explain why, and we feel lucky, because it was the last major song to enter that Christmas canon, and then the door slammed shut. It just closed."
Over the years, Carey has leaned into status as Queen of Christmas, releasing a follow-up to Merry Christmas, appropriately entitled Merry Christmas II You, in 2010. Alongside six new tracks, including the absolute bop "Oh Santa!," Carey also included a remix of her seminal track, which she named "All I Want for Christmas Is You—Extra Festive." 
A year later, the re-recorded the track a third time, now as a duet with Justin Bieber for his Christmas album, Under the Mistletoe.
In 2014, she began what's become an annual residency, originally at the Beacon Theatre in Manhattan called—of course—All I Want for Christmas Is You: A Night of Joy and Festivity. This year's tour kicks of on November 22 over five nights at The Colosseum at Caesars Palace in Las Vegas before hitting the road for a tour on the east coast that will conclude at Madison Square Garden on December 15.
She's directed a holiday movie for Hallmark Channel and wrote a children's book inspired by "All I Want for Christmas Is You" in 2015, released a direct-to-video animated Christmas movie in 2017, and will re-release Merry Christmas on Nov. 1 as a two-disc deluxe edition, complete with previously unreleased live tracks from her 1994 St. John The Divine Benefit Concert, remixed, a new rendition of the Sugar Plum Fairy and additional seasonal tracks. It's without exaggeration when we say she owns the season.
And yet, despite the fact that "All I Want for Christmas Is You" has sold over 16 million copies globally, making it the 12th best-selling single of all time and the best-selling Christmas single by a female artist ever with reportedly over $60 million earned in royalties, Carey bristles as the title of Queen of Christmas.
"It's not that I'm not thrilled. I just don't think I deserve it," she told The Hollywood Reporter in 2017. "I'm just a person who likes Christmas, OK? Who happened to write some songs."
Speaking with People that same year, she added, "I don't accept that name because I feel like it's [too much]. I humbly thank them and I do have an extraordinary love for the holiday season, and it is the best time of the year."
Especially because, for the last 25 years, she's provided the soundtrack for it.