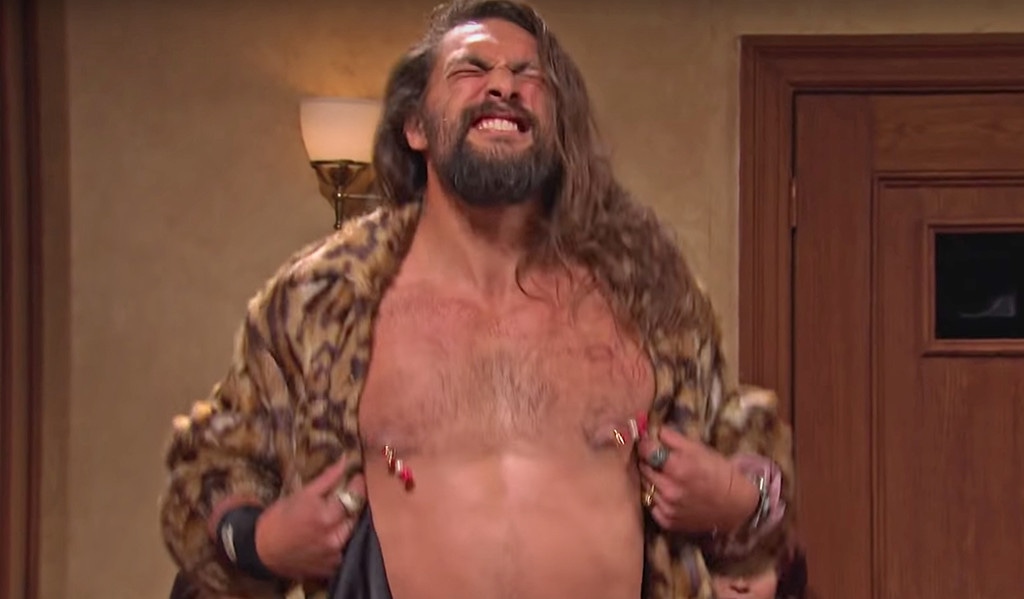 NBC
How nice of you to swing by, Jason Momoa!
The Game of Thrones and Aquaman star made a cameo on NBC's Saturday Night Live, appearing in a sketch starring host and musical guest Chance the Rapper as Judge Barry, a TV judge known for reaching a verdict quickly and based on his first impression of the defendant and the plaintiff.
Cast member Kate McKinnon played an elderly woman named Gladys Feldman, who is suing her former live-in nurse, Apollo Benz, played by Momoa, for allegedly stealing her money and her chandelier earrings.
The actor made his entrance in a flowing leopard-print shirt. He later ripped it open to reveal he is wearing the stolen earrings...on his nipples.
"She stole from me first," he also says.
"Oh really?" Chance asks. "What did she steal?"
"My heart."
Momoa later posted videos of him backstage at SNL, including clips of him having quite a bit of fun with his new body jewelry.
"I LOVE @nbcsnl watch tonight @chancetherapper is amazing. Love u cast and crew forever so stoked to be invited back. Aloha j," he wrote.
The actor last appeared on SNL last December, when he made his hosting debut.
You can watch Momoa on the new Apple TV+ series See, which premieres on November 1.
Also on Saturday's SNL episode, Chance and the cast members appeared in a musical Halloween skit titled "Spooky Song."
(E! and NBC are part of the NBCUniversal family.)