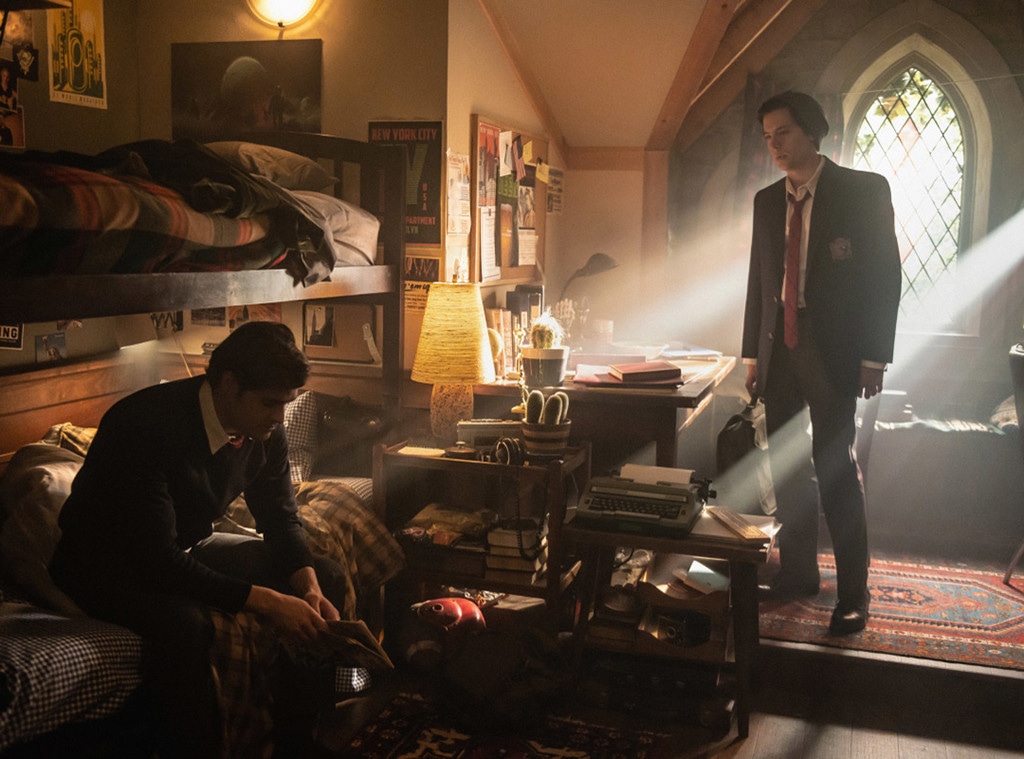 The CW
Another year, another big ol' Riverdale mystery to try (and probably fail) to solve. 
As we've learned via trailers and a couple of distressing flashforwards, Jughead (Cole Sprouse) is missing, and something has gone seriously, upsettingly awry during Spring Break senior year. We also now know that Jughead is spending his senior year at a new school, with new bullies to worry about and new secrets to uncover. 
We would never even begin to assume we could guess what the writers of TV's wildest show have planned for us, but we can don our best ponytail and channel Betty Cooper's sleuthing skills to try to figure out as much as we can. 
Season 3 Finale
Season three ended with a flashforward to end all flashforwards: Veronica, Betty, and Archie stood around a fire in their underwear, covered in blood. Archie was clutching Jughead's beanie, and Betty said this: 
"We have to burn all of our clothes, including Jughead's beanie. We'll wash off the blood in the swimming hole. After tonight, we never speak of this, ever. Not to each other, not to our parents. No one. We finish our senior year, we graduate, and we'll go our separate ways. That is the only way that we won't get caught. 
With that, Archie threw Jughead's hat in the fire, and we were left to wonder how on earth we got here. 
Season 4 Premiere
The first episode of season four was mostly focused on honoring Luke Perry and dealing with the death of Archie's father Fred, setting Archie on a new path of turning the gym into a community center. That plan will surely come into play later on in some way. 
"Fast Times at Riverdale High"
Season four's second episode explored Jughead's option of attending a new school, Stonewall Prep. He was approached by a teacher there who had read a short story he submitted to a contest, and who thought that Jughead would be a great fit for Stonewall. He wasn't sure it was for him, but Betty encouraged him to go. 
We also met the new Principal Honey (Kerr Smith), a guy who has no patience for Archie and co, and who is now in a war with Cheryl after he canceled the school dance. 
Finally, we saw another piece of the flashforward: the whole town searching the woods, calling Jughead's name. 
"Dog Day Afternoon"
Tonight, we got to know Jughead's two roommates, Moose (Surprise!) and Bret, a guy who clearly is not going to be Jug's new best friend. There was no flashforward tonight, but there were certainly some reasons to think Jughead's time at Stonewall isn't going to go well. He's already made an enemy out of Bret, and Bret has retaliated by going after Moose/Marmaduke. 
At the end of the episode, Jug explained to Betty what had happened, and Betty finished telling him what happened with the Farm (Alice shot Edgar, and she thinks Charles is legit). 
"I'm just happy that this nightmare is finally over," she said, just as the doorbell rang. On the doorstep was a VHS tape in a bag, prompting Jughead to say, "Famous last words." 
So that's what we're left with after tonight's episode. We can only imagine right now that Jug's eventual disappearance will have something to do with his new school, because boarding schools are certainly filled with creepy storytelling possibilities. There's probably some sort of secret society complete with hazing rituals and some kind of blackmail, and the mention of Jughead's grandfather attending the school for a couple of months could definitely come into play, especially since Bret seems pretty obsessed with family histories. 
But what are we supposed to make of the VHS tape? We can assume it was probably meant for Betty, since it was delivered to her house, but what does it mean? The description for next week's episode, titled "Halloween," gives us a couple of clues: 
"When ominous videotapes begin appearing on doorsteps across Riverdale, widespread fear quickly returns to the town. At Stonewall Prep, Jughead learns about a series of mysterious disappearances that have occurred to former students at the school. Meanwhile, Archie's plan to create a safe space for the town's kids gets derailed when some unwanted visitors crash their Halloween party. Elsewhere, Veronica comes face to face with trouble, while Betty's past comes back to haunt her. Lastly, a haunting at Thistlehouse rocks Cheryl and Toni to their core." 
So the whole town is getting creepy VHS tapes, and we assume that since it's Riverdale, everybody's got a VHS player at the ready. We also could already guess that Stonewall Prep is extremely sketchy, and knowing Jughead, he'll get in as deep as he possibly can to get to the bottom of whatever's going on. If that's what leads to his own disappearance, then somehow, Archie, Veronica, and Betty get involved to the point where they have to get away with something. Did Jughead kill someone and now he's on the run? Who knows?! 
All we really know is that next week is already terrifying. See exhibit A: 
What. Are. Those?! 
We'll have to wait til Halloween to find out. 
Riverdale airs Wednesdays at 8 p.m. on The CW.