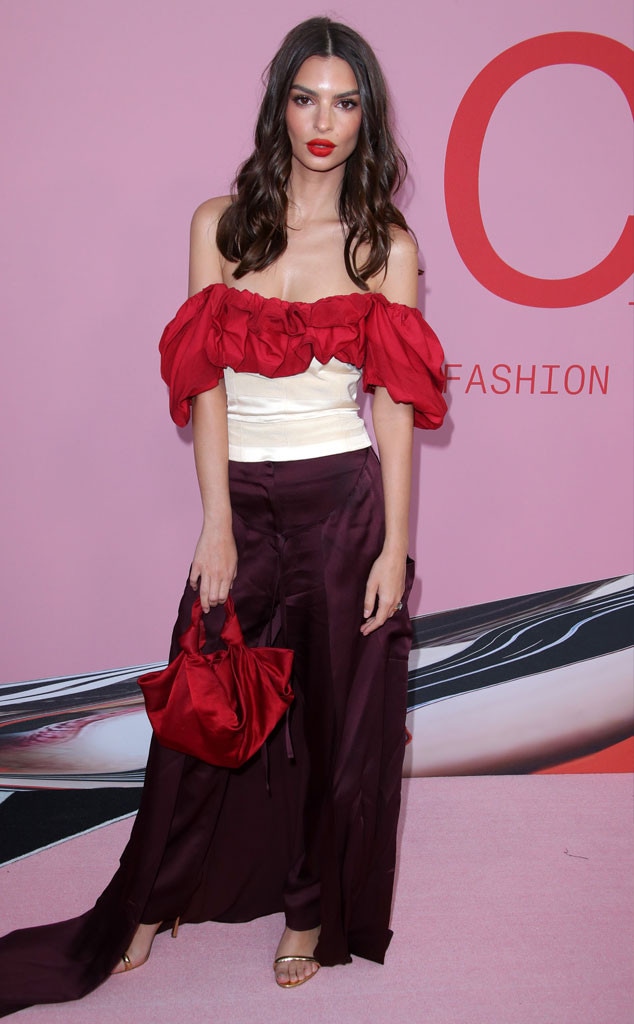 Matt Baron/Shutterstock
They say a picture is worth a thousand words...
But in Emily Ratajkowski's case, her pictures are literally worth that and then some. The 28-year-old supermodel is the latest celeb to be slapped with a lawsuit over a photo that she shared on social media. She and her company, Emrata Holdings Inc., are being sued by photographer and professional paparazzi, Robert O'Neil.
In the court documents, obtained by E! News, O'Neil filed the lawsuit against Ratajkowski in the Southern District of New York, citing copyright infringement. He claims the Gone Girl actress didn't license his photograph nor did she get permission or consent from him to post it to her Instagram page.
He is suing for damages up to $150,000. Plus, he's also asking for all of the profits that she earned off of his work. 
The snapshot in question, is one of the 28-year-old model holding a bouquet of flowers that are cleverly covering her face during a New York City outing.
Robert alleges the Cruise star posted his picture to her Instagram Story, which has now expired since her initial upload. According to the suit, she shared the candid shot and captioned her post, "Mood Forever."
Watch:
Gigi Hadid Gets Sued by Paparazzo for "Copyright Infringement"
This isn't the first time the photographer has sued a celebrity. If his name sounds familiar, it's because last month he hit Gigi Hadid with a lawsuit over an image she posted of her ex-boyfriend, Zayn Malik.
"This action arises out of Defendant's unauthorized reproduction and public display of a copyrighted photograph of English singer and songwriter Zayn Malik, owned and registered by O'Neil, a New York based professional photographer," the court documents read, which were obtained by E! News at the time.
"Gigi Hadid is not, and has never been, licensed or otherwise authorized to reproduce, publicly display, distribute and/or use the Photograph," the documents stated.
Moreover, just last week Justin Bieber also faced the same issue and was being sued over sharing an image of himself, that he didn't own the rights to. However, the pop star took to social media to state that he made peace with photographer, Robert Barbera.
"Photo taken by @papculture!" Bieber wrote on Instagram in a since-deleted post. "Stop all the fuss we worked it out! He's a good dude!!!!! What do you guys think album and another tour?"
At this time, Emily has yet to publicly address the lawsuit. E! News has reached out to the model's team for comment.