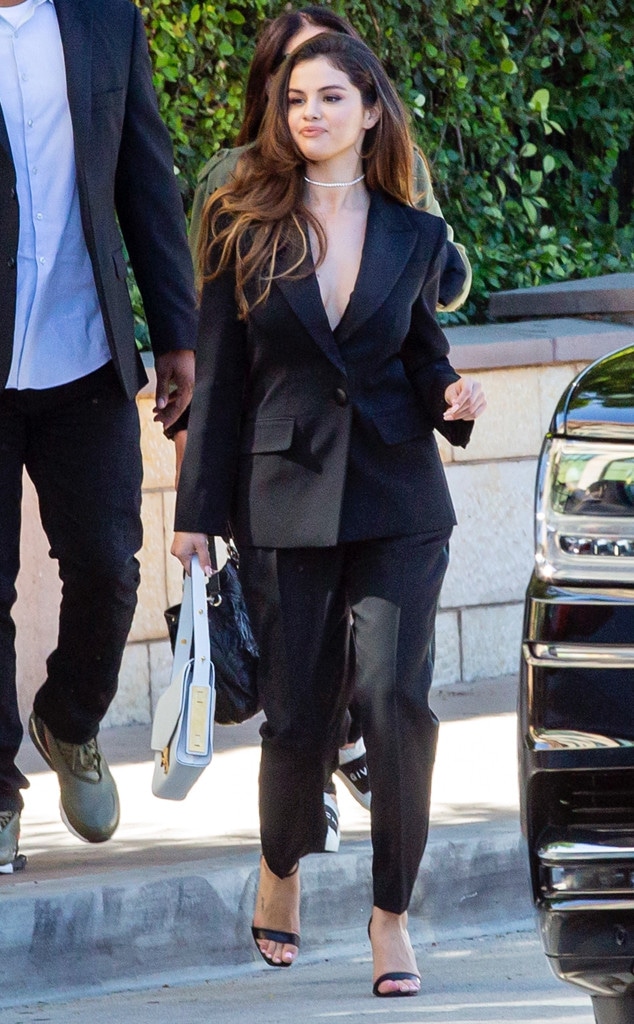 4CRNS / BACKGRID
Selena Gomez means business!
After releasing a self-love song, "Lose You to Love Me" on Tuesday night, it's clear the 27-year-old star is soaking up this moment in the spotlight. Case in point: The pop star was dressed to kill in a plunging Givenchy power suit the same day her new track dropped.
Selena's all-black ensemble evoked bad bitch vibes, especially since she decided to wear her tailored blazer without a shirt... and bra. (Insert three fire emojis!) What's more? She accessorized with chic pieces and paired her suit with a dainty pearl necklace, black sandal heels and a pale blue handbag.
Her makeup and hair were also a ~chef's kiss~ to her outfit. From her effortlessly wavy hairstyle and deep side part to her peachy, nude lipstick and bronzy smoky eye, she knocked it out of the park in the beauty department.
Dare we say this is her hottest lewk to date?
So what was the special occasion for Selena's power suit? The "Wolves" singer was seen heading to a meeting with her record label, Interscope. She even shared a candid moment from her time there on Instagram.
"I went to Interscope today to thank everyone for all they do for me," she began her caption, alongside a sweet snapshot of her sitting on the floor with her heels kicked off. "They surprised me with a few plaques from the last few years. BUT my favorite part of today was showing a few fans my music and the video. I'm SO grateful for the love and support I've had through out the years. Love you."
It's definitely a new era for the 27-year-old star, who has kept a low-profile and shied away from the limelight to focus on her family, health and overall well-being.
 In fact, her latest single was a product of her time spent out of the spotlight.
"This song was inspired by many things that have happened in my life since releasing my last album," she said of her new song. "I thought it was important to share the music, as I know many can relate to the fact that the road to self-discovery generally comes through the scars in one's life. I want people to feel hope and to know you will come out the other side stronger and a better version of yourself."
She also tweeted, "Thank you all for standing by my side through the highs and lows. I couldn't do it without you all and I can't wait to start my next adventure with you."
We can't wait either!
To see all of Selena's fiery outfits throughout the years, take a walk down memory lane in our gallery above!