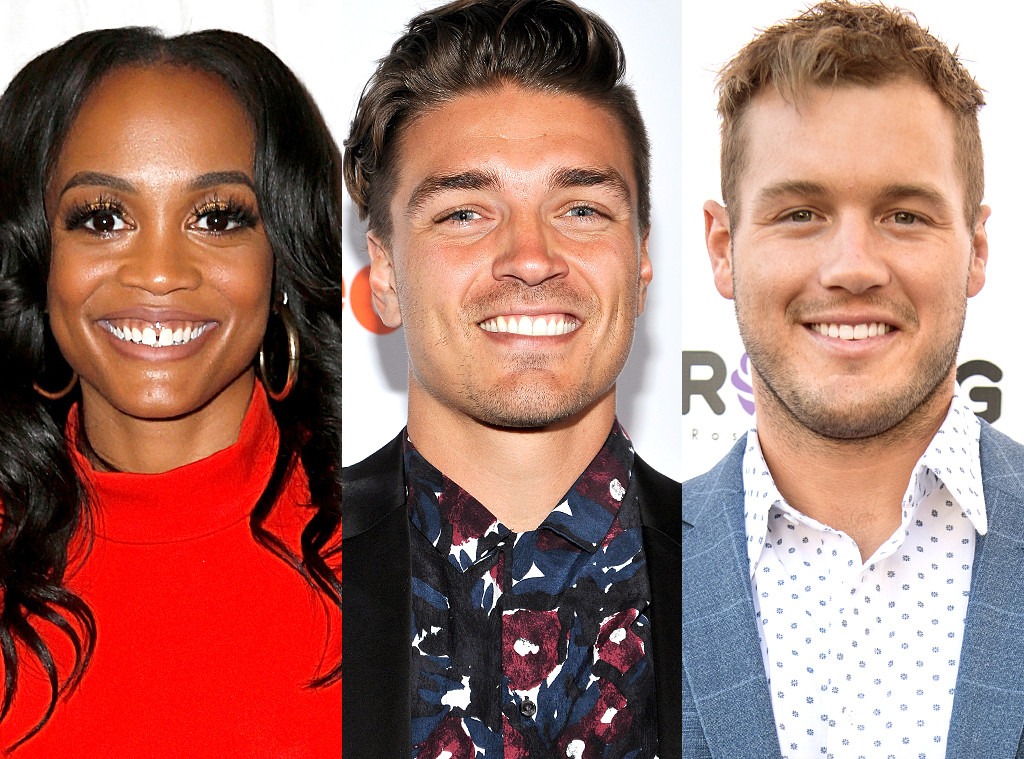 Getty Images
When it comes to the world of Bachelor Nation, things can get a little complicated.
Just look no further than Colton Underwood and Rachel Lindsay's sticky situation that has made headlines in recent weeks.
After the former Bachelorette said she will "never" be friends with former co-star Raven Gates, Colton found himself involved after making a few comments on social media. Rachel clapped back and now fans are wondering if the two will come face to face (or on a podcast) to clear the air.
E! News exclusively caught up with Bachelor Nation fan-favorite Dean Unglert who is friendly with both parties. In fact, he competed for Rachel's heart during her season as The Bachelorette. His thoughts on the whole situation may surprise you.
"I do understand that Rachel has been super critical of Colton. It kind of makes sense for him to be super defensive and be like, 'Okay, how many people are you going to talk crap about?' I think this is the first time we have seen two series leads pitted against each other in this weird off-camera battle," he shared Tuesday night at the Odwalla Zero Sugar Pop-Up in Beverly Hills. "I don't think anyone can really take anyone's sides."
He continued, "Colton is right to want to defend his relationship with Cassie Randolph and Rachel is right to want to have an opinion. No one is really right and no one is really wrong."
Jerritt Clark/Getty Images for Odwalla
From Dean's perspective, he supports the duo sitting down for a conversation. In fact, he'd love to help set one up on his iHeartRadio podcast Help! I Suck at Dating. But wherever and whenever the time comes to have a chat, he's interested to see what will transpire.
"I think Colton and Rachel should definitely sit down and clear the air. If I could mediate a conversation between Colton and Rachel, absolutely that's great," he teased. "It will be interesting to see what will happen because Rachel is a good negotiator and a lawyer for a long time. Colton is strong in his convictions as well. I would be interested in listening to that conversation personally."
Putting any Bachelor Nation drama aside, Dean is more than happy in his relationship with Caelynn Miller-Keyes.
In between exploring Odwalla Zero Sugar's immersive pop-up, the Bachelor in Paradise star gushed over his leading lady.
And after Caelynn shared a few thoughtful words about her man last week, it's no surprise Dean wanted to return the favor. 
"This relationship with Caelynn is unique because Caelynn encourages me to be exactly who I want to be, which is rare. I am really weird as a person just generally speaking but Caelynn celebrates my quirky qualities and I appreciate that a lot," he explained. "It's nice to be able to be and say and do and know that it's nice to still have a cheerleader on the sidelines cheering me on for all those things. It's rare and refreshing and it's been good so far. I think we have a good system figured out and we're still pretty new in our relationship but it's going well."