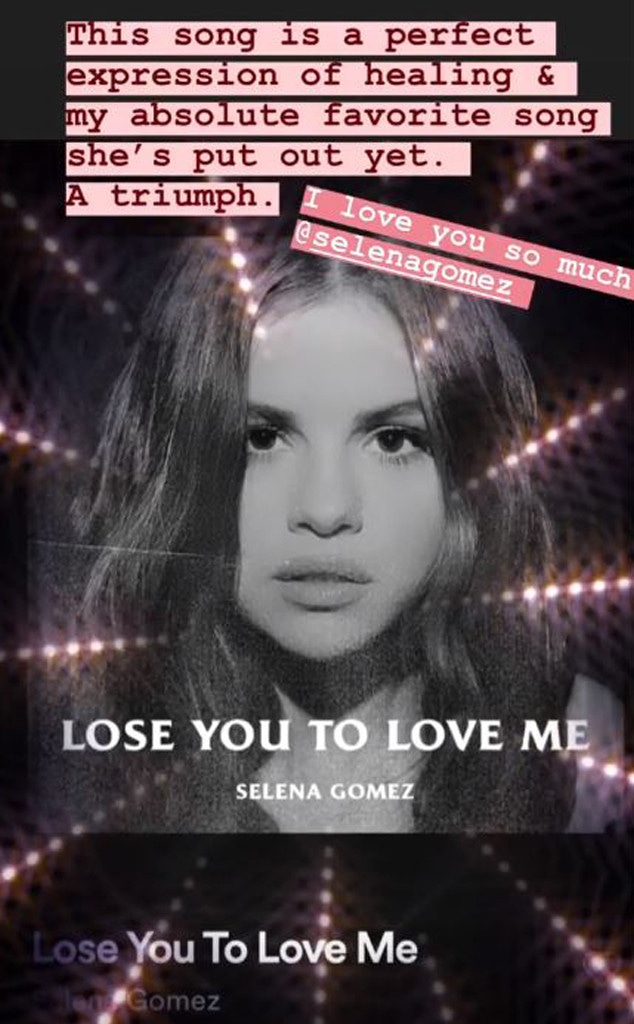 Instagram
We stan a supportive friend!
Selena Gomez dropped her first solo single in over a year on Tuesday night, and no one is more excited about it than Taylor Swift. The "Lover" crooner took to Instagram to congratulate her bestie on the release of "Lose You To Love Me," giving it her official seal of approval.
"This song is a perfect expression of healing and my absolute favorite song she's put out yet," Swift gushed on her Instagram story. "A triumph. I love you so much @selenagomez."
Gomez's other famous friends are also flocking to Instagram to show their support for the track, which seems to be inspired by Justin Bieber.
One Direction star Niall Horan posted two red hearts on Gomez's Instagram about the song's release, and country star Kacey Musgraves showed her love by writing "Congrats bb!" For her part, Gomez thanked her fans on social media for their unending support "through the highs and lows" of the last few years.
"Thank you all for standing by my side through the highs and lows," she said in her caption. "I couldn't do it without you all and I can't wait to start my next adventure with you. Lose You To Love Me is out now."
Swift was spot-on with her comments about the song being all about healing. In the lyrics, Gomez seemingly calls out Bieber for lowering her self-esteem when they reunited in 2018 and for moving on quickly with Hailey Bieber after their breakup.
"I gave my all and they all know it/You tore me down and now it's showing," Gomez sings. "In two months you replaced us/Like it was easy/Made me think I deserved it/In the thick of healing."
Michael Simon/STARTRAKS PHOTO via ABC
The 27-year-old also appears to call out Bieber's 2015 album Purpose when she sings, "I saw the signs and I ignored it/Rose colored glasses all distorted/Set fire to my purpose/And I let it burn."
But despite the heartbreak, the song explains, she knew that it took all of the pain for her to truly learn to love herself—an expression of healing that Swift, who penned multiple songs about healing for Lover, clearly agrees with.
Welcome back, Selena! The world missed your tunes.