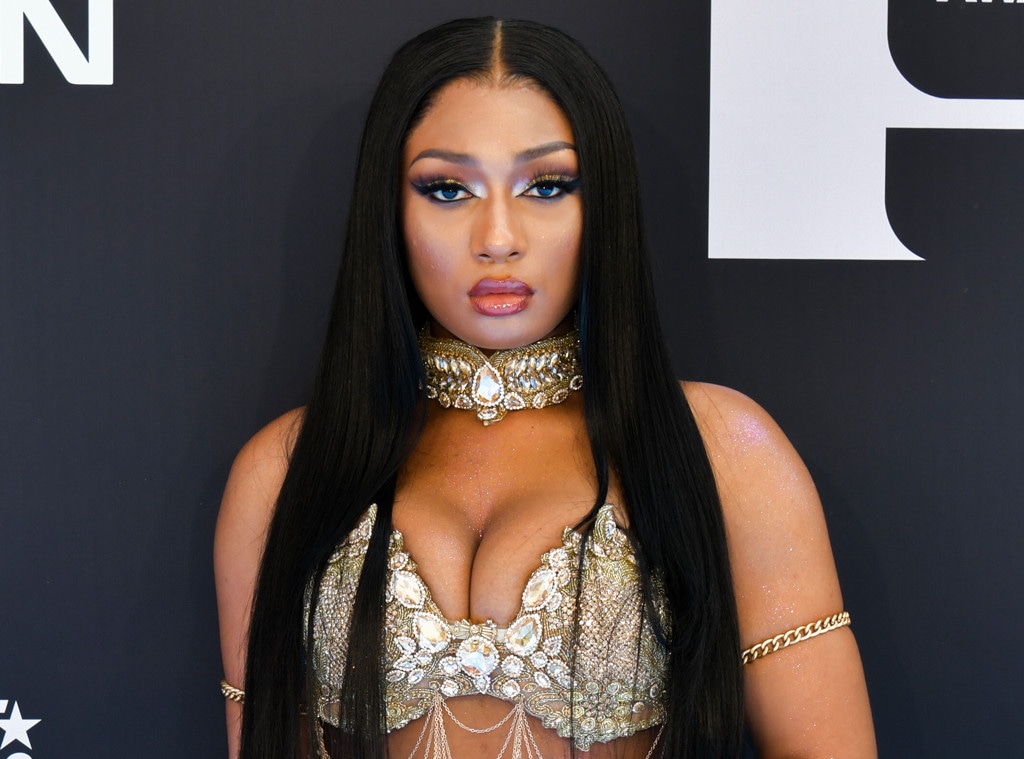 Rodin Eckenroth/WireImage
Megan Thee Stallion isn't here for the pettiness. 
The "Hot Girl Summer" rapper proudly shared her latest interview with Vogue magazine—detailing what the Houston, Texas native does on a daily—on social media but the moment was short-lived when her makeup artist, Akil McCoy, slid into her comments calling her out for not crediting him accordingly. 
In the interview, the 24-year-old rapper was asked, "How did you learn to do makeup?" To which Megan replied, "One day my grandma just bought me hella eyeshadow from like the Dollar Store probably. I was like 12. When she did that, it was over for these b**ches. My mom arched my eyebrows for the first time when I was in ninth grade and I like took over." 
But Megan also gave a shoutout to her makeup artist, Akil—who also seems to appear in the Vogue interview. "I like Akil a lot and we get into it like every day. 'Don't do it like that, don't put it like that friend,'" Megan said in the video. "He'll be like, 'I'm not.' And he doing whatever the f**k he wanna' do." 
However, that didn't seem to cut it and the both got into it again, but this time in her Instagram comments. The makeup artist went on to leave a comment on her video, writing, "By Akilaface." Megan then replied to his comment, writing, "@akilaface and me." 
After that last response from Megan, things quickly got heated. 
Akil, who's responsible for her glam in the "Realer" music video, commented back, "no you filled in your eyebrows and put on your lighter Mac powder when I was done. This is not a makeup war I always do your makeup and never get credited. That is hurtful." 
But wait... the exchange between the two didn't end there. 
Seemingly shocked that a member of her team would leave a comment like that on social media for the world to see, Megan replied, "Woah. First of all if you was really 'hurt' you could've txt me this. Second you right it ain't a war bc we all kno I do my makeup and you touch it up or I let you start it and I'll finish it."
Erik Pendzich/Shutterstock
Around the same the exchange happened between the two, the rapper's makeup artist took to his own Instagram Story to speak more on the matter. He shared a BTS photo of Megan and Jordyn Woods from the Vogue video and simply captioned it "#AkilaFace." 
A quick scroll through Akil's Instagram feed and one can see quite the handful of posts where he credits himself for doing Megan's makeup. 
"Many people don't know but me & Megan will literally sit up and collaborate on her face sometimes. She's still a young woman who loves her makeup, some times she will and sometimes we will collab. I'm just grateful she chose me as her makeup artist. My beautiful Stalli!," Akil captioned a photo of the rapper at Rolling Loud music festival in the Bay Area, where he credits both himself and Megan for the makeup look. 
In another photo, Akil also credits the Houston rapper for her doing her "eyes and brows."
Then in another effort to prove his point, the makeup artist reposted Megan's Vogue video to his Instagram Story and wrote, "I did this makeup and Megan touched up her eyebrows and put her Mac powder on her face like she does everytime. I do her face."
Akil continued, "You'll don't know the situation and I don't have to throw shade to get a Fan base. Hate it or love it. And thirdly, I never disrespected anyone. I love the girl. Good Day. I hope EVERY Artist Out There would understand me. The End."
Megan has not made any further comments about the heated exchange that went down on Instagram.