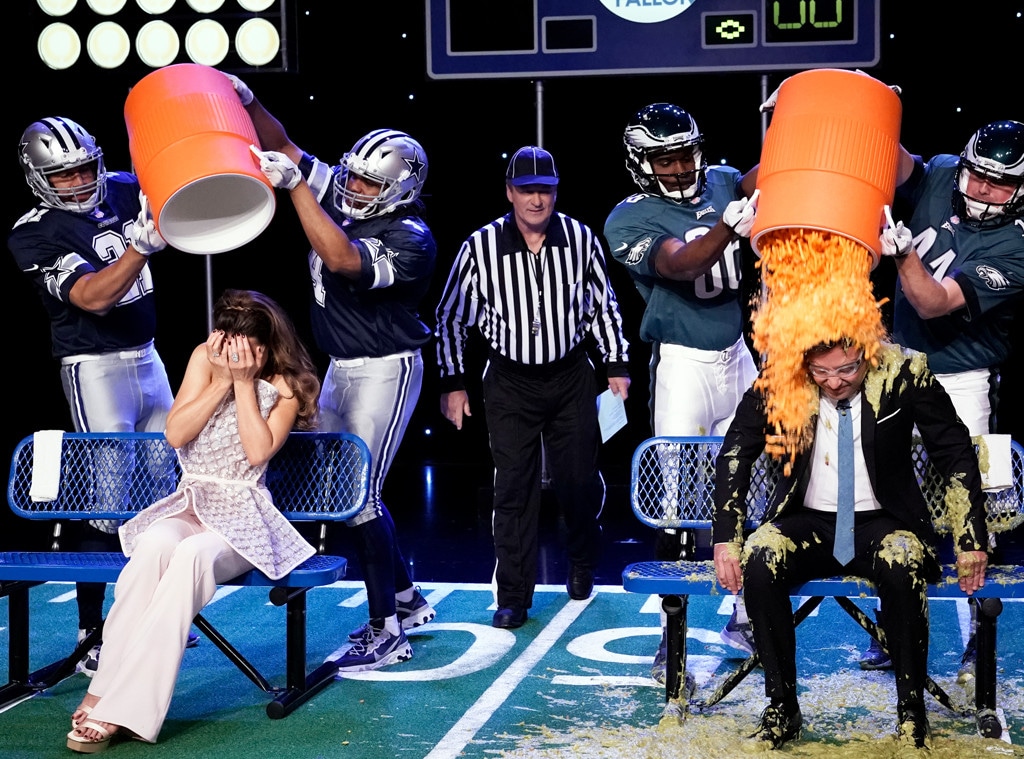 Andrew Lipovsky/NBC
Guac is certainly extra, as proved on The Tonight Show Starring Jimmy Fallon. 
During Sunday night's episode, Jimmy Fallon and guests Kate Beckinsale and Alec Baldwin played a, er, rather unappetizing game of "Cooler Heads." This time, with a football twist. Baldwin served as the "legendary game show host" and referee as Fallon and Beckinsale answered trivia questions about the sport. If they were wrong, football players dressed in Philadelphia Eagles and Dallas Cowboys jerseys dumped a cooler filled with a mystery substance on their head.
When the Brit answered correctly about which position was in both football and soccer (the answer was fullback), a giant cooler of guacamole was dumped onto the late night host, in what's sure to be the nastiest thing on TV this week.
"Wow, I'm sorry," the Underworld actress said, sitting pretty in pink on her side of the field. Of course, when it came time for Fallon to show off his football knowledge, the question was nearly impossible.
Could he point out which star had never played in the NFL? The options: Woody Gobbler, Craphonso Thorpe and Ashton Youboty.
"This is the dumbest game I've ever played," Fallon responded. Cue the mysterious orange substance dumped on his head.
For her part, Beckinsale grew increasingly terrified every time the coolers came out. If the game started with guac and Cheetos, where was it going to go from there?
That mystery was solved when Beckinsale inaccurately guessed that Peyton Manning was the oldest quarterback to ever win a Super Bowl (the correct answer was Tom Brady). Luckily, her punishment was a lovely barrel of leaves that somehow made her look even better.
Meanwhile, as Fallon quipped, "There's guac in my pants!"
And it only got worse from there. Here's a hint: the last substance dumped on the host is meant to alleviate your upset stomach, but it's going to do the opposite today.
(E! and NBC are both part of NBCUniversal.)