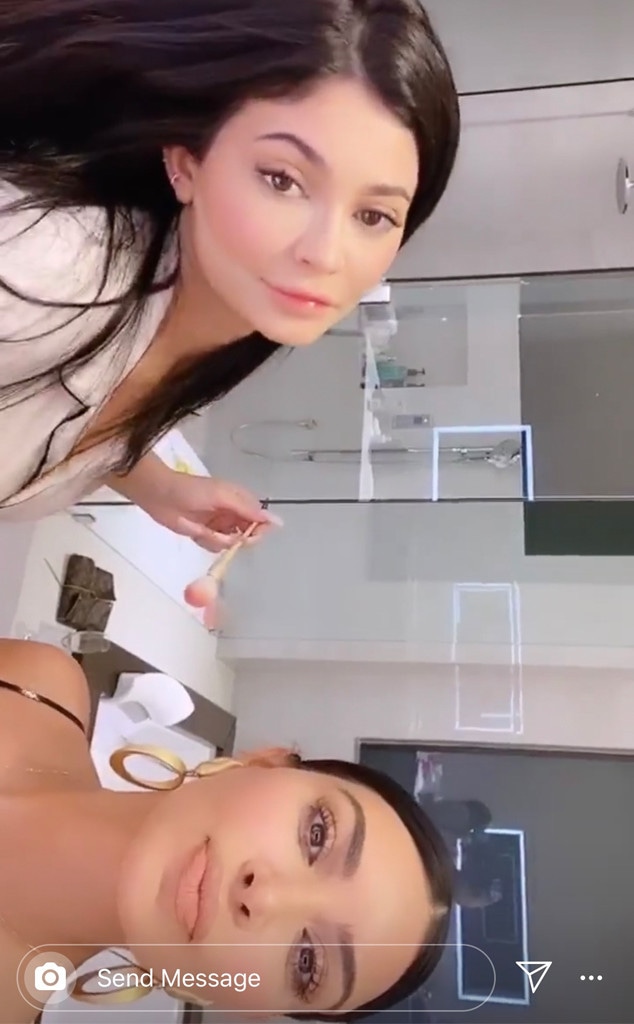 Kim Kardashian/Instagram
It's still Libra season and Kim Kardashian is celebrating accordingly. 
The soon-to-be 39-year-old is kicking off her birthday festivities with a dinner and weekend getaway in Palm Springs with her besties. Kim took to Instagram on Saturday night, Oct. 19, to give fans an inside look at how she was getting into the birthday spirit.
Of course, the Keeping Up With the Kardashians had to get dolled up before anything, and who better as her MUA for the night than her younger sister and "Rise and Shine" singer, Kylie Jenner? "So for my birthday, I have a special makeup artist today," the birthday girl said on her Instagram Story video, as her baby sis did her glam, using KKW Beauty products, of course.
After getting primped and pampered, Kim shared a quick look at her birthday dinner decorations and table spread. On the dining room table, gold block letters were set, spelling out "Happy Kim Day" with two pink balloon bouquets set by each end. 
And on the birthday girl's table setting, you could see napkins reading "happy birthday," a necklace that spelled out "birthday babe," a pink party hat with "birthday princess" written on it, sunglasses that read "so fab" and so much more!
After dinner, it looks like Kim and her besties also shared a fun game of Cards Against Humanity.
Earlier this morning, Kim took to her Instagram Stories once again to share a video of herself and her girlfriends walking through Palm Springs. 
Later in the day, Kim shared a video lounging by the pool, saying, "there is nothing more that I'd rather do than be with all my friends laying out in Palm Springs for the weekend."
It looks like sisters Khloe Kardashian and Kourtney Kardashian are celebrating alongside with her. 
Kim also shared an Instagram Story video of all of her friends opening up presents from the birthday girl herself — how generous is that?! "So for my birthday, all my besties are opening up their Skims bags!" she shared. 
Along with celebrating her second Skims launch, the beauty mogul is also celebrating KKW Beauty hitting all Ulta Beauty stores. Now, that's a real treat!
It's unclear whether Kylie is still celebrating with Kim in Palm Springs but the Kylie Cosmetics founder also took to her Instagram Stories to share a video of her sister's birthday dinner the night before." Last night was so cute," Kylie wrote in the video, with Destiny's Child "Birthday" playing in the background. 
Now we can't help but wonder, what will Kanye West gift his beloved wife on her special day? Or can we expect an extravagant Kris Jenner birthday celebration for Kim? 
Guess we'll have to wait until Kim's actual birthday tomorrow. Happy early birthday, Kim!