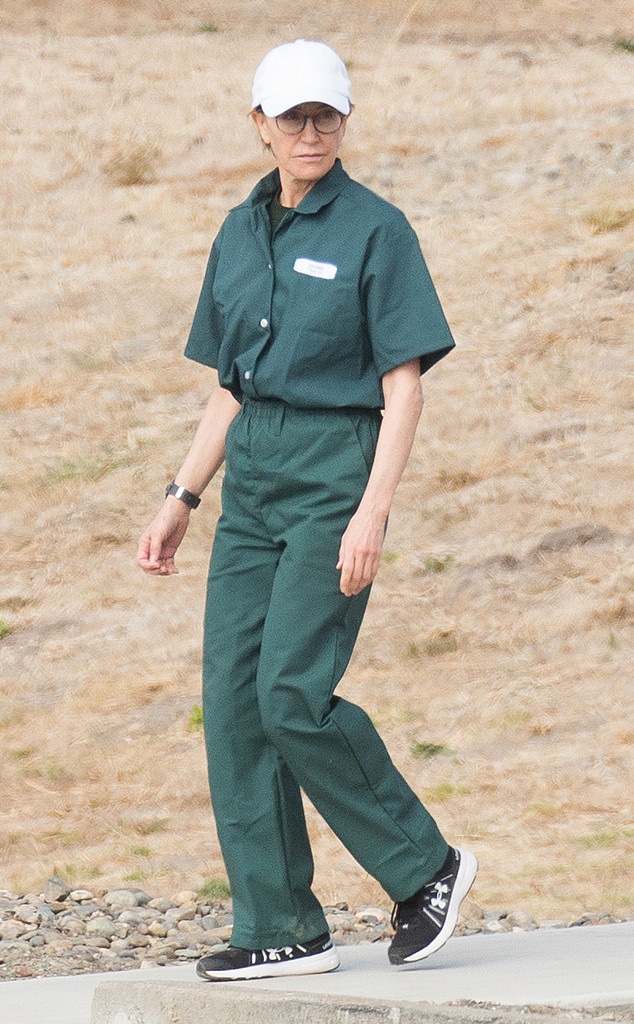 SplashNews.com
Felicity Huffman is spotted for the first time in prison, since her sentencing.
Last week, the Desperate Housewives actress began her two-week prison sentence for mail fraud, stemming from her involvement in the college admissions scandal. AKA what the federal authorities called a racketeering scheme to help rich Americans get their kids into elite universities.
On Saturday, Huffman was photographed for the first time since her sentencing last month, and appeared to be on the grounds of Federal Correctional Institution in Dublin, California, wearing a jail-issued dark green jumpsuit with a white tag bearing her inmate number. Additionally, she wore a white baseball cap, glasses and what appeared to be a watch or monitoring bracelet.
That same day, her husband, William H. Macy, and their youngest daughter, Georgia, 17, came to visit her in the prison.
About 1,230 inmates are imprisoned at the all-female, minimum security facility, located east of San Francisco.
Huffman, 56, was originally sentenced to 14 days behind bars. She is due to be released on October 27, one day early, according to prison records. 
In addition to her jail time, Huffman was also sentenced to supervised release for one year, 250 hours of community service and a $30,000 fine for mail fraud and honest services mail fraud. She is the first parent among more than 40 to be sentenced in the $25 million racketeering scheme, the largest in U.S. history.
The mastermind behind the scam, William "Rick" Singer of the Edge College & Career Network, allegedly arranged for Sofia Macy, Huffman and Macy's eldest daughter, to take the SAT test at a test center where a proctor was paid to administer the exam and secretly correct wrong answers. The couple allegedly donated $15,000 to Singer's charity, which the FBI claims was used to launder money.
"On the way to the testing center, I thought to myself, 'Turn around, turn the car around,'" Huffman said at her sentencing. "One of the hardest things was after my arrest, my daughter said, 'I don't know who you are anymore.' I am so sorry Sophia. I was frightened, I was stupid and I was so wrong. I am deeply ashamed of what I have done. I have inflicted more damage than i could have imagined. I realize not that love and truth must go hand and hand."
"I can promise you that in the months and years to come that I will try and live a more honest life, serve as a better role model for my daughters and family and continue to contribute my time and energies wherever I am needed," she added. "My hope now is that my family, my friends and my community will forgive me for my actions."