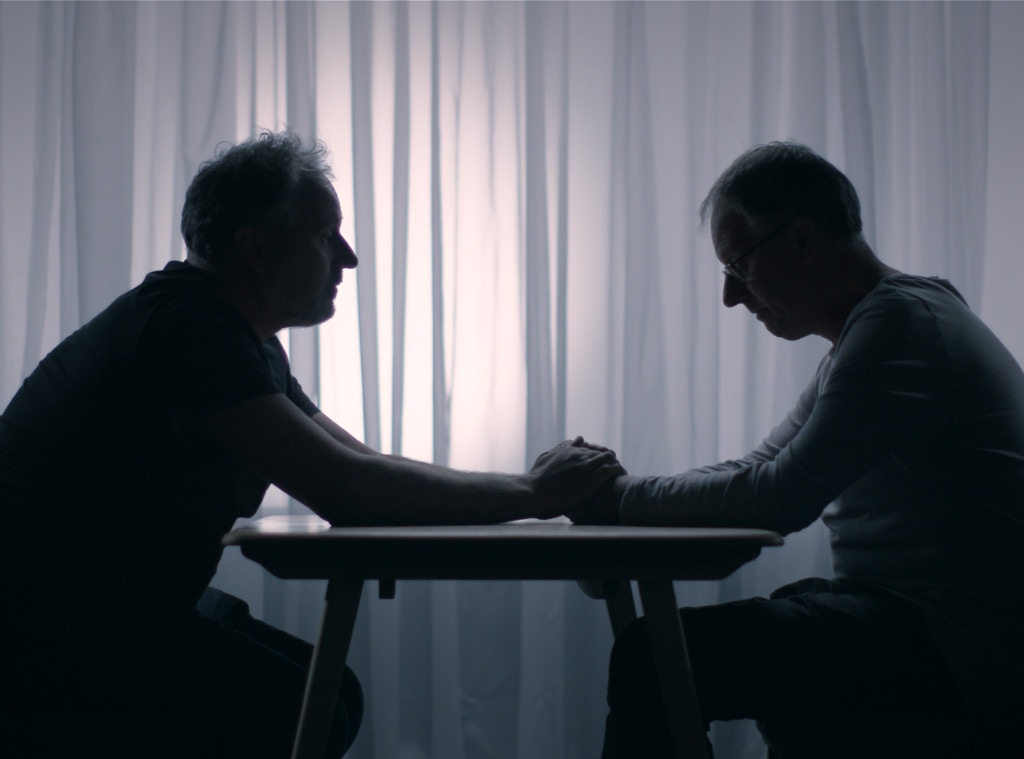 Netflix
In 1982, Alex Lewis woke up from a three-month coma and couldn't remember anything or anyone—except for his twin brother, Marcus.
All of a sudden the keeper of his sibling's memories, Marcus Lewis took the opportunity to try to protect Alex from remembering their shared truth. In turn he started piecing together a happier past for Alex.
The documentary Tell Me Who I Am, now streaming on Netflix, features the British brothers reckoning with the motorcycle crash that stripped an 18-year-old Alex of his identity, the trust he put in Marcus, the lies Marcus told him, and the reality they ultimately both had to confront. 
The Lewis twins previously told their story in a 2013 book of the same name that "plays out like a psychological thriller, and yet it's real," director Ed Perkins told Salon when the movie screened at the Telluride Film Festival. "It's one of those stories, that if it wasn't true, you wouldn't believe it. I thought the themes of memory and identity, truth and lies, and the blurring of fact and fiction were fascinating."
SPOILERS AHEAD
The film marks the first time Marcus has gone into detail about what really happened, but Alex started to tell their story almost a decade ago. At least, the part he knew.
Recalling how he woke up in a Guildford hospital and felt genetically connected to no one besides his brother, Marcus, Alex told The Guardian in 2010, "I clung on to everything he said as truth. He became my memory. He told me about school, friends, previous girlfriends and holidays, and showed me family photographs, but it still meant nothing to me."
Their real father had died in a car crash when they were 6 and they lived with their mother and stepfather, as well as their much younger half-brother and half-sister. As the years went by, "I never recovered emotionally—I didn't regain my memory and I was very detached from the rest of the family. I didn't have a clue that there was a lot more to my past than Marcus had ever let on."
From the foreboding promise of a revelation about a devastating secret and past trauma, whether teased on a book jacket years ago or as seen in the trailer for the 2019 film, you start to guess the outline of what happened to the Lewis twins when they were boys.
But if you don't already know their story, you're probably wrong.
"What he didn't tell me," Alex continued, "was that our mother had sexually abused my siblings and me from an early age until we were in our teens. I couldn't have known it at the time, but I am sure this is why I felt so frozen emotionally. There was a crucial piece of the family jigsaw that was missing."
He didn't find out until around 1996, when their mother died. Marcus—who through his own dissociation from what happened had created two realities, one in which the abuse occurred and another in which he could almost convince himself it didn't—entered therapy and then Alex, too, decided to start going. Something inside him just knew that the dots weren't connecting, that what he knew and what he felt didn't line up.
It was the therapist who at one point told him he should talk to his siblings, that she suspected there was abuse in their family.
Still, Marcus wouldn't divulge anything. But when their half-siblings were 19 and 21, they finally acknowledged that they had been abused; only then did Marcus admit it had happened.
"Finding out what had really happened to me was harder than the accident," Alex said. "Nothing was how it seemed; it felt like a fresh trauma, knowing I'd been living a false life. I had to start over a second time.
"When I found out my real life story, all my emotional responses came flooding back, good as well as bad: anger, relief, sadness."
His life, which had already reset when he was 18, started over yet again at 32.
But while he was definitely angry at their mother, who it was too late to confront, Alex said that he was never angry at Marcus.
"Marcus and I are still incredibly close—as twins, we'll always have that extra edge," Alex, who had married and become a father himself, concluded. "You could argue he denied me my past, but I feel he saved me—I didn't have the capacity to deal with the memory of abuse straight after my accident."
And yet, there was more to the story.
Decades of feelings and lost memories bubbled to the surface in their book, Tell Me Who I Am.
"I want to write this book because I want to know who I am," Alex tells their co-writer Joanna Hodgkin. She, too, remarked on their closeness and protectiveness of one another. As unmoored as Alex felt, Marcus was still his rock.
In the book, they explain that Marcus hadn't consciously set out to lie to his brother. Rather, it never came up. And why would it? Alex had no memories. At the same time, it didn't always fele like a bad path to go down for Marcus, an alternative reality in which they hadn't been abused.
"Marcus acted out of love," the book says. "He also acted to protect himself."
And Marcus continued to protect Alex, who still didn't know the entire story until they started making the movie.
Marcus said he kept his portion of the book purposely "ambiguous." Though the 2013 memoir tells the fraught tale of Alex's accident and all the twists and turns that lead to him learning the truth, it isn't an unpacking of what was actually done to them. The reckoning occurs in the movie, when Marcus sits down across from Alex and shares the details.
"They wanted to talk," Perkins told Salon last month, "as hard as it was going to be to talk. Every decision we made was to try to create a safe space in which these guys could come together and feel safe enough to say the things they hadn't been able to say to each other."
Asked if he was perhaps sorry to now know the whole truth, Alex told Salon, "I had this innate want—which Marcus just didn't understand—to know everything. Because, in a way, if someone gives you a little snippet, like he did, you put a monster in your head. You've made it this big, and your imagination goes wild and you go off in all different directions. All you want is the simple truth and you want to slim it down to something tangible. I was off on a journey, and he didn't know that."
Perkins said that, after learning of their story, he first met the brothers about five years ago, knowing he wanted to make a film. Two years later, Alex told him they couldn't go through with it, it was just "'too difficult.'"
But, a week after that, he called back and said they had reconsidered. Their story was too important not to tell. 
"We put ourselves out there and if we help one person to change their life and talk about it and change their life, and move on, then it's going to be worth it," Marcus said.
Perkins filmed hours of interviews with Alex and Marcus separately, until it became apparent that the crux of the story unfolding was that the brothers had never actually sat down and discussed what happened to them with each other. They had never even talked about it before Alex's accident.
"I always felt what I was doing was right," Marcus said, "because every time I got stressed about it, I would reverse the role, and I would expect him to do it for me. So that made it a straightforward concept for me."
Asked again, more than 20 years after he first found out the beginning of the truth, if he at all blamed his brother for keeping his actual life from him, thereby delaying the start of the healing process, Alex told Salon, "I get asked that question a lot and it's an absolute no. A hundred percent."
In fact, asked if the ordeal—14 years of Marcus leading a double life, Alex beginning anew at 32, therapy, writing a book, making a movie—had brought them closer, the unequivocal answer was yes.