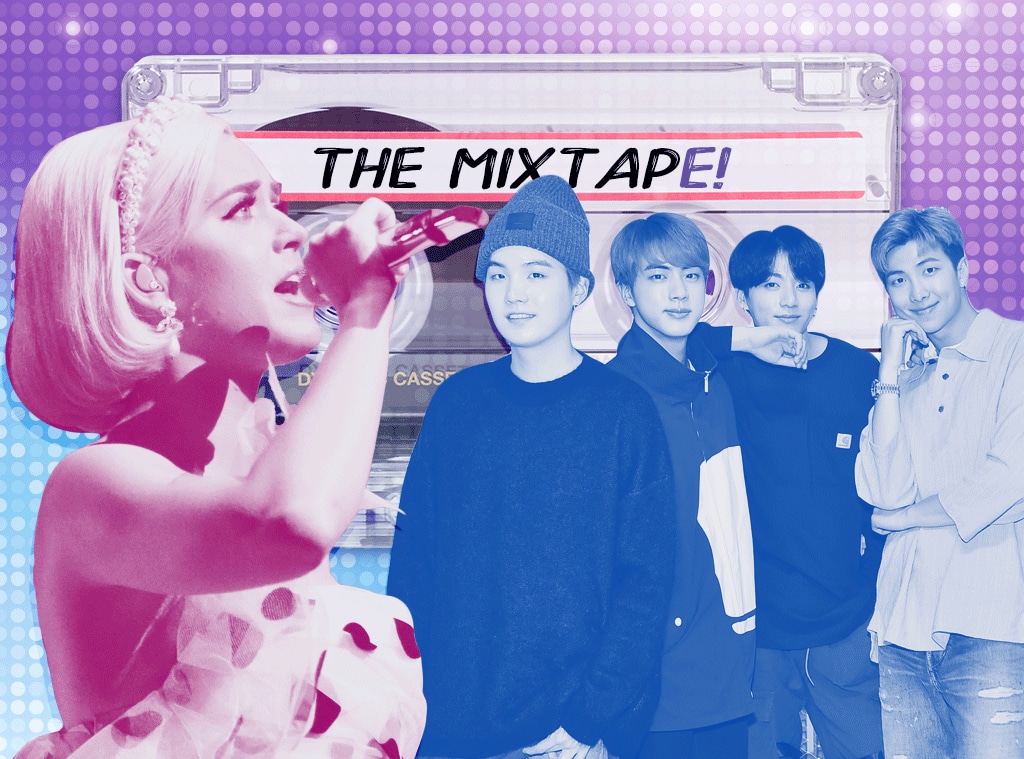 New music Fridays are a thrilling, yet daunting prospect for any music lover. 
It's essentially a weekly holiday where fan-favorite artists and fresh faces alike drop their latest offerings for all the world to hear, flooding streaming services and digital retailers with an onslaught of aural goodies. But who has the time to sit there and listen to everything before updating their playlists? There's just too much good stuff! (And, if we're being honest, usually a few stinkers, too.)
As it turns out, we do. Welcome to The MixtapE!
By now, you've probably given "Golden Thing," Cody Simpson's ode to new girlfriend Miley Cyrus, a spin and possibly worked yourself into a frenzy over the promise of impending new Selena Gomez music next week, but there's so much more out there waiting to be discovered this week. From old faves like BTS and Katy Perry blessing us with new releases to Becky G finally releasing her debut studio album, there's a lot of good stuff. And lucky for you, we've listened to (almost) all of it. What follows are our picks for the best of the best. You can thank us later.
BTS feat. Lauv — "Make It Right"
How could the boys of BTS take this Ed Sheeran-penned track off their 2019 album MAP OF THE SOUL: PERSONA and make it better? By adding our new favorite prince of the sad bop, Lauv, to the reimagined track, of course. The "I'm So Tired" sings kicks things off on the remixed track with a verse in English that just might help the biggest band in the world land that No. 1 on the Billboard Hot 100 that's remained elusive for them thus far. Will radio play along and give the boys what they've deserved for some time now? Only time will tell. Until then, give the melancholy track a listen.
Katy Perry — "Harleys in Hawaii"
Slowly, but steadily, Katy's fifth studio album is beginning to take shape. The American Idol judge has had mixed results in this new era thus far, with lead single "Never Really Over" proving to be the earworm we deserved this summer while follow-up "Small Talk" failed to launch. This week, she graced us with this latest, a sultry little mid-tempo co-written with Charlie Puth that takes inspiration from a trip to the Pacific islands alongside fiance Orlando Bloom. The lush track is a total vibe that, with any luck, should be all over radio for months to come.
Becky G — "24/7"
At long last, the People's Choice Award nominee for Latin Artist of 2019 has finally released her debut album Mala Santa after years and years spent dropping bop after bop. And the 16-track album, the title of which roughly translates to "bad saint," was well worth the wait. A mix of new tracks and some of her biggest recent singles, the whole thing is worth your attention, but if you're looking for a good entry point, look no further than this slinky banger about a never-ending party that you'll wish you'd scored an invite to.
Kiana Ledé — "Easy Breezy"
After getting her start as a Kidz Bop singer and starring in TV shows like MTV's Scream and Netflix's All About the Washingtons, Kiana is set to prove to the world that she's all grown up. And on this track, from her forthcoming debut album, she more than makes her case, sounding right at home with the throwback R&B vibe. Consider her one to watch.
Beck — "Uneventful Days"
For his forthcoming fourteenth studio album, music's most idiosyncratic artist has still found ways to surprise, linking up with Pharrell Williams as his co-producer for the entire thing. After kicking the new era off all the way back in April with "Saw Lightning," he's back this week with two tracks, "Hyperlife" and "Uneventful Days." While the former, with a runtime of just 1:36, feels like nothing more than an intro, it's the latter, with its synth-heavy sound and layered vocals, that's got us counting down the (uneventful) days until November 22 when Hyperspace is unveiled in full. 
JP Saxe feat. Julia Michaels — "If The World Was Ending"
After signing to Arista Records this summer, pop singer-songwriter JP has teamed up with some powerhouse talent for this heartbreaking track that finds former lovers asking one another if, come the apocalypse, they'd rush to the other's side. Not only does Julia join him to trade verses, but Billie Eilish collaborator (and brother) Finneas handles production. Fair warning: As the sparse production builds, you'll feel your heart crumbling. But hey, it's not the end of the world.
Jaden Michaels — "Clothes on the Lawn"
Julia isn't the only Michaels sister to drop new music this week. Older sis Jaden, who's written tracks for the likes of Carly Rae Jepsen, Lea Michele and JoJo, has had quite the week. She celebrated her birthday on Oct. 16, a day after welcoming baby girl Maelynn Jane Ritz into the world. And now she's dropped her latest single, this country-pop kiss-off that finds her telling her good-for-nothing guy it's finally over in the most public way possible. 
Electric Guest — "Freestyle"
The LA-based band comprised of Asa Taccone (brother of The Lonely Island's Jorma Taccone) and Matthew "Cornbread" Compton dropped Kin, their third studio album, this week, months after landing the sole guest feature on Carly Rae Jepsen's album Dedicated. And while the entire album, which they've described to Billboard as "an ode to early 2000s-pop/R&B," is worth your time, this track is an excellent entry point. Come for Asa's smooth vocal and the truly funky beat, stay for the wild flourishes from what sounds to us like a theremin, music's most insane instrument.
Sasha Sloan — "Keep On"
With song titles like "Too Sad To Cry" and "Smiling When I Die," the indie pop star born Alexandra Artourovna Yatchenko isn't exactly dedicated to proving you with an uplifting listening experience. (Her first two EPs are called Sad Girl and Loser, to really drive the point home.) But this track from her just-released third EP, Self Portrait, is uncharacteristically encouraging, as she talks herself off a ledge. "Okay, baby, you'll be okay/You just gotta keep, gotta keep on/You just gotta keep on," she sings in the rousing chorus. "Rolling even on the bad days/You just gotta keep/gotta keep on/You just gotta keep on." Keep this one in your back pocket for whenever, like Sasha, your mind starts misbehaving.
KIRBY — "Don't Leave Your Girl"
This neo-soul track from the R&B songstress responsible for Beyonce's "Die With You" and Ariana Grande's "Break Your Heart Right Back" plays as if Amy Winehouse and Lauryn Hill had somehow made a baby. That's a good thing. Trust us.
Bonus Tracks:
Melii feat. Gyption — "High For U": The Harlem rapper/singer teams with the Jamaican reggae singer for this standout track off her excellent new EP Motions, which she hopes will guide us into "Sad Girl Winter." 
Tennyson — "Telescope": We've been vibing on brother-sister duo Tess and Luke since their painfully gorgeous 2017 track "Cry Bird." With this new single, they prove they haven't lost a single ounce of what's made them so special all these years.
Skott — "Midas": Swedish singer Pauline Skött stuns on this slightly unsettling, yet altogether hypnotizing love song. 
TCTS feat. Maya B — "Not Ready For Love": The English DJ taps the LA-based up-and-comer with a truly golden voice for this dancefloor thriller. We dare you to try and sit still while you listen. 
WENGIE feat. MINNIE of (G)I-DLE — "EMPIRE": Two K-pop superstars coming together for a bilingual female empowerment banger. What more could you possibly ask for? 
Happy listening!