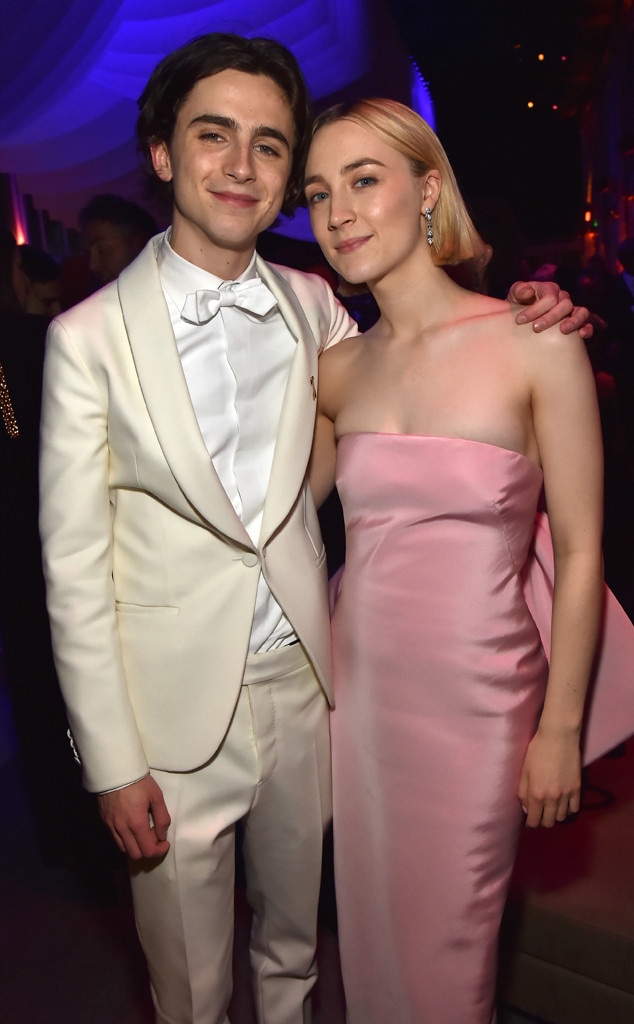 Kevin Mazur/VF18/WireImage
Saoirse Ronan has found a way to get Timothée Chalamet back for breaking up with her. 
Of course, we're talking about their on-screen characters in Greta Gerwig's 2017 Oscar-nominated Lady Bird. As fans may recall, their high school-age characters have a fizzled fling. Now, they're set to reunite on the silver screen as Jo and Laurie in Gerwig's rendition of Little Women, set for a Christmas Day release. 
The beloved novel-turned-multiple films features the two characters as childhood friends before Laurie eventually proposes and Jo (spoiler alert) rejects him.
As Ronan pointed out, the role was an opportunity for payback.  "I love that in Lady Bird, you broke my heart," the actress told her co-star in a newly published Entertainment Weekly interview. "In Little Women, I got to break your heart." Chalamet quipped back, "Yes, that's true. Then I married your sister. Ha, ha, ha!"
Off the screen, it's clear the famous friends have developed a special bond in the course of three projects together to date.  
"He keeps me on my toes—I'm never quite sure what he's going to do next," Ronan said in the EW interview. "That only progressed more and grew more. It helped that we do have a very natural rapport with each other...These two characters physically need to be very comfortable with one another. They're literally intertwined for half the film."
As Chalamet put it, "In the least clichéd way possible, it really doesn't feel like [I'm] acting sometimes [with her]."
If that doesn't already melt your heart, wait for this: "Whatever book I write for myself when I'm older, to look back on—Well, this is a bigger conversation," Chalamet said. 
"Will I have, like, a chapter?" Ronan asked him. Chalamet replied, "A chapter of Saoirse."
EW's November issue hits newsstands on Oct. 18.