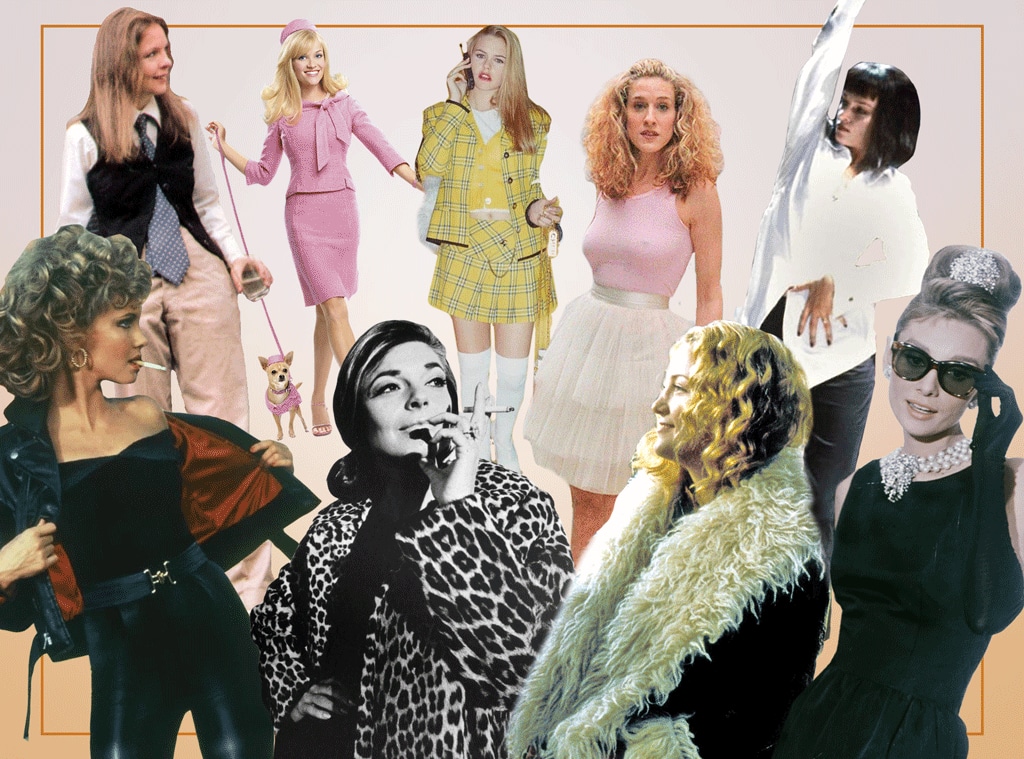 E! Illustration
We love these products, and we hope you do too. E! has affiliate relationships, so we may get a small share of the revenue from your purchases. Items are sold by the retailer, not E!.
Halloween is two weeks away, but for most of us social butterflies, parties start THIS weekend. It's OK, breathe. Whether you're going the sexy route or couples avenue, we've got you covered. However, although costumes-from-a-bag may be convenient and time-sensitive, sometimes your costume goddess calling card is yearning to be something more classic, timeless, and above of: iconic. We're talking leading ladies from some of the most quote-worthy and renowned films of all time and how to style them IRL!
Whether you want to test out your Legally Blonde jargon as pretty-in-pink Elle Woods, or debate your way through tartan plaid as everybody's favorite Clueless teen queen Cher Horowitz, we're here for you, fashionistas. We've handpicked costume profiles for some of the most iconic women in cinema—from Sex and the City's Carrie Bradshaw to Almost Famous' Penny Lane—so all you have to do is click the checkout button and prepare yourself for rounds of compliments on your costume. 
Our only question: Which leading lady will you be?
Get Elle Woods' Look: Think pink! Find a tailored blazer and structured skirt in Elle's signature Pantone to pull off this character costume. Add a pill box hat and a blingy stiletto and you're ready to apply to Harvard, pals.
Get Cher Horowitz's Look: Think yellow tartan plaid all over! Find a fitted blazer in the yellow textile print and a matching skirt to kick off this costume. Add some sassy knee highs and you'll be the class president with a heart of gold before you know it.
Get Mia Wallace's Look: For the Pulp Fiction fashionista, think oversized men's dress shirt, some black dress slacks, and a blunt black bob. If you're feeling festive and want to make it uncanny, add a cigarette. 
Get Bad Sandy's Look: For the Grease go-getter, think off-the-shoulder halters, faux leather leggings, and a curly blonde mane. If you are feeling especially spooky, add a red lip and a cigarette to be the baddest. 
Get Mrs. Robinson's Look: To be The Graduate's original cougar, think oversized leopard faux fur coat, an auburn side bob, and a dreamy pink lipstick. 
Get Annie Hall's Look: Think men's oversized dress shirt, vest, a slouchy pant in taupe or tan, and a wide brim floppy black hat. If you're feeling extra (it's Halloween! Why not?) add a bowtie to complete the look.
Get Penny Lane's look: Think '70s coat, bell bottoms, and some psychedelic shades to get Penny's iconic look. If you're not lucky enough to have a wavy mane, you'll want to find a wig to match the era.
Get Carrie Bradshaw's look: Think pink tank, giant white tulle skirt, and some strappy stilettos to get the city slicking character's iconic look. 
Get Holly Golighty's look: If you want to enjoy Breakfast at Tiffany's, think LBD, some classy pearls, and an even classier tiara to take on this timeless costume. When in doubt: grab four of your girlfriends and be everybody's favorite moms from Monterey, the Big Little Lies crew.