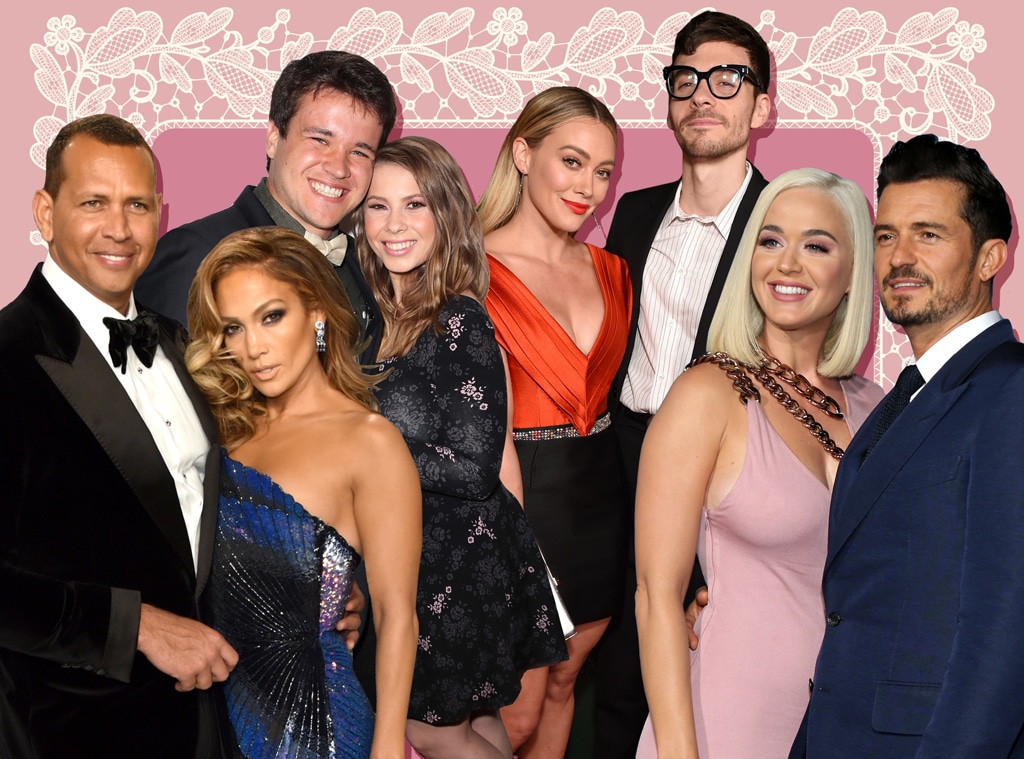 Getty Images/E! Illustration
"Wife." 
With one simple word, Matthew Koma, perhaps quite unintentionally, sent the Internet into a tizzy. Could this be his way of informing the world that he and fiancée Hilary Duff ran off and did the damn thing? In a word, no. The couple, who got engaged in May just months after welcoming daughter Banks last October, are still actively planning their upcoming vows. 
Which makes sense considering how much effort the 32-year-old musician put into just asking the Younger actress to be his bride. 
"I came home from work on a random Tuesday, and he's like 'Let's go for a walk. Let's go check out this park,'" the 32-year-old recalled during a June appearance on The Talk. Initially resistant ("I just wanted to eat dinner in bed and watch Game of Thrones,") she agreed to leave their Brooklyn apartment if she were allowed to do so in sweatpants. 
"So we go, we find this gorgeous park and he presents me with this book that he said he's been working on for a while," she shared of the May evening. "He's like 'It's our story' and he had this amazing guy, Shane, do all of these illustrations. And he was like 'We are going to forget things along the way so we need to constantly fill this out so our kids can know our story.'" 
It came with a surprise ending for Duff, who found a compartment hiding her square-cut engagement ring on the final page. "He got down on one knee and he's like, 'I forget everything I'm supposed to say, but you're my best friend," she summed up. "It was so sweet." 
No doubt their actual vows will be as well. 
As someone who leaned equally hard into putting together the perfect proposal, Orlando Bloom, 42, is looking to simplify, if not the plans for his late 2019 vows to Katy Perry, 34, at least the guest list. 
Looking to find the middle ground between the intimate ceremony he shared with ex-wife Miranda Kerr back in 2010 and the flashy extravaganza in which she wed Russell Brand the same year, they agreed on one thing. "They are secretive about details," a source told People, "but seem to want something smaller and intimate." 
That doesn't mean, however, that it will be light on revelry, with the couple (who celebrated their Valentine's engagement with a balloon-filled bash at an L.A. penthouse) enjoying the process of putting everything together with the help of a planner. "They don't seem stressed about it," an insider told People. "It will be a fun celebration with family and friends."
Chris Pizzello/Invision/AP/Shutterstock
Count Olympian Lindsey Vonn and her hockey-playing fiancé P.K. Subban among those adopting a go-with-the-flow attitude. Engaged just two months, she and the New Jersey Devils defenceman, 30, have yet to think about saving a date—a process that is sure to be daunting considering Vonn had to hit the road just 24 hours after he proposed forever with a custom XIV Karats emerald ring (his birthstone; her favorite color) at home in front of their three dogs. 
"We're in such a busy time right now. We're trying to move to New Jersey," the 34-year-old alpine skier explained to Vogue, noting his recent trade from his Nashville team. "I just want to enjoy the moment and the engagement. We're not in a big hurry to get married. It kind of depends on his playing schedule, and when we have time to sit down and go through it. I don't want to stress him out because he has a big season coming up." 
One detail she has locked in: "I want to wear something green, like my ring, for the after-party," she told the mag. (Which means they've also decided that their nuptials won't be an early night.) "Other than that, I honestly haven't spent a lot of time thinking about it. I'm mostly just excited for the future." 
Danny Mahoney for Intrigue Nightclub
As for 21-year-old Bindi Irwin, who accepted love Chandler Powell's rose gold-and-diamond ring on her July birthday, she's excited for her future to begin right now. As she put it in her engagement reveal, "Let's get married already!" 
That they will at her family's Australia Zoo, with animals aplenty. "It's where we met, it's where we got engaged, it only makes sense," Powell, 22, has said. Plus, as Irwin told ET, it's where she feels closest to her late father, Steve Irwin. "For me, at the heart of it all, I want to make sure that my Mum is there, my brother is there, and that it's a really close family event and we'll remember Dad, whether it's a clip that we play of Dad or something that just reminds us of him," she explained. "But, you know, we'll plan it out perfectly."
So far she's taking the lead, said Powell, with sets of color-coded binders, itineraries and copious ideas. She's already selected her dress, an apparent long-sleeved lace number, judging by her Instagram sneak peek, and her day-of escort, telling E! News that brother Robert Irwin, 15, "is absolutely gonna walk me down the aisle and I think that's what would make dad happiest."
It's the seemingly endless details that have sent Astrid Loch into a tizzy, the Bachelor in Paradise grad, 29, struggling to commit to the various wedding minutiae that tends to land squarely on a bride's shoulders. 
"I need to get a planner is what I really need to do," she opined on a recent episode of the Bachelor Happy Hour podcast, "because I'm realizing there's so much that goes into it. My mom got me a really cute wedding planner, and there's just so many things that I never even realized were a thing." (It's an arrangement fiancé Kevin Wendt is down for. Having put together the perfect picnic proposal near their Toronto home in September, he's tapping out for now, saying, "I'm just the 'yes' man for the next 12 months.") 
Though it's not as if the two haven't made an impressive bit of progress in the past few weeks. They've keyed in on a season, if not a date, Loch, revealing they're aiming for "the end of next year, maybe October/November time," and a potential location near her Florida hometown. 
And though they would likely have many a Bachelor Nation member to choose from should they want to put together a wedding party, she noted they "kind of liked the idea of it just being us up there." 
In fact, they may pare down the attendees altogether. 
"We want it to be like a small, intimate romantic wedding and nothing big and flashy," the 35-year-old Canadian firefighter said. "It's just going to be, like, a garden. Just something really sweet. I want everyone to just feel good. We're just excited to start planning."
If it's all the same to his bride-to-be, Chris Lane could happily skip the outlining stage. It's not as if the "Take Back Home Girl" singer is unwilling to help Bachelor alum Lauren Bushnell, 29, put together their dream day, he just knows where his strong suits lie. 
"If she needs me to help out with anything, I will certainly do that once we get to that point," the 34-year-old told E! News. "Other than that, if there's nothing for me to do, I will definitely just stay out of the way. I'll do what her dad would do and just hit the golf course and let her just plan it all out the way that she would want it to be."
Other than scheduling a morning-of golf outing with his future father-in-law, his chief tasks seem to be locking in a pastor and a wedding singer. "Nobody's offered yet, but I definitely have a few ideas of potential people that I might want," he told ET in June of his culling stage. "So I may be sending out some texts here in the next couple of months." (Not on the list of possibilities: him taking the stage himself. "I hope I don't have to do that," he admitted.) 
And though his tour extends into February, the Nashville-based duo don't intend to enjoy a lengthy engagement. As Lane told ET, "I think we'll try and move on it as quickly as we can when the time feels right. I know she's the one that I want to spend my life with and I think she thinks the same exact thing. So hopefully we don't have to wait too long to start that."
While Wells Adams is content to mosey his way down the aisle, insisting on his Your Favorite Thing podcast, "It will be, like, well over a year," until he weds, his fiancée figures it doesn't hurt to start dangling her feet in the water. 
"While Wells goes and does the rehearsal part of this wedding that we're at ... I'm totally not lying in bed stalking wedding and bridal Instagram accounts while watching Say Yes to the Dress," Sarah Hyland joked on Instagram shortly after his Fiji proposal in July. "No not me. I'm not doing that. What are you talking about?" 
It's not as if Adams, 35, didn't expect the Modern Family actress, 28, to dive right in. "Sarah is going to be, like, Pinterest boards and vision boards and a lot of Elmer's glue is going to be involved," he admitted to ET. "So, I think we're just holding off on that." 
With the exception of just a few details. It appears Vanessa Hudgens has already been tapped as bridesmaid and, as Adams shared on The LadyGang podcast, they have "a couple cool ideas" on who might officiate. Ordained minister Chris Harrison will sit this one out, but he'll definitely be on the guest list, said Adams, along with a laundry list of other celebrants. "It'll be gigantic," he teased of their nuptials. "I am the youngest of five kids. I've got nine nieces and nephews…We need a ring bearer and a couple flower girls."
Getty Images for ELLE Magazine
As for Jennifer Lopez, she just might be going to the chapel to marry Alex Rodriguez. "I'd like a big wedding," she revealed in a recent video from her tour. "And I'd like to get married in a church this time." Despite weddings to Ojani Noa, Cris Judd and Marc Anthony, dad to her 11-year-old twins Max and Emme, "I've never been married in a church." 
Just where that altar will be located remains to be seen. Though the former New York Yankee, 44, joked on an episode of Strahan, Sara and Keke that their vows, slated for 2020, would be a "long flight" away, Lopez, 50, disabused that notion in a subsequent visit. "We haven't locked down all the details yet is the truth," she insisted. "We're talking about different places that mean something to us, but we'll see."
Fortunately, the baseball broadcaster is happy to go along with his bride. "I'd say she's a 10 performer…a triple threat, but she's an even better producer," he shared on LIVE with Kelly and Ryan. "When she tells me to show up I'll be there."