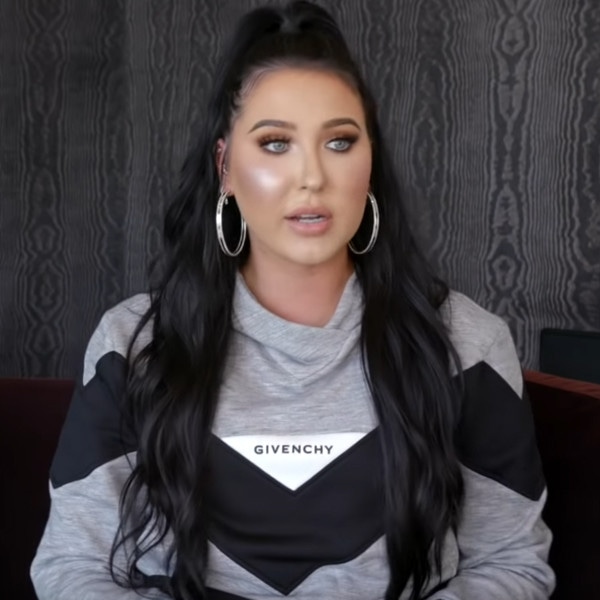 YouTube
Jaclyn Hill is so over the "constant comments" about her weight.
The YouTube star is responding to critics who post comments online about her appearance. In a new video, posted to YouTube over the weekend, Jaclyn, 29, claps back at the hateful commentary by proudly showing off her stretch marks.
"You know, there is one more thing I wanna say...I've been getting so many comments, I've gotten these comments for a long time, I would say for the past two years, but the past couple of months they're like flooding in," Jaclyn says in the video.
She then explains that she gets comments saying, "I miss the old Jaclyn." Or, "I want the old Jaclyn back."
"I can't even take the comments seriously!" Jaclyn shares. "It's hard for me to even address this because I just wanna laugh and cry about it at the same time. There is no 'old Jaclyn' and there is no 'new Jaclyn,' this is who I am."
"I was born and I'm going to grow and I'm going to evolve for the rest of my life until I die," Jaclyn continues. "I know that you guys want that thin girl who was super peppy and loved life and was silly and joking all the time, and just did tutorials because she just loved it so much. But you guys, I am seriously that same girl inside. That's still who I am and I need that to be said."
Jaclyn goes on to explain that she's here for her passion, which is her love of makeup.
"That's all I've ever wanted, just to do makeup, to teach makeup, to create makeup," Jaclyn says. "And I have failed at many of my attempts and it has been beyond humiliating, it's been awful, you have no idea how hard it's been for me personally. But that is my passion, that is my love."
Jaclyn says she's "never gonna stop," but notes that she's going to "grow" and going to "gain weight."
"I know that I keep bringing up the weight thing, and the reason I do that is because, not because of my own insecurities, but just because of what I see on the internet," Jaclyn explains. "The constant comments about my weight, it doesn't stop. It does not stop, and I'm like, 'Why is it all of a sudden OK to call people fat?' Where did this come from? I can't gain a few pounds because of, maybe I'm happy, maybe I'm depressed, I can't gain a few pounds without the internet calling me fat?"
Jaclyn says she's learned "so much" from the "bad behavior" of others, and she's "thankful" for the lessons she's learned.
The YouTube star then goes on to proudly show off her stretch marks that she discovered in the shower.
"Honestly I'm just over it," Jaclyn says. "This is my body, this is where I'm at, you guys need to accept it."
Take a look at the video above to see Jaclyn respond to body-shaming critics.