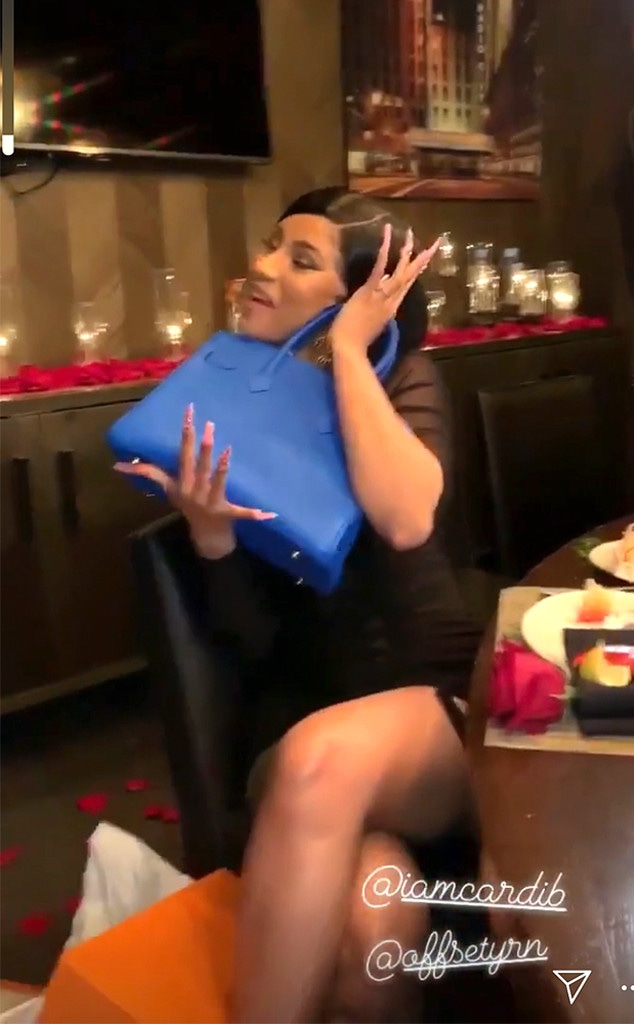 Instagram
Cardi B is ringing in 27 with a whole lot of carats. 
Last night, the Bronx rapper celebrated another trip around the sun with husband Offset, daughter Kulture Kiari, and her loved ones. 
From a Birkin bag themed cake, a dinner spread consisting of Cardi B's favorite foods, real-life Birkin bags, and a whole lotta' diamonds—this was definitely a birthday to remember. 
The "Bodak Yellow" rapper shared an Instagram video of Offset surprising her with a lavish gift, literally served on a silver platter. 
"I'm scared to open it," Cardi B said nervously in the video. "My heart is beating fast." 
Opening the silver cloche, Offset then revealed a two-band ring with heart-shaped diamonds—dubbed the "Titanic Diamond"—crafted by New York-based Pristine Jewelers. 
The Migos rapper also posted a video on his Instagram page, which shows him putting the lavish ring on Cardi B's finger before embracing in a hug and kiss.
"TITANIC DIAMOND. HAPPY BIRTHDAY TO MY QUEEN U DESERVE EVERYTHING THAT COME YOUR WAY I LOVE YOU AND OUR FAMILY TOGETHER ♥️ @pristine_jewelers," the rapper wrote on his caption tagging the jeweler. 
On his Instagram Stories, the rapper recorded various close-up videos of the sparkly ring as well. He also posted a second photo of the iconic ring on his Instagram feed, captioning it, "KIDS WE DIDNT COME TO PLAY. THE TITANIC DIAMOND."
And it appears, the "Press" rapper's bling cost a pretty penny too.
Stephen Silver, Founder and CEO Of Stephen Silver Fine Jewelers, tells E! News, "Without knowing the actual size, color and clarity, it's hard to estimate value. That said, it looks like the center diamond is over 20ct, very white and clean. Definitely into seven figures."
Additionally, Lauren McCawley, a jewelry and style expert, shared, "Cardi B's new ring set isn't for the faint of heart—it's for the queen of hearts. An approximate 15-carat heart-shaped diamond gleams atop a setting of interlocking eternity bands with even more heart-shaped diamonds. The set could retail from $4 Million." 
Along with the big 'ol ring Offset gifted her, Cardi B also received Birkin bags for days.
"Big Birkin bag, hold five, six figures," sang Cardi B as she unwrapped one of the designer bags, referencing the song "Act Up" by City Girls.
A friend from the Atlanta-based record label, Quality Control Music, also gifted Cardi B a special something. The Hustlers actress received a dazzling diamond-encrusted necklace with a photo of daughter Kulture in it. 
Later in Cardi B's Instagram Story videos, baby Kulture can be seen admiring her mother's new necklace. "That's Kulture, that's baby," Cardi B can be seen telling her daughter, showing her the photo locket of herself. To which her daughter responded, "baby!" 
And Cardi B wasn't the only one rockin' new sparkling jewels. 
In a previous video on Cardi B's Instagram feed, baby Kulture can be seen rocking over 100 carats in the form of a dazzling diamond necklace and ankle bracelet dancing to her parents' "Clout" track. 
Ahead of Cardi B's birthday dinner celebration, Offset and her sister Hennessy Carolina shared sweet messages wishing her the happiest of birthdays. 
"MY BEST FRIEND THE LOVE OF MY LIFE, MY GUARDIAN ANGEL, KK's MOM, THIS DAY IS YOUR SPECIAL DAY I LOVE YOU, HAPPY BDAY!! NOT JUST ME AND FAMILY BUT THE WORLD LOVES YOU," Offset wrote on Instagram, along with a video compilation of the two's cutest moments with Alicia Key's "Un-thinkable" song playing in the background. 
Cardi B commented on the video, writing, "I love you babe thank you for everything." 
Her sister shared a photo of the two before the 2019 Met Gala, where Cardi B wore a custom Thom Browne gown. 
"HAPPPPY BIRTHDAY TO MY BIG SISTERRRR!!!!!!!@iamcardib Best sister in the world I love you soo much god bless you always! May this year be filled with much more blessings & love. I love youuuuuu, Today we celebrate you!," wrote Cardi B's younger sister on Instagram.