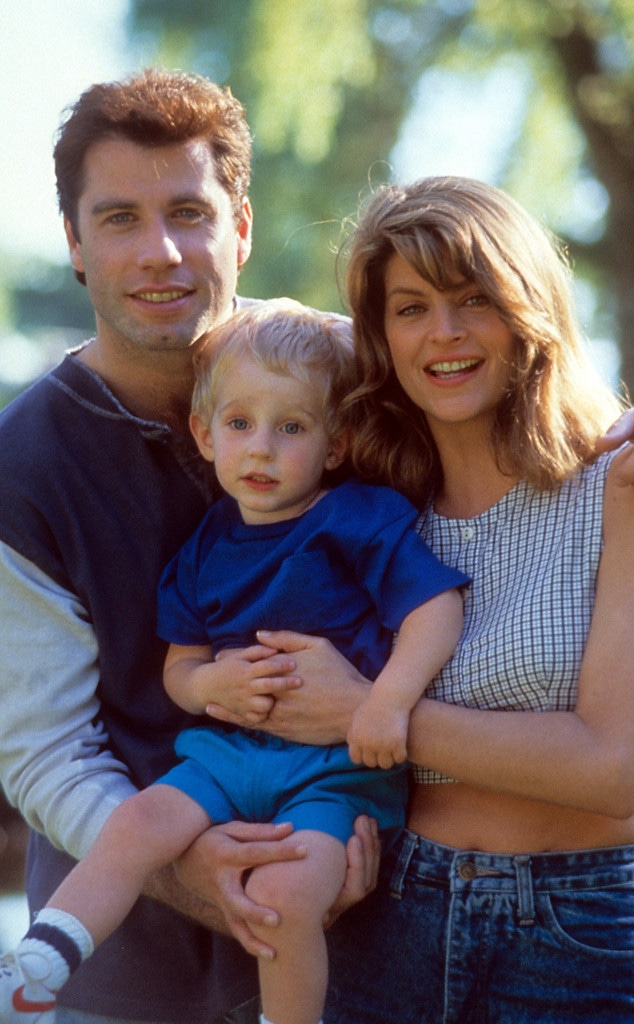 TriStar Pictures/Getty Images
Admittedly, the premise was convoluted. 
High-powered accountant Mollie (Kirstie Alley) learns she's expecting her married lover's baby. When he (charmingly) tells her he's opting out of fatherhood, the stress send her into labor and careening into the back of taxi driver James' cab. 
Despite the obvious meet-cute setup, she and James (John Travolta) fumble about en route to their obviously intended happily ever after. Oh, right, and the whole thing is narrated by a surprisingly verbose and articulate baby named Mikey (voiced by Bruce Willis). 
Inane? A bit. But Amy Heckerling's comedy, released exactly 30 years ago today, introduced topics that weren't entirely mainstream in 1989. Mollie's decision to remain every bit the career woman was revered while blue-collar cabbie James was shown to be a capable caregiver back in a time when dads were celebrated for "babysitting" their own offspring. And despite receiving just a 59 percent on Rotten Tomatoes, the flick topped the box office its initial weekend, eventually netting nearly $300 million worldwide, and spawned two sequels, a short-lived television series and the enduring friendship of Travolta and Alley. 
Which means that in the year 2019 of course its being viewed as rife with reboot potential. 
"What excited me about doing is, I have four kids, including twins, and this is something they can watch, and share some of the experience I had with my wife. Like, figuring out how to raise these kids, with all the mistakes that happen," The Wedding Ringer director Jeremy Garelick told Deadline of his attraction to the project. "Add in the voices that are keyed to facial expressions, it just really seems like a fun idea. Everyone can relate to babies."
Details on the plot are sparse, with Garelick admitting he's struggling to follow up the original ("That was a really good movie, Travolta and Kirstie Alley had great chemistry and Amy Heckerling wrote a great script," he said), so before we meet Hollywood's next chatty tyke, let's look back at the hit that birthed the idea. 
The inspiration came from actual baby talk. 
Fast Times at Ridgemont High and National Lampoon's European Vacation alum Heckerling was a new mom to daughter Mollie when inspiration struck.
"When I had Mollie, she would sit on the table in this baby seat and just endlessly look around," the then-35-year-old told the Los Angeles Times weeks after the release. "My husband and I started to put words in her mouth, what she might be thinking based on her expressions—like when the baby in the film looks at the woman's breasts and says, 'Lunch!'"
As they began making up lines for her, "I thought, this is a movie," she recalled to The Wrap ahead of the film's 25th anniversary in 2014. "I would have liked to do something edgier, crazier stuff, but this just spoke to me. I could see how this could work." 
And yet Heckerling would later have to defend her idea. 
A $20 million lawsuit alleged that the director-writer and Tri-Star Pictures lifted the basic premise of the film from a student project Heckerling had received years earlier. Though a lawyer for the plaintiffs told The New York Times the issue was "resolved amicably," terms weren't disclosed, leading the paper to crack, "The final chapter of this copyright-infringement case could be titled 'Look Who's Not Talking About Look Who's Talking.'"
Olympia Dukakis was a shrewd negotiator. 
Reflecting on her decades-long career, the actress told AV Club she was tapped to portray Mollie's mom after filming Moonstruck. "They said that if I got the Academy Award, they'd pay me $50,000 to do that. I remember the figure exactly." Perhaps because it's the precise amount she pocketed after accepting that Oscar in 1988.
And Travolta was an easy sell. 
Heckerling didn't consider the Saturday Night Fever actor until approached by his longtime manager, Jonathan Krane. "He asked if there was anything in it for John," Heckerling recalled to The Wrap. "I told him it would take a little rewriting because it was written for a darker kind of a character." One key addition: the dance scene. "That was the kind of thing I wanted to do with Travolta."
Mikey is still acting!
Multiple babies we're employed to portray Mollie's adorable son, but it was the actor behind toddler Mikey, Jacob Haines, that British paper Metro tracked down in 2016. At the time, the Alabama native was a father of three, sharing kids Christina, Matthew and Joshua with his actress wife Annie, and living in Florida. While his IMDB page lists Look Who's Talking as his sole credit, the Walt Disney World entertainer is still starring in TV ads and even made a cameo on an episode of One Tree Hill. 
A trained singer, actor and improviser, the instrumental music education grad is also trained in carpentry and can speak Japanese. And, yes, he's still got moves.
Actual sparks flew on set. 
In a 2012 interview Alley told Barbara Walters she viewed Travolta as "the love of my life," and admitted "it took all the power I had" not to run off with him during filming. This, despite being wed to fellow actor Parker Stevenson at the time. Heckerling recalls the two being professional. "It wasn't like she went around being gaga over him. Their friendship and their chemistry was really interesting," she said. "I knew that John was ridiculously charming and that they had chemistry together."
Though Alley would go on to say it took her "years to not look at John as a romantic interest," he married current wife Kelly Preston a few years after filming. 
ANNE-CHRISTINE POUJOULAT/AFP/Getty Images
Heckerling stressed over the whole gambit. 
Specifically, she told the Los Angeles Times, she worried about giving voice to the unborn baby: "I didn't want to do a pro-life type of movie. I wanted to do something that was a fantasy. So I didn't want to make a statement that when a baby is conceived it's talking," she explained. "A number of my girlfriends said, 'Why don't you wait until the fetus is 3 months old before he starts to talk?' But I felt like, if you're setting up a gimmick, you have to do it immediately. And then I decided I could avoid the whole issue if I made the sperm talk too."
The special effects were gnarly. 
With computerized effects still in their early days back in the late eighties, production relied on some creative engineering to show the images of an unborn Mikey. Todd Masters, who'd later work on True Blood, was called on to create five different puppets, from zygote to full-term baby, plus tiny vinyl sperm attached to fishing weights. "They were dumped in a tank and they kind of cascaded through the water and picked up by the underwater camera," he recalled to The Wrap.
The hardest shot took 115 takes: "It was little Mikey playing with his placenta," he remembered. "It required 12 puppeteers, people were hanging upside down." And it was eventually cut from the film. 
There was a lot of baby wrangling. 
Heckerling shared that they had multiple infants on set to ensure one would be in the mood to film at any given moment. It was challenging, she noted, but adding Willis' voice in post made it work. "Bruce Willis comes in and he has an amazing bag of tricks," she said. "That adds another element."
Though he wasn't the voice everywhere. 
She credits Travolta with coming up with a unique concept to give the film broader reach. "When they were releasing the movie in foreign countries, he had an idea of getting different celebrities in different countries to be cast as the baby. So you would have a Spanish or Italian star," she told The Wrap. "That made a very big difference in the appeal."
The set was a family affair.
The real life Mollie made a few appearances in the comedy, as did Heckerling's dad, accountant Louis, who portrayed Alley's father, while Heckerling's then-husband, writer Neal Isaac stood in as Alley's boss. Though the film was decidedly low-tech, the Clueless scribe has no regrets. "I feel that it was better," she said, noting that the concept has lived on in film, TV and commercials (see: the successful E*Trade baby schtick). "There was something with those babies that do stuff like self insurance."