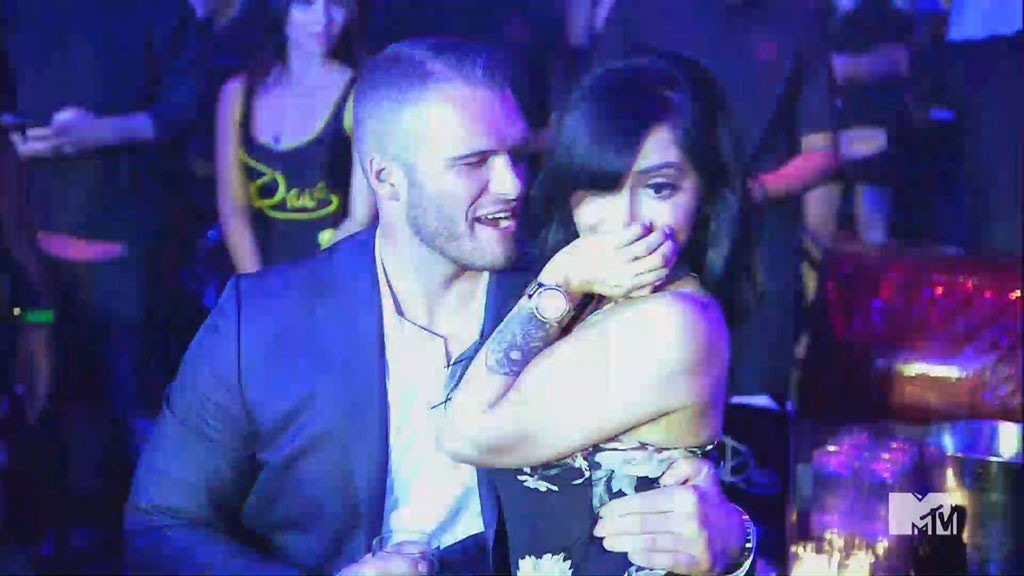 MTV
As Thursday night's episode of Jersey Shore proved, what happens in Vegas, stays in Vegas—at least until it's aired on national TV.
Unfortunately, that meant JWoww was blindsided by the events that unfolded on her TV screen. On the episode it shows that while Jenni was drunkenly passed out at a Vegas nightclub, Angelina Pivarnick sat down next to JWoww's boyfriend, Zack Clayton Carpinello, who put his hand around her waist. At another point, Zack put his hand on her leg. In her confessional, Angelina said, "He doesn't know what boundaries are." 
As it is, Zack wasn't making a good impression on the rest of the crew. He'd already grilled Angelina about her sex life and that didn't sit well with anyone, aside from Jenni who blamed Angelina for bringing up sex in the first place. This in itself caused a fight among the girls and Angelina says this is why she didn't bring up what happened to Jenni, for fear of causing more drama. 
But apparently absolutely no one, including Vinny who was an eyewitness, told JWoww about the alleged groping. On Instagram, Jenni told her thousands of followers that she was "in the dark" about the flirting that went on between her boyfriend and Angelina. "After seeing tonight's episode I'm pretty hurt. I feel disrespected by someone I called a friend and by someone who stated they loved me," the mother-of-two explained. "For 5 months I was naive, probably laughed at and made into a story line that will forever haunt me."
She added, "My heart hurts on so many levels. One thing I learned from tonight's episode is know your value. Don't ever lower your standards."
It's unclear if Jenni is still with Zack, aka 24, after seeing him flirt with Angelina, but in a reply to a commenter she said, "This is to both of them."
As for Angelina's claim that 24 aggressively grabbed her butt, JWoww isn't having it. "She was all over him too... I saw her ass in his face. Real friend there. She stirred the pot knowing it would end up on tv. If she was a true friend, she would've checked him and then came straight to me. She lived for the drama and straight disrespect," JWoww said. 
Jenni and Angelina also exchanged words on Twitter, with JWoww claiming that Angelina "can't stand" her fiance Chris and more. 
But it seems like there will be an even crazier fight on next week's episode of Jersey Shore. Check out the trailer above to see for yourself!