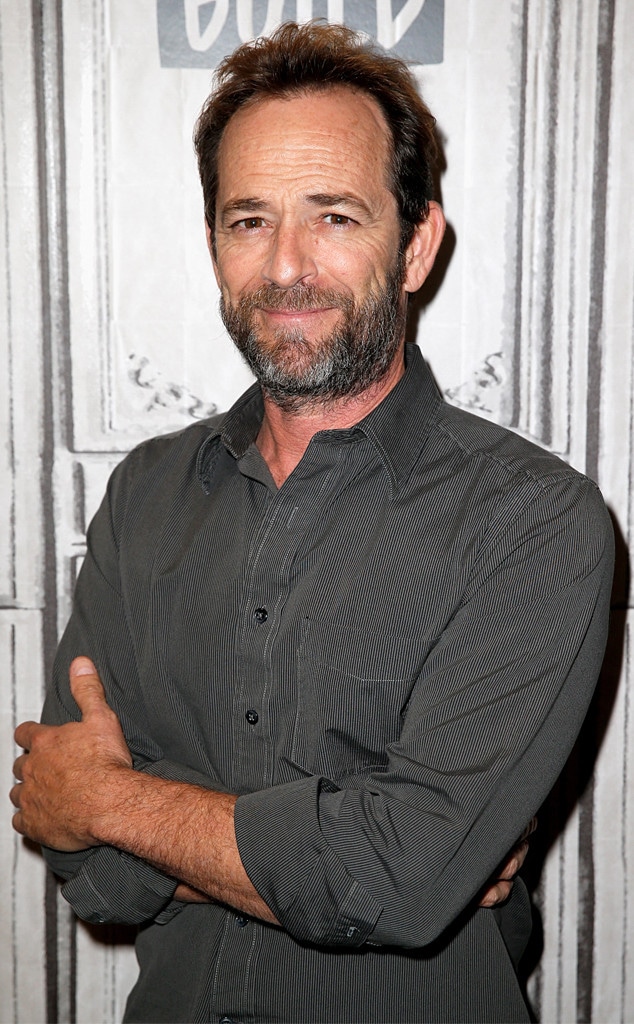 Dominik Bindl/Getty Images
In honor of the season four premiere of Riverdale, which will honor the late actor Luke Perry, the rest of the cast is sharing touching tributes, messages and memories of their former co-star on social media. 
The former Beverly Hills 90210 heartthrob died at the age of 52 on March 4 after suffering from a stroke. 
Before his death, the actor had recently filmed a role in Quentin Tarantino's film Once Upon a Time in Hollywood. The actor died with three episodes of the season left to film and although Riverdale didn't ignore his character's absence, it wouldn't be until season four that showrunner and EP Roberto Aguirre Sacasa would "absolutely" address the fate of the character. 
"We thought rather than do it quickly or do it wrong, let's take our time, let's figure it out, and let's deal with it at the beginning of season four," Aguirre-Sacasa told E! News. 
In June, Riverdale creator then took to Twitter to reveal the season four premiere title ("In Memoriam") and news that it would pay tribute to the late star. 
"Probably the most important episode of Riverdale we'll do this year, if not ever," he tweeted. "A tribute to our fallen friend. Thankful for this opportunity to honor Luke and Fred."
Since then, we've also learned that Perry's former BH90210 co-star Shannen Doherty (who played Perry's character Dylan McKay's primary love interest Brenda Walsh in the '90s hit show) would also guest star on the episode. 
Today, ahead of the season four premiere, co-star and Hustlers actress Lili Reinhart took to social media to remember the actor. 
"Tonight's episode, and all episodes for the rest of our run, are for Luke. We love, honor, and cherish his memory every single day. I only wish he were here to see how many lives he touched with happiness and laughter," Reinhart wrote in her Instagram caption alongside a series of photos with her, Perry, and other members of the Riverdale cast. "I know he's watching from above. We love you, Luke." 
Reinhart also shared more photos of the late actor on her Instagram Stories. 
In one of the photos, the 23-year-old actress can be seen alongside Perry, KJ Apa and Alice Cooper during a trip to New York where they had been promoting season 3 of the show.
"This trip was so special," Reinhart wrote. "After a day of press, we walked around the city together [and] we stopped for ice cream."
"It was a special trip for the four of us," she added. "And I'll never forget it [...] We miss you more than words could say." 
Reinhart also shared a mirror selfie she took with Perry onset of Riverdale during what looks like hair and make-up. 
Madeline Petsch, who portrays Cheryl Blossom on Riverdale, also shared her own tribute to Perry ahead of highly anticipated season four premiere. 
"This photo is from my first upfronts for Riverdale, Luke walked me through the entire experience as he did with most of the new experiences I encountered after booking this show," Petsch wrote in her Instagram caption accompanying a photo of her and Perry in mid-conversation. "I didn't even know this photo existed but it explains our relationship to a T. He was always so generous and supportive and patient with my learning and growing through some of the most formative years of my life. I am so lucky to have known you Luke. You were one of a kind and impacted everyone's lives in such a meaningful way."
The 25-year-old Riverdale star also another lengthy and touching message on her Instagram Stories. 
"Tonight is the premiere of Riverdale season and also our episode honoring Luke. Luke taught me everything I know about this industry and navigating the waters of this career. He was the most giving and kind soul I have ever met and not to mention phenomenally talented," Petsch wrote. "Not a day goes by where I don't miss him and his presence in my life. He touched my soul just as he did every other person he met. Tonight's episode and every other episode of Riverdale is dedicated to Luke." 
Riverdale writer and producer, Brian E. Paterson, also took to social media to address tonight's episode honoring Perry. 
"Though tonight's episode of #Riverdale was written with heavy hearts, we're excited to finally share our tribute to the brilliant Luke Perry with the world. This one's for you, Fred. #TheCW #Netflix," Paterson wrote in his tweet. 
Archie Comics also released a statement of their own on their official Twitter account writing that tonight's episode is a "very special one."
"It's a beautiful and emotional story told in honor of our friend Luke Perry. It's hard to overstate the impact and presence that Luke brought tot he show, the world, and the lives of those who knew him best," the statement reads. "Luke made the people around him want to be a better person with his unmatchable grace and charm. He made the world (and the town of Riverdale, in his role as Frew Andrews) a brighter place by just being there." 
Riverdale season four premieres tonight, Oct. 9, on The CW.