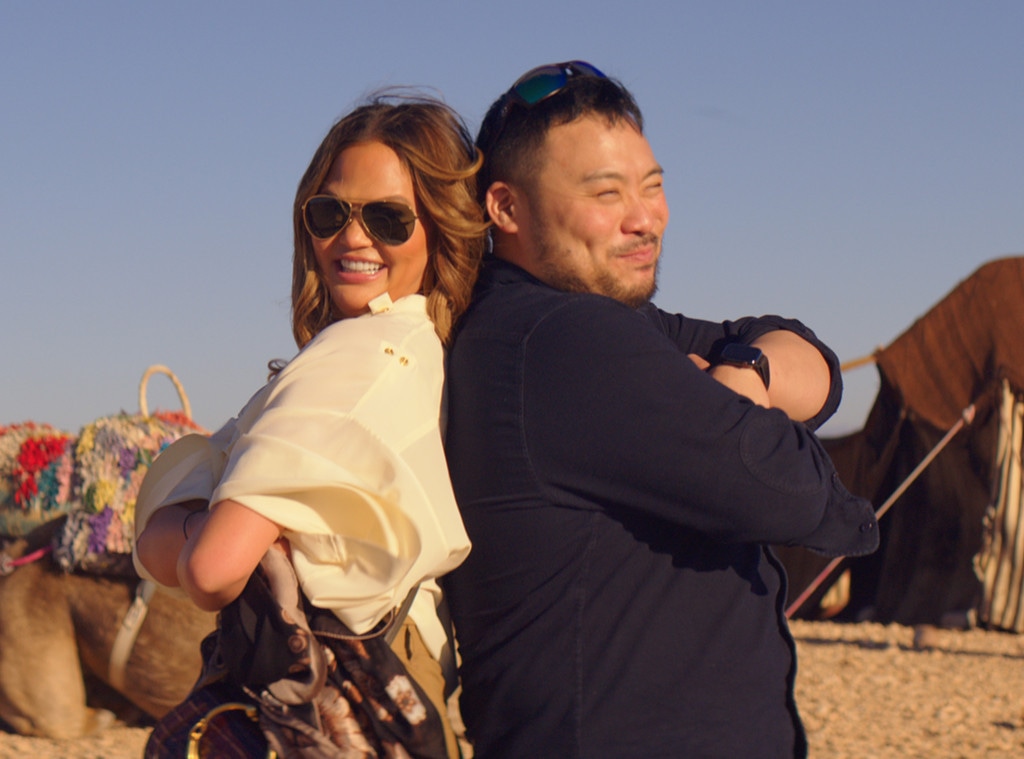 Netflix
Do you have room in your life for another food TV show? How about one featuring Chrissy Teigen, Kate McKinnon, Seth Rogen and Lena Waithe? Thought so.
Breakfast, Lunch & Dinner, a new four-part Netflix series with David Chang, features the award-winning chef traveling around the world with the aforementioned celebrity guests. Each episode, Chang and a celebrity pal explore a single city, its culture and its cuisine. In a release, Netflix said as Chang and friends learn about each city, "they also uncover new and surprising things about themselves."
Chang visits Rogen in the actor's hometown of Vancouver, British Columbia. There, where marijuana is legal, they take a tour of Rogen's favorite childhood haunts, eating everything from dim sum to donuts. Hedge mazes, crabs and octopus are also involved.
It's off to Marrakech with Teigen where Chang and the cookbook author explore bustling markets, try their hand at pottery, visit a family home for lunch and climb atop camels for a ride in the desert. Look for Teigen to also prepare Chang for fatherhood.
With the Emmy-winning, Waithe, Chang explores Los Angeles. The two hit up her favorite breakfast spot and nail salon before heading to Hollywood for crawfish and sneakers. Then, Chang shows Waithe a part of LA she didn't even know existed. Together, they discuss everything from success to cultural representation. "I'm always a student of a culture, of a craft. I'm excited to try new things," Waithe says.
Chang and Saturday Night Live star McKinnon travel to Phnom Penh and explore the history of Cambodia via tuk tuk, helicopter and boat—eating everything in their path. The two dine on tropical fruit and endless noodles while discussing creativity and finding general happiness in life. "I like countries that there's no cohesive American conception of what is there," McKinnon says.
Get a taste for the show in the trailer above.
"I was going to say, the best art of traveling is eating. But I think that's wrong. It's the conversations that you have, the people that you eat," McKinnon says.
Breakfast, Lunch & Dinner drops on Wednesday, Oct. 23 on Netflix.