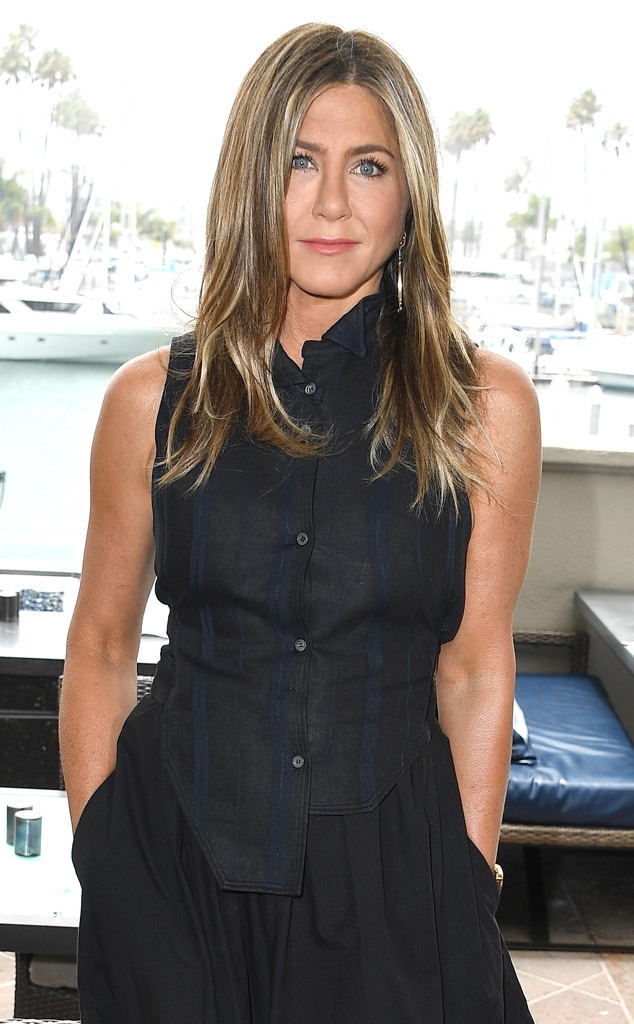 Steve Granitz/WireImage
In her new drama The Morning Show, Jennifer Aniston plays a TV anchor who experiences a shake-up after her co-host (played by Steve Carell) is fired over sexual misconduct allegations.
According to Variety, the show originally focused on the competitive world of morning TV but changed direction after Matt Lauer was fired from Today in 2017. Still, Aniston insisted Carell's character "is not based on him at all."
"The show got picked up. We sold it to Apple with an outline. Then, about four months later, the whole s--t hit the fan and, basically, we had to start from scratch," she told Variety for its "Power of Women" issue when asked about producing the program before the national #MeToo movement.
However, Lauer wasn't the only one to make headlines that year. Just two months before Lauer's firing, The New York Times published an exposé detailing allegations of sexual misconduct against Harvey Weinstein. The film producer has since faced more misconduct allegations and has been accused of rape. He has "unequivocally denied" any allegations of non-consensual sex.
Aniston worked with Weinstein on the 2005 movie Derailed. When asked if she ever spent time with the producer, Aniston claimed she "had to."
"There was the premiere dinner. I remember I was sitting at the dinner table with Clive [Owen], and our producers and a friend of mine was sitting with me," she told the magazine. "And he literally came to the table and said to my friend: 'Get up!' And I was like, 'Oh my gosh.' And so my friend got up and moved and Harvey sat down. It was just such a level of gross entitlement and piggish behavior."
She also accused the filmmaker of demanding that she wear a dress by Marchesa—the clothing line of his then-wife Georgina Chapman.
"I remember, right when [his ex-wife] Georgina's clothing line Marchesa was starting. That's when he came to visit me in London while we were shooting," Aniston said. "He'd be like, 'Ok, so I'd like you to wear one of these to the premiere.' And I went through the book, and at the time, it wasn't what it is today. It was not for me. He was like, 'You have to wear the dress.' That was my only bullying. And I was like, 'No, I will not wear the dress.'"
Aniston said she didn't wear the garment.
"Well, what was he going to do?" she said when asked if Weinstein accepted her answer. "Come over here and make me wear it?!"
Peggy Sirota for <i>Variety</i>
While Aniston said the #MeToo movement has "absolutely" led to a change in Hollywood, she also suggested there's still a long way to go.
"I think there's still room for improvement, but I think that kind of behavior is done," she told the publication. "I think people have had the s--t scared out of them. It's also this big pendulum. Everybody has this new playbook and everybody's trying to figure out what the new rules are. But what's so wonderful about doing this show is that it is so unapologetically honest in terms of topics and the situations. It's basically showing all sides. It's showing how things are said behind closed doors during Me Too, that no one else has the balls to say in front of the world."
To read Aniston's full interview, check out Variety's "Power of Women" issue.