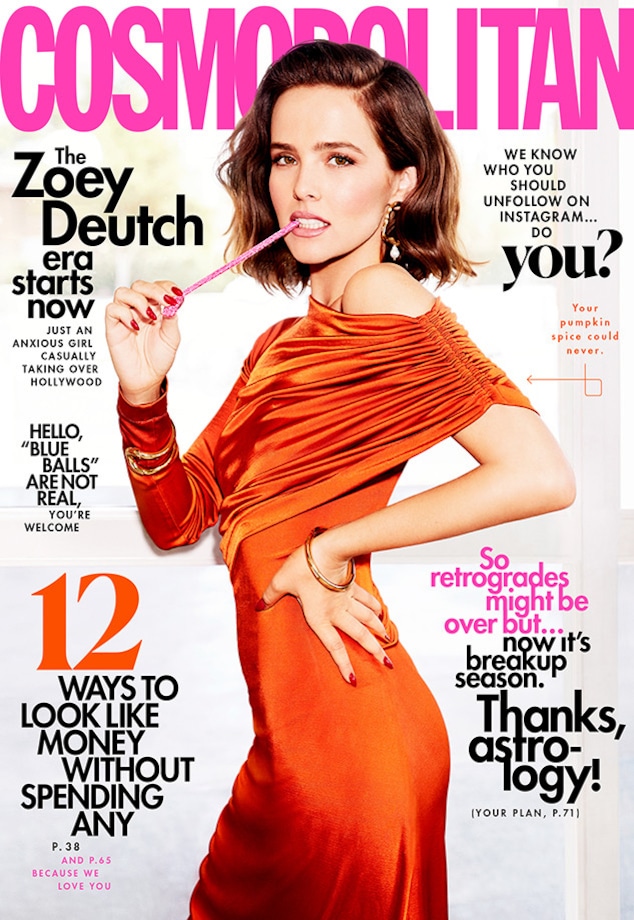 Photos by Ellen von Unwerth
You saw her living a lie in Ryan Murphy's The Politician and, now, Zoey Deutch is getting honest.
In the November cover interview for Cosmopolitan, the actress opened up about her lifelong mental health struggle. "I came into this world with anxiety," the 24-year-old told the outlet. "I used to hold my breath from anxiety when I was a baby and it would make me faint."
Deutch, whose parents are Back To The Future actress Lea Thompson and Pretty in Pink director Howard Deutch, shared that her anxiety can be painful and all-consuming, but it keeps her centered. "There are times when it's debilitating," she revealed. "And there are times when it makes me laugh, like in the car today when I lost the plot entirely. But I actually feel like my superpower is my anxiety. It's one of my key motivators and it's at the center of my ambition."
Her relatability doesn't end there.
"Oh my god, I'm a wreck," she said, joking about how she prepared for the interview. "I was like, 'Get your s#*t together and look like a decent human being. Don't be late. Pee before. Get your hair done.'"
Photos by Ellen von Unwerth
Despite her best efforts to #adult successfully, Deutch joked she feels her quarter-life crisis looming.
"I think I'm nearing it...or in it," she admitted. "There's nothing I can do. I just have to ride the wave. I fully have existential thoughts. What does it all mean? How are we here? What were we put on this earth to do? Then I'm like, 'Zoey, just stop.'"
Quarter-life crisis or not, Deutch is having quite the successful year. In addition to The Politician's success, she's co-starring alongside Emma Stone, Woody Harrelson, Jesse Eisenberg and Abigail Breslin in the highly anticipated Zombieland sequel.
Not bad for 24!