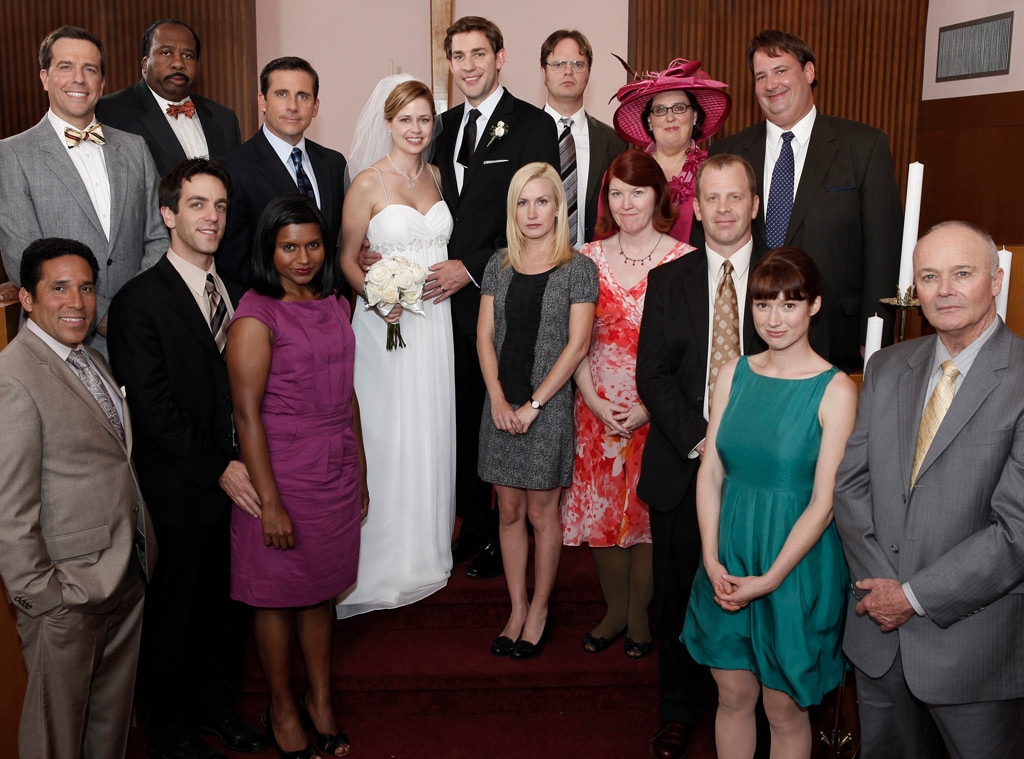 Byron Cohen/NBC/NBCU Photo Bank via Getty Images
You laughed, you cried, you watched Jim and Pam walk down the aisle 10 years ago when The Office's "Niagara" episode aired on October 8, 2009.
Yep, it's the tin anniversary for Jim (John Krasinski) and Pam (Jenna Fischer) Halpert. And things almost ended entirely different than they did in the one-hour episode.
In an interview with EW, episode director Paul Feig, executive producer Greg Daniels and star, writer and executive producer Mindy Kaling looked back on the original way the episode was supposed to end.
"All throughout the episode, Roy's [David Denman] been kind of haunting around and unhappy that they're getting married, so when they ask if anybody has reason why this couple can't get married, he rides into the church on a horse to sweep Pam off her feet like a knight in shining armor and declares, 'I have an objection,'" Feig said. "And she's like, 'What are you doing? No, I want to get married.' She sends him away, so he has to ride his horse back out of the church. But then, in an absolute insane thing, they had this crazy ending where Dwight [Rainn Wilson] gets the horse and rides it into the falls."
OK…
Daniels said he was committed to the horse for "the longest time," noting the story would've featured Dwight fascinated with a historical display at the hotel about a cow being swept over the falls and surviving, while couples in barrels perished. Daniels said Dwight would've come up with the theory that he'd survive on a horse. Dwight would take the horse to the falls, but then panic at the last minute. The horse would've gone over in the background of the wedding. He even went as far as scouting tanks on the Universal lot and planning out the shoot.
"Then we got to the table read and I was the last defender of the horse," Daniels said. "The entire staff and actors were yelling at me: 'Don't ruin Jim and Pam's wedding with a horse!'"
With the horse out, they came up with the now beloved dance down the aisle led by Michael Scott (Steve Carell). The original viral video had just come out, so the producers decided to just re-create it.
"That video was so joyous and fun. That was obviously that couples' friends and family, and we thought it would be pretty funny and misguided for Michael to equate the co-workers of the office as Jim and Pam's beloved close family and friends and do the same thing. But then when we were pitching it, it's so fun to see our cast walk down the aisle that it actually just became where Jim and Pam really liked it too. If they hadn't done the secret wedding, them coming down and dancing would have been horrible and ruined the moment," Kaling explained.
"Niagara" featured guest appearances by a number of actors filling out Jim and Pam's family, including Perfect Harmony star Anna Camp. Camp told E! News she was already a fan of the series, specifically the relationship between Jim and Pam, so it was a surreal part to get.
"I was thrilled to be cast as Pam's sister and I got to do some funny scenes. Yeah, it was great," Camp said, noting when she went to set and saw everyone assembled it was a real pinch me moment.
"I love Jenna Fischer and she was just so kind and lovely and awesome to me. And then, obviously, Steve Carell came up and shook my hand wearing his suit. I just was like, 'How am I now part of this world I've been watching on my TV screen?' And that's kind of happened to me a couple of times in my career, which has been really surreal. I've had a lot of surreal moments of getting able to be part of a show that's been part of a very important show to me before I've even gotten there."