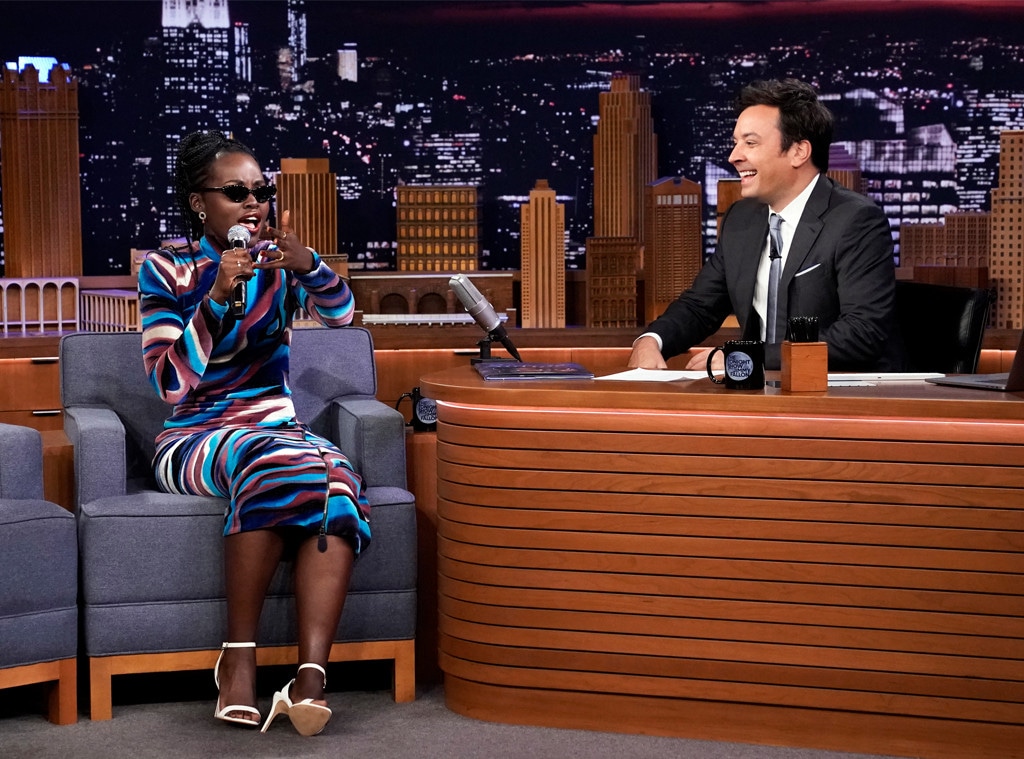 NBC
You know you've made it when Beyoncé mentions you in a song.
In her instant hit "Brown Skin Girl," which was released in July, Queen Bey name-dropped Lupita Nyong'o—an honor the actress is pinching herself over months later. In fact, even Jimmy Fallon is impressed.
"Let me just run down everything that's happened since the last time you were on the show," the host began on Monday's The Tonight Show Starring Jimmy Fallon. "You won an Oscar for 12 Years A Slave. You were in a couple of small films, Star Wars and Black Panther. You got a Tony nomination. And probably most important, your name is now a Beyoncé lyric."
As she gleefully replied, "I mean, now, yeah. That's it!" She has indeed reached the peak of fame. In fact, she also nabbed a shout-out in Jay-Z's 2014 hit "We Made It Freestyle."
"I love the Carters," she raved. "And they seem to love me. I'm not mad."
And as it turns out, she's got some of their musical talent in her blood. Indeed, Nyong'o dabbles in rap herself, going by the name Troublemaker, a moniker bestowed upon her by Common.
With a little encouragement from Fallon (and her necessary sunglasses and "respectable" mic), the superstar performed an epic, freestyle rap for the audience about the iconic couple. 
"Troublemaker in the building, hey," she started off. "I feel some bars comin', bars comin'. Much love to the Carters, Hova and Yoncé. They always big me up in a big way. I'm a brown-skin girl, so that means a lot. Hov says we made it, got an Oscar for my props."
"Much love to Jimmy and The Roots 'cause they hot," she continued. "Wrote a book about self-love, Sulwe 'bout to drop. October 15, on time tick-tock. Better go to commercial or these bars won't stop."
Does her talent ever cease?!
(E! and NBC are both part of the NBCUniversal family.)