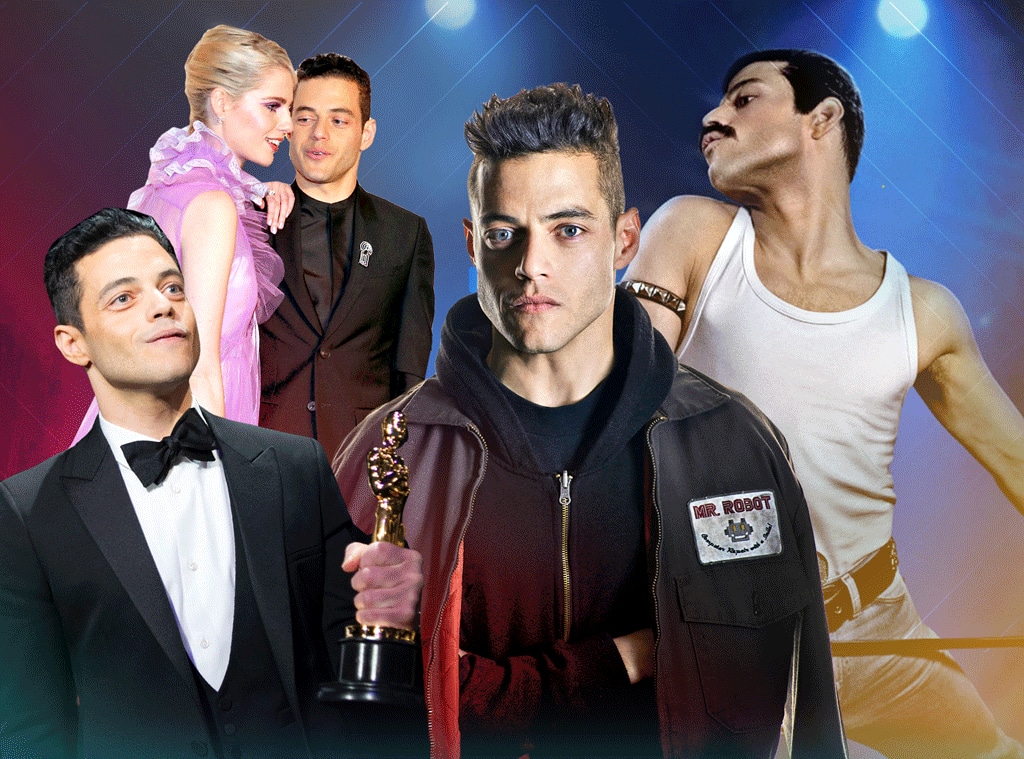 Getty Images; NBC Universal; 20th Century Fox; Melissa Herwitt/E! Illustration
It's the beginning of the end for Elliot Alderson.
After an extended wait, the fourth and final season of Mr. Robot, USA's techno-noir cult thriller, is finally getting underway on Sunday, Oct. 6, promising a definitive conclusion to the the wild ride creator Sam Esmail began back in 2015 when he introduced the world to a show unlike anything we'd ever seen before. And while Elliot's story is coming to a close, it certainly feels as though this is just the beginning for the actor who finally broke through with the show's complicated lead role, Rami Malek.
Prior to landing what would prove to be the role of his lifetime, Rami was best-known for his work in Night at the Museum, playing Akmenrah, the Egyptian pharoah whose tablet brings all the exhibits to life, and HBO's gritty WWII mini-series The Pacific. But once Mr. Robot debuted on June 24, 2015, his magnetic work as the drug-addicted, mentally unstable computer hacker revolutionized his career and announced to the world a star had finally arrived.
Immediately, the industry took note. He was awarded the Emmy for Outstanding Lead Actor in a Drama Series for his work in the show's breakthrough first season, making him the first non-white actor to take home the trophy since 1998 when Andre Braugher won for Homicide: Life on the Street. "I play a young man who is, like so many of us, profoundly alienated," he said during his history-making acceptance speech. "I want to honor the Elliots. There's a little bit of Elliot in all of us."
If Elliot remained alienated by those in his world, Rami certainly did not in ours. His first lead role in a feature film would arrive in September 2016, and though he'd been cast in Buster's Mal Heart prior to his success in Mr. Robot, the same can't be said for the roles that followed thereafter, each in a bigger budget film than the last. After co-starring in a remake of the 1973 film Papillon with Charlie Hunnam that received a limited release in August 2018, his biggest role yet would come when he was cast as late Queen frontman Freddy Mercury in the 2018 biopic Bohemian Rhapsody.
Alex Bailey/Twentieth Century Fox Film Corporation
Premiering in the States on November 2, the film would go on to gross over $900 million worldwide, becoming the sixth-highest grossing film that year and the highest-grossing musical biopic of all time. Though critics were mixed on the film overall, Rami's portrayal of the enigmatic singer and queer icon with quite a set of chompers garnered near-universal praise, earning him the Golden Globe, SAG Award, BAFTA Award and, finally, the Academy Award for Best Actor for his work.
While onstage at the Oscars, Rami shared a few words for his younger self. "I think about what it would have been like to tell little bubba Rami that one day this might happen to him, and I think his curly-haired mind would have been blown. That kid was struggling with his identity," he said, adding that for anyone struggling with that, "we made a film about a gay man and an immigrant who was unapologetically himself. [It's] proof we're longing for stories like this. Part of my story is being written right now, and I could not be more grateful."
After his award season sweep, he landed his next major role, the villain in the upcoming Bond film No Time to Die, which will be Daniel Craig's last outing as the iconic spy. Filming concurrently with the final season of Mr. Robot, Rami admitted in a June interview with Digital Spy that the schedule was grueling, but not unwelcome.
"Daniel is an actor I greatly admire. Over the years, I think he's put in such phenomenal performances. I found him so captivating in films like Layer Cake and, of course, the Bond films," he said. "This is another moment where I find myself pinching myself; not only to work with him, but also a director I've wanted to work with for so long in Cary Fukunaga. To be part of this franchise is to be part of history again."
While he admitted to feeling a substantial amount of pressure stepping into the key adversarial role in what will surely be a pivotal installment in the franchise, Rami was also unafraid to make sure his character, whose identity has been kept under wraps as of press time, wasn't attached to any sort of ethnic or religious identity that could deem the film harmful to those who are perhaps already unfairly persecuted in the real world.
"I feel a substantial weight on my shoulders. I mean, Bond is something that we all grow up with. The one thing I have going for me is I played one beloved Brit in Freddie Mercury and I pulled that off, so I feel like I can possibly have a shot at playing the villain in a Bond film," he said, adding that his character wouldn't reflect the actor's Egyptian heritage. "Another thing that I discussed with Cary; I said we cannot identify him with any act of terrorism reflecting an ideology or a religion. That's not something I would entertain, so if that is why I am your choice then you can count me out. But that was clearly not his vision."
The film is set to hit theaters on April 8, 2020.
While the actor is known to be tight-lipped about his personal life, his blossoming movie career has also brought love into his life. After rumors that he'd begun dating Bohemian Rhapsody co-star Lucy Boynton, Rami confirmed his relationship with the actress, currently starring in Ryan Murphy's The Politician on Netflix, while accepting the award for Breakthrough Performance of the Year at the 30th Annual Palm Springs International Film Festival in early January. 
"Thank you, Lucy Boynton. You have been my ally, my confidant, you are my love," he said. "I appreciate you so much."
And though they keep quiet about their romance, they are still going strong, stepping out at the Venice Film Festival last month as well as posing for photos together as she celebrated the premiere of The Politician.
Speaking with E! News at Mr. Robot's final season premiere, Rami reflected on his whirlwind last few years. "It's a been a phenomenal time in my life. I mean, I don't even know how you can properly articulate what's happened, but it's extraordinary," he said, adding, "Just to have a moment right now where you see where it all began about five years ago, beginning this show, not knowing quite how it would be received by the audience, by America, by the world at large. And to have this response over the last few years and have it catapult into a whole new threshold is astonishing."
Astonishing? Maybe. But undeserved? Not in the slightest.
Mr. Robot's final season kicks off on Sunday, Oct. 6 at 10 p.m. on USA.
(E! and USA are both part of the NBCUniversal family.)