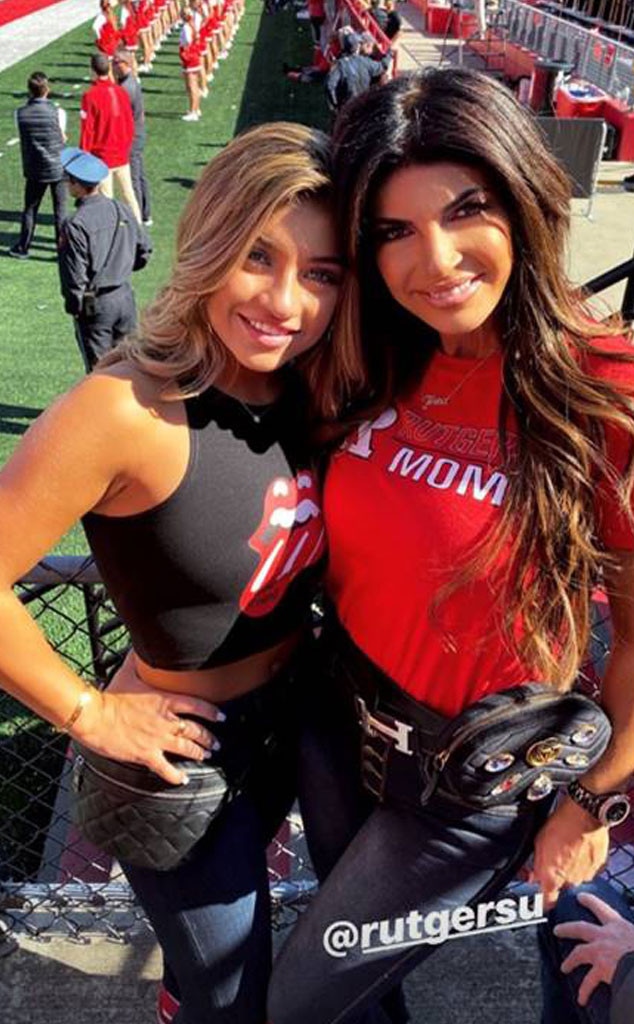 Instagram
Teresa Giudice scored a major touchdown on Saturday.
Why, you might ask? The Real Housewives of New Jersey star spent the afternoon with her 18-year-old daughter, Gia Giudice, at the Rutgers Scarlet Knights university football game. The 18-year-old TV personality attends the school, so it makes sense the mother-daughter duo would celebrate the college team, who played against the Maryland Terrapins.
And it looks like they really enjoyed their day out, according to the Bravo star's Instagram Stories. From a fun tailgate session beforehand, which entailed lots and lots of yummy food and drinks, to literally standing on the sidelines during the game, both Teresa and Gia were all smiles at the game.
The 47-year-old reality TV personality even got into the football spirit and sported a t-shirt with the university's logo and colors. "Rutgers mom," the bright tee read. Additionally, the 18-year-old student was seen hanging with her college friends and having a good ole time.
Watch:
Joe Giudice Asks to Return to Italy Amid Deportation Appeal
Fans of the family may know that the Italian-born permanent U.S. resident has been in ICE detainment since March, when he was released from prison after serving three years for fraud.
Since then, Joe has been appealing his deportation case. He recently requested to be released to Italy, and on Wednesday, two judges signed off on it, according to court records obtained by E! News.
A source close to his case previously told E! News that arrangements are being made for Joe to return to Italy as expeditiously as possible. A second source shared that there is a plan in place and a location picked out for Joe.
As of now, it's unclear if Teresa and the couple's four daughters will go to Italy. The Bravo star recently spoke to E! News and said her family was her "rock."
"We just do. I mean, we've come a long way and I'm happy I have four beautiful daughters," Teresa said. "They're strong and I'm happy to have them. I'm their rock, they're my rock and I'm glad we have each other."