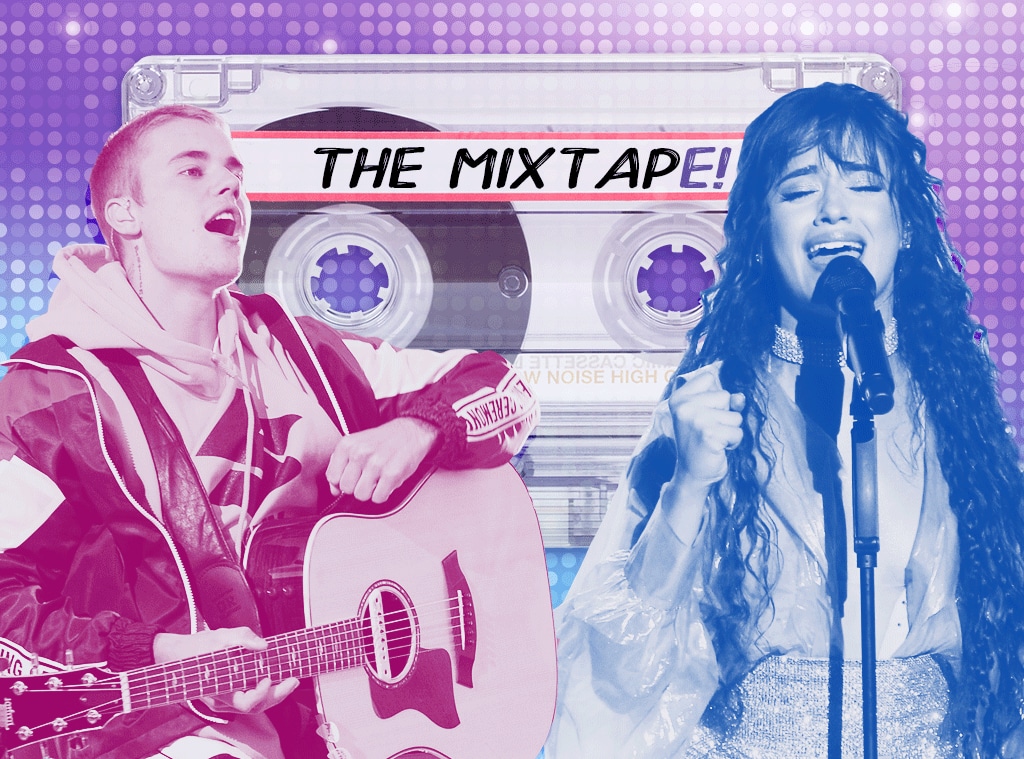 Getty Images/E! Illustration
New music Fridays are a thrilling, yet daunting prospect for any music lover. 
It's essentially a weekly holiday where fan-favorite artists and fresh faces alike drop their latest offerings for all the world to hear, flooding streaming services and digital retailers with an onslaught of aural goodies. But who has the time to sit there and listen to everything before updating their playlists? There's just too much good stuff! (And, if we're being honest, usually a few stinkers, too.)
As it turns out, we do. Welcome to The MixtapE!
By now, you've probably given Justin Bieber's first foray into country music via his collaboration with Dan + Shay on their new single "10,00 Hours" a listen or two or checked out "Cry for Me," Camila Cabello's latest offering off her forthcoming album, Romance. But there's so much more good stuff out there, just waiting to be discovered. These are our picks for the best of the best this week. You can thank us later.
Dan + Shay feat. Justin Bieber — "10,000 Hours"
It's been a busy week for the Biebs. He kicked things off with his star-studded wedding ceremony on Monday, tying the knot with wife Hailey Bieber for a second time, and he's wrapping things up with an appearance on this dreamy country-pop track from duo Dan + Shay. An ode to the special women in their lives, all of whom pop up in the music video, the romantic song is destined to become a favorite at every wedding for the foreseeable future.
Camila Cabello — "Cry for Me"
Camila's forthcoming second solo studio album may be called Romance, but that doesn't mean it's all fairy tales and heart eye emojis. As this, the third song she's shared with us from the upcoming LP, proves, she's committed to exploring the darker aspects of love, as well. The tracks finds the singer struggling to get over a former lover who's clearly much further along in the process. "When I said I hope you're happy, didn't mean it. Never thought you'd be so good at moving on. When I'm lying wide awake, you're probably sleeping," she admits in the all-too-relatable song. Following the one-two punch of "Shameless" and "Liar," "Cry for Me" is further proof that this album is going to be major. Now if only it had a release date.
Sabrina Claudio feat. ZAYN — "Rumors"
It's no secret that we're huge fans of Sabrina Claudio here at The MixtapE! Since we started this thing back in August, we've included new releases from her on multiple occasions while we patiently awaited the arrival of her second studio album. Now that magical day has finally arrived. And the truth is Truth Is is incredible from start to finish, so do your homework and listen to everything. But if you're looking for an entry point, look no further than the album's latest single, which features an always-welcome appearance from the former One Direction crooner. There's a reason we've been calling Sabrina one of the most exciting voices in R&B right now and you can hear it all over this track.
King Princess — "Hit the Back"
We didn't think our excitement for the queer newcomer's debut album Cheap Queen, due on October 25, could grow any more. And then she went ahead and dropped this track, the LP's fourth official single, and blew our freaking minds. On what is essentially a theme song for the helplessly devoted and utterly submissive, Mikaela Straus proves yet again why Mark Ronson was so smart to sign her as the first artist at his Columbia Records imprint, Zelig Records.
Diana Gordon — "Becoming"
After co-writing a handful of tracks on Beyonce's Lemonade album, Diana finally dropped the stage name she'd been using since 2004—Wynter Gordon—and introduced the world to the woman behind the persona. And reader, her music only got more interesting once she did. This latest release, her first of 2019, is the sort of next-level music that you'd expect from a trusted Queen Bey collaborator and should erase any and all memory of the Wynter era.
FINNEAS — "Partners in Crime"
Billie Eilish's big brother and sole collaborator is ready to step out from under his sister's shadow with his debut EP, Blood Harmony, out today. And the seven-song collection makes a compelling argument for why he deserves his time in the spotlight. His sound is a bit quieter than the one he helped construct for his little sis, but his confessional approach to lyrics paired with his smooth vocals are truly all you need. This track, an expression of enduring love for an ex, warts and all, just might break your heart, but we're willing to bet you'll be fine with that.
Niall Horan — "Nice to Meet Ya"
The second former 1D star to show up on this week's list, Niall is finally kicking off his second solo era with this track, the lead single from his forthcoming second album. And if you loved his soft rock approach to pop, you're going to love this song, co-written with Ruth-Anne Cunningham in one day. A clear sign of very good things to come.
Anthony Ramos — "Mind Over Matter"
Anthony wasn't content to merely be an original cast member of Hamilton and Lady Gaga's BFF in A Star Is Born, so he's embarked on a recording career. And honestly, when you're this good, it's almost an obligation to the people. Since signing with Republic Records back in June, he's been steadily releasing solo material, but nothing has felt as radio-friendly and fun as this track, a sexy little ode to next-level sex. Consider us officially hyped for this debut album.
Gucci Mane feat. Megan Thee Stallion — "Big Booty"
Sometimes, you just need the DJ to spin a song that lets you celebrate your juicy booty. This new track from Gucci Mane, featuring a verse from one of the most exciting new female rappers in the game that proves she's more than just a flash in the pan, is that song. It's about exactly what you think it's about, nothing more and nothing less. And for that, we thank it.
Kim Petras — "Wrong Turn"
Aside from enduring classics like "The Monster Mash" and "Thriller," pop music has historically ignored the spookiest time of the year, Halloween, in favor of the joyful holiday right around the corner. (It's Christmas, in case you weren't sure.) But Kim Petras is on a mission to change that. The German-born princess of pop, who just so happens to be one of the most successful openly trans women in the industry, rang in the start of what must be her favorite month of the year with the release of her second studio album, Turn Off the Light. A sequel to her EP of the same name released a year ago to the day, the album features nine new songs alongside the eight previously released on the EP, all of them Halloween themed. And while the entire album deserves to be the soundtrack to your upcoming Halloween party, our favorite is "Wrong Turn," a fierce bop that ought to show up in an episode of American Horror Story: 1984 if Ryan Murphy has any sense.
Bonus Tracks:
Poppy — "I Disagree": Poppy, born Moriah Rose Pereira, has been almost purposefully difficult to pin down since her first release in 2016. She's not an easy artist to fall for, but this latest release, the title track from her forthcoming third studio album, with its inexplicable fusion of metal, electronica, and bubblegum pop somehow just works. Don't ask us why, though. We're as confused by its alchemy as you are.
Maren Morris feat. Hozier — "The Bones": We weren't sure Maren's hit off her recent album GIRL could be improved upon. And then we heard this remix with the Irish crooner taking over the second verse and we were immediately proven wrong. 
Kennedi — "Better": Don't know who Kennedi is? Don't worry, we didn't either until this week. But after reveling in this delicious little slice of pop, we won't soon forget her.
Doja Cat — "Bottom Bitch": Hot off the heels of her mind-blowing video for her "Juicy" remix featuring Tyga, Doja is back with the first single off her forthcoming album. And from its Blink-182 sample to its mid-tempo sound, it feels like revelatory new ground for the rising star.
Michael Blume — "In Between": Get into this rising queer pop star with his latest release, a celebration of the fluidity in all of us. You won't be disappointed.