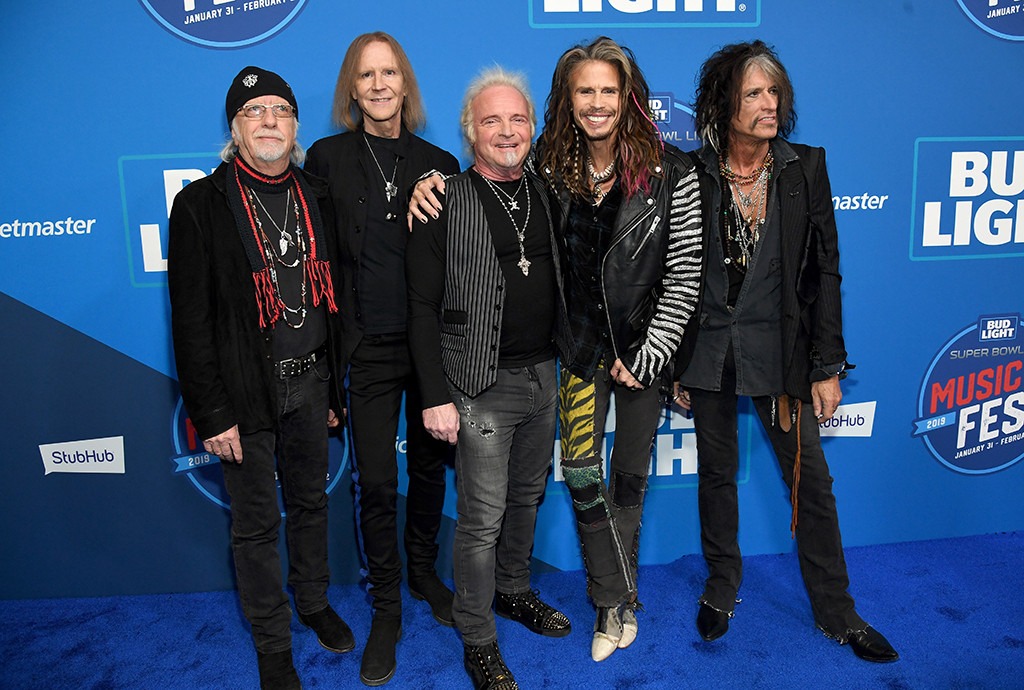 Kevin Mazur/Getty Images for Bud Light Super Bowl Music Fest
Music fans don't want to miss this honor!
Earlier today, MusiCares announced that Grammy-winning band Aerosmith will be honored as the 2020 MusiCares Person of the Year.
The tribute will take place during the 30th anniversary MusiCares benefit gala, which is held two nights before the 2020 Grammys.
"We are so honored to officially announce that we are the 2020 @MusiCares #PersonoftheYear! For 30 years the organization has worked to help musicians and people in our industry with addiction recovery, healthcare and more, raising more than $60 million to save countless lives," the band shared on Instagram. "We are beyond thrilled to celebrate this honor with MusiCares, the @RecordingAcademy and our music community at the 30th annual Person of the Year gala—we're gonna rock and save lives! Follow @MusiCares for more details leading up to the #GRAMMYWeek celebration on January 24, 2020!"
During their long career, Aerosmith has shown support for a number of charity organizations around the world including MusiCares and Steven Tyler's philanthropic initiative Janie's Fund, which supports young women who've suffered the trauma of abuse and neglect.
As for their music skills, it's no secret that the band continues to rock harder than ever before.
They're currently performing their biggest hits including "Dream On," "Crazy" and "Walk This Way" at their Las Vegas residency held at the Park Theater.
And just last month, new dates for their Deuces Are Wild residency were announced through June 2020.
"The Person of the Year gala is the pinnacle of the essential work that MusiCares is doing year-round, and it's truly magical in the way that it unites and galvanizes our community and inspires others to take action on their own," President/CEO of MusiCares Deborah Dugan said in a statement. "As we continue to expand our services to people in need, we are thrilled to pay tribute to one of the most beloved bands of all time. Aerosmith has walked the walk when it comes to raising funds to impact music people in recovery. It is sure to be an amazing evening."
Past recipients of the special award include Dolly Parton, Fleetwood Mac, Lionel Richie and more.