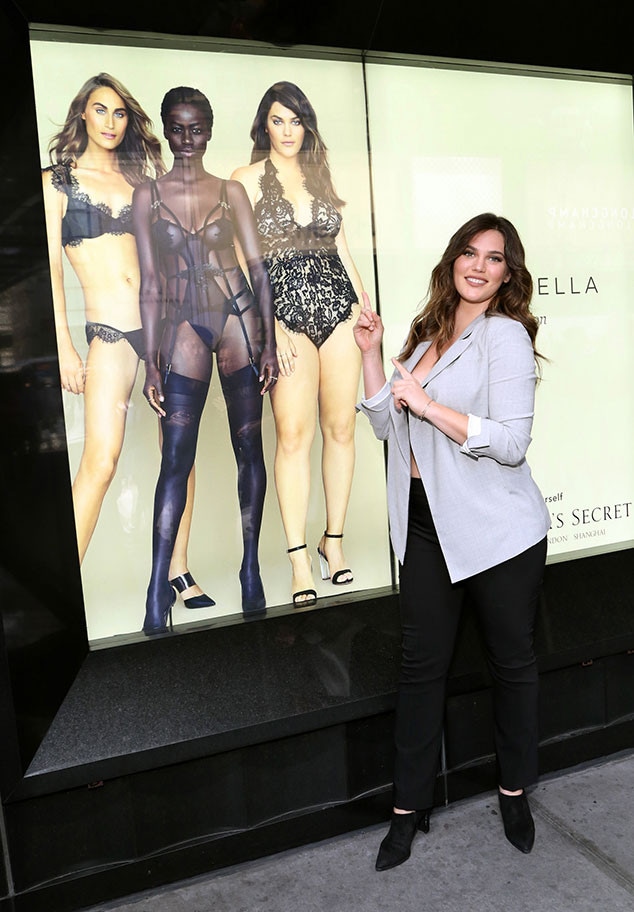 Courtesy of Victoria's Secret
Ali Tate-Cutler is revealing how "surreal" it is to represent the every day woman in Victoria's Secret's new collaboration with Bluebella.
For the first time in its history, Victoria's Secret is featuring a size-14 woman in their campaign as part of their collaboration with the U.K. lingerie line. And none of this would've been possible without Bluebella finding its muse in Ali. 
While the label of course caters to women of all sizes and has showcased plus-size models in years past, visual representation was always limited to women under a size-14. But Ali, who is represented by Milk and Muse Model Management, is hoping that her role as the muse for Bluebella will pave a way for increased representation across the board. 
She exclusively tells E! News all about her hopes and dreams for the modeling world, the women who inspire her and how she practices self-love on a daily basis in the Q&A below. Check it out to learn more about the model taking the fashion industry by storm. 
E!: How does it feel to be part of such a huge brand and how was this connection initially made?
A: It feels amazing, I feel on top of the world. When I went in today to the VS store for the launch of the collaboration it felt surreal. I never expected that I was going to see an image of myself on the wall next to these top super models that I have been looking up to since I was a little girl. The whole thing came about when I got cast to be in Bluebella in London through my agents at Milk. It all unfolded from there and I was told this was going to be on the wall at VS and carried in their flagship stores.
Courtesy of Victoria's Secret
E!: As the first plus size model, if that's a term you're comfortable with, what do you hope to see the company do next in their strides to become more inclusive?
A: I can speak on the fact that I am comfortable with the term "plus size model." I don't get hung up on the term. I do know that I am not the first plus size model, but I am the first 12-14 size model. Size 14 is actually the average size of women in America and I do think that we need to see more of it in media and fashion because most women are that size. So, we need to be accurately represented in brands and media. For Victoria's Secret I am so excited that they decided to put a size 14 women like me on the wall. I feel like they are headed in the right direction and they are listening to their audience who have requested to see more women of diverse shapes and sizes. I think if they continue to head in that direction they will be on to a jackpot because that is reflective of what the average woman is in America.
E!: What does it mean to you that it has taken until 2019 to hire size 14 model?
A: When we look at fashion history it's taken a long time but we can also look back and see that in the 1950s there was a different body type that was more popular. Predominately the body that has dominated the fashion scope has been a skinny tall body. This was damaging for women all around the world to see this because we were told time and time again that you can only be beautiful if you are tall skinny and predominately white which has changed so much in the last 10 years. I think it took so long because we needed disruption in the industry. We needed people to step up and be the whistle-blower of the fashion industry. More than ever we are seeing all different shapes and sizes in fashion weeks around the world. They are heading campaigns of all different kinds. It has been changing but it just took a while to get there.
Courtesy of Victoria's Secret
E!: Who are some of your biggest inspirations in terms of models that you look up to most?
A: Since I started plus size modelling 8-years-ago, I discovered this whole new world of curve models who I'd never heard of or seen before. They really helped me to come to a new understanding of my own body. Before I had only seen really skinny models like Giselle, or Kate Moss or Naomi Campbell and that's what most women think of and look up to in terms of modelling. When I started to discover plus size models my whole image of my own body transformed. I started thinking, 'Oh, those women are really beautiful, I guess I can be too.' It started to make me feel more confident and empowered. I started to follow the world of Crystal Renn and Ashley Graham. It seems to be growing more and more. Now, we have all different shapes, sizes, heights, colors and ethnicities and it is leading to a more richly defined tapestry of what it means to be a model now.
E!: On your podcast you have interviewed a lot of women with such inspiring stories, who is your dream guest for your podcast?
A: My dream would be Oprah. I think she is the coolest, most wise, loving person. She has this mama bear energy. I think she's been striving to make the world better and I think she's been doing it not through criticism but love. I find her story hugely inspiring. Next to her I would say Marianne Williamson, because of her book "A Return to Love." People may not believe with her political campaign but I think that she's usually speaking from a place of love. I think she sees the world from a spiritual lens. Those 2 women to me have been huge icons and role models and I would absolutely die if they decided to come to my podcast.
Courtesy of Victoria's Secret
E!: From your Instagram it is clear that you read the comments, and while there is an overwhelming amount of praise, there is always going to be negativity. How do you deal with that?
A: The way I like to think about negativity is that no matter what you do—it can be the best thing ever—someone will take an issue with it and you will get criticism no matter what you do. All we can do, is strive to be more conscious and make better decisions and help people. If someone wants to criticize you about that, let it be water under the bridge and let it go. At the end of the day, what sticks in my mind is the positive comments, they stay with me and make sure that I am on the right track. If I can even help one person, that is a win for me. Forget all the haters.
E!: What advice can you give to people who are struggling with their body image or self-love?
A: Self-love is a journey that is not linear. You don't start at A and end at B it's an ongoing persistent practice. Some days you find that you love yourself and you think that all of your body woes and insecurities are a thing of the past and other days you realize that you're still struggling with this. It's a journey and it takes you to show up day after day to work with the trauma and work with the issues that have been programmed into us and transform it into an all-encompassing feeling of self-love. It's hard and won't happen overnight and I don't even know if you can get there in one lifetime but I do know the most important thing is that self-love is a journey that we need to do for ourselves as individuals so we can love the world. It all starts with us. We need to take our own happiness and our own respect for ourselves in our own hands.
E!: What are you most excited about with this partnership with VS and what if any fears do you have going into it?
A: I am most excited about the fact that a young girl is going to walk into Victoria's Secret who maybe looks like me and see a picture of me on the wall and be like, 'oh dang, she's beautiful and she's my size and don't need to change my size to be beautiful.' That's my biggest dream regarding this partnership. Victoria's Secret has such a big influence and such a big platform that this could really be transformative for a lot of people. My biggest worry would be that it's not received well—seeing women of larger sizes being showcased on their IG or website. Receiving hate for my size. I have even seen people write on the comments "she is too big" or "this isn't helping". That never feels good, I also have to remind myself that they aren't me and they don't know my body. They are speaking from a place of not knowing the reality. That's a worry. That people will respond negativity to women of bigger body types on these huge brand like Victoria's Secret. That's a worry but not a huge worry.