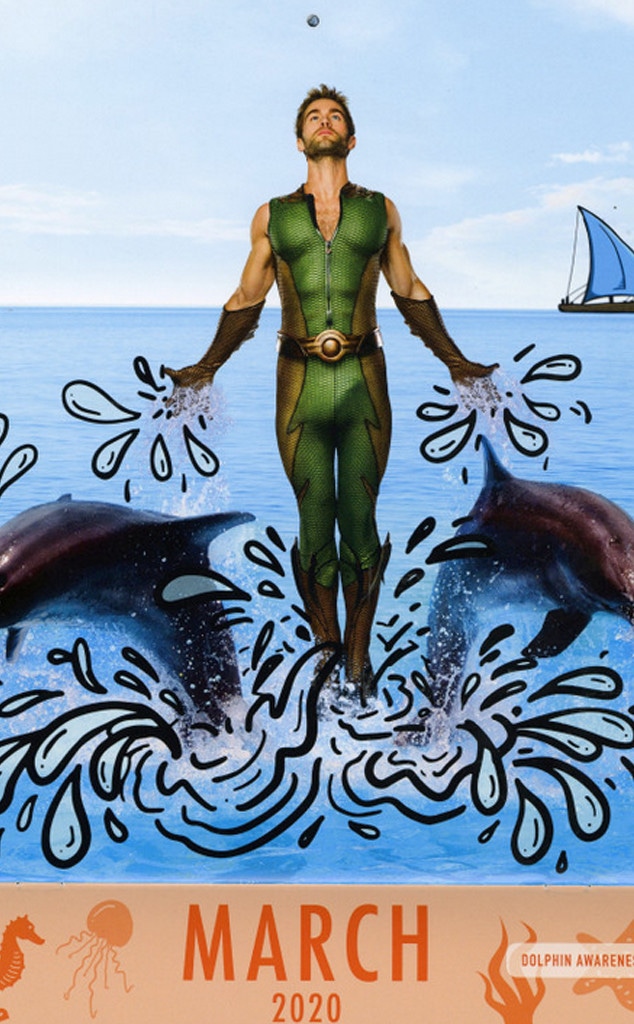 Amazon Studios
Remember that viral calendar shoot featuring Chace Crawford's bulge? You know, the one in which he wore The Deep's form-fitting suit to promote The Boys—leaving little to the imagination?
Well, the 34-year-old actor said there's a story behind the photos—but don't expect him to go into deep detail.
"There is a story behind that, but I'm sworn to secrecy by Eric Kripke," Crawford told Entertainment Weekly, referencing the co-creator of the Amazon series. "I'm sworn to secrecy. I wish I could give you a good answer, but we'll never know. It will forever remain a mystery. We will never know!"
Still, he admitted they both thought the attention the calendar close-up got was "so funny."
"[Kripke] thought it was the funniest thing in the world," he added. "Oh God. It was probably a little bit over-covered, but I was like, 'Whatever The Deep can do for you guys to get some press, you know I'm ready to support the show!'"
Although, he said he "got a lot of weird DMs."
"A lot of love, a lot of love!" he noted.
At the time of the shoot, the Gossip Girl alum didn't know he was going to be the only person featured in the calendar.
"They showed me one of the months and I'm like, 'Cool,'" he told the outlet. "But then I'm flipping through and I'm like, 'Wait… I'm in every one of these. It's just me. Well… s--t.' I died laughing. It's obviously in character and it's amazingly cheesy and really funny. We really went for it."
Still, the Nate Archibald star remembered playing it up for the cameras.
 "They had this prop jar, and I was just grabbing props and doing silly stuff, like holding a rose and turning over my shoulder," he told EW. "I knew it was going to be ridiculous, but I got the calendar fake-out. I really thought it was the whole crew, the whole team! Thanks, guys! And when I was at Comic-Con, they just had like 40 of them. I was like, 'Okay, no one's ever going to really see these,'….Little did I know… yeah. Yup."
According to the publication, Crawford didn't even get a copy of the calendar. But considering how much attention it got, he can probably find the photos on the internet.
To read his full interview, check out Entertainment Weekly.