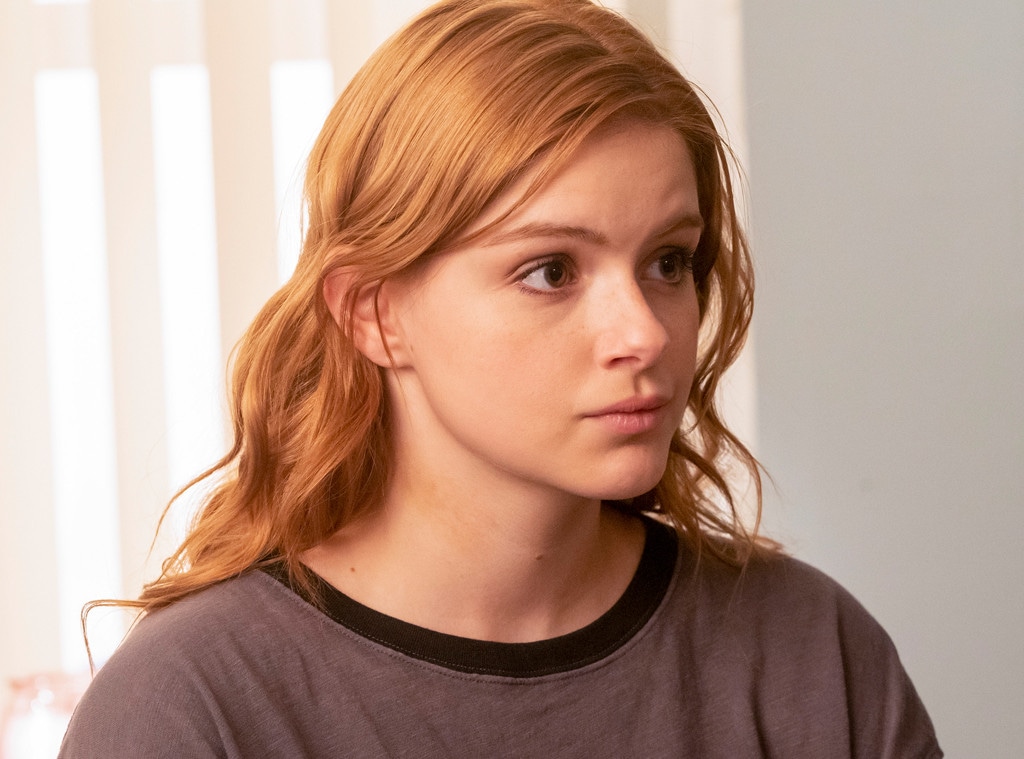 NBC
For Ariel Winter, filming a guest spot on Law & Order: SVU was not only a dream come true, but a life-changing experience.
The Modern Family star confessed to E! News that she's among the #SVUDiehards out there who have seen every episode multiple times. The 21-year-old actor said she first started watching the show as a freshman in high school after getting sucked into a marathon on USA Network. It's an experience many can relate to. From there, her weekends were absorbed by the elite squad of detectives known as the special victims unit. Then, Winter went to streaming platforms to start the show from the beginning.
"It's just such an incredible show, it really is," Winter said. "And I know they have so many, so many, so many fans because the show is so amazing and moving, and their characters and Mariska—literally everybody—but also, like, Mariska. What a queen."
In "The Darkest Journey Home," Winter plays Reagan, a young woman who works with Captain Olivia Benson (Mariska Hargitay) to recover memories and details after she wakes up from a night out that ended in rape. Benson and her squad relive their own personal traumas while learning how to use a new interviewing technique to help Reagan recover her memories and get justice.
Winter is such a big fan she said she didn't even read past the email subject line. Once she saw the words "Law & Order: SVU" and "offer," she said she was on board, even though it meant going right from SVU to begin work on the final season of Modern Family. "I was like, 'I don't care. I will make it work. I will be exhausted. I do not care. I will be on my favorite show!'" she said.
As her dream started to become a reality at the table read in New York, Winter admitted she was "so nervous."
"My table read was actually the first time I was anywhere and meeting anybody, and I thought I was going to pass out. I'm not going to lie. I was so quiet, I was so sweaty, I was so nervous, and I do not get that way. Like, I just really don't…I don't know if there's any situation where I really felt like that and it was a wave of, 'Holy s—t, this is what I'm doing. I'm here. I'm with them, I'm in the same room, I'm reading the script with them, I'm breathing the same air,'" she laughed. "For me, it was a crazy feeling that I just haven't particularly experienced. Seeing everyone in person, seeing Ice and Mariska and Kelli and Peter, and they walk in! I wanted to pass out."
But she retained consciousness and began to tackle the "complex character" in what she described as an "amazing experience" working with Hargitay and the SVU crew.
"I don't have many heroes or idols in that way, I don't see it like that, but it's always nerve-racking when you meet somebody you really, really admire because you never know. People always say, you meet your heroes and you'll be disappointed or whatever, and I never thought that was possible, but it's always scary. I also didn't want to be a letdown for meeting her either. So, for me, it was so scary," Winter said about working with Harigtay. "But she is one of the most incredible people I've ever met in general, aside from being an insanely amazing actress, just as a person. You don't find people like her that often that are exactly just who they are as people…She does so much. She cares so much. Meeting her, I just felt I had an instant connection with her as a person because she just makes you feel seen and heard. It was really an amazing experience and an experience that was mildly life-changing for me…It was something that kind of hit me really heard. It was interesting for so many ways, filming that in my life, as a person and as an actress. It was incredible just getting to work on that show and work with them and be included. To say that I'm Law & Order: SVU has been my dream forever…I've been so lucky that they brought me on."
The experience of filming SVU, specifically playing a character she has never tackled before, "changed how I thought about a lot of things, how I looked at a lot of things," Winter said.
"There's so much to [Reagan] that I was really grateful and surprised that they would trust me to do that. Honestly, it was nerve-racking for me because she's such a complex character, there's so much going on with her, there's so many different sides to her, her story is complicated but also very realistic," she said. "There are people just like her. We all have a piece of her. It was definitely an honor to read that that was the role they thought of me for."
It was really working with Hargitay that was a transformative experience for her on screen and off, Winter said.
"And working with Mariska, just as an actress, the way that she pushed me was—I mean, amazing. She pushed me in a way I haven't been pushed before. Seeing as this is a character I've never played before, everyone has a fear of letting go and just being emotional and feeling, and she pushed me to do that as a person and in the show. So, it's just, honestly, something I'm so grateful for. It's a lot coming home because it's just a lot to process," Winter said about her time guest starring.
Law & Order: SVU airs Thursdays, 10 p.m. on NBC.
(E! and NBC are both part of the NBCUniversal family.)