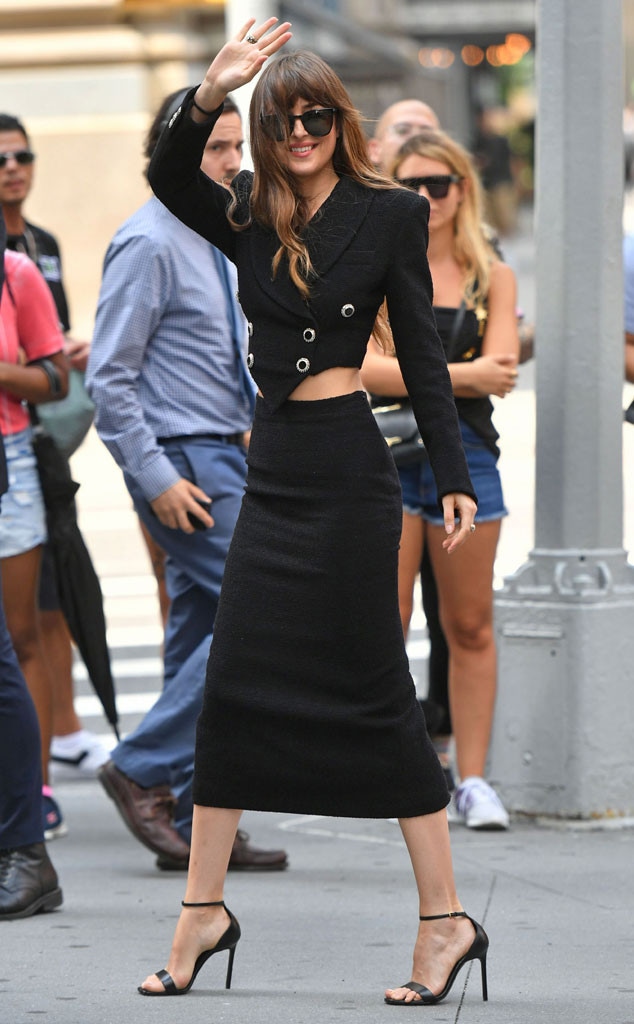 Erik Pendzich/Shutterstock
Looks can be deceiving. Especially really, really good looks.
Dakota Johnson wasn't exactly a newcomer when she landed the coveted role of Anastasia Steele in the Fifty Shades of Grey trilogy, based on the best-selling erotic novels about a smart but naive college student who's seduced by a perfect-looking millionaire with a fondness for BDSM (or, he succumbs to her charms, whichever) and complications ranging from mild to absurd ensue on the road to their everlasting happiness.
She had been acting for over a decade and, as the daughter of Melanie Griffith and Don Johnson, had been Miss Golden Globe in 2006. But as the child of actors (and grandchild, Griffith's mom being screen legend Tippi Hedren), skepticism as to what, exactly, Johnson was bringing to the cinematic arts other than her gorgeousness and her pedigree was unavoidable.
The feverish hype (casting drama, chemistry tests, Valentines' Day weekend releases!) combined with the increasingly bemused reception to the films as they rolled out between 2015 and 2018 didn't exactly help her cause—except with visibility, of course, which is, after all, so much of the battle in Hollywood.
But, if you were paying attention to anything not Fifty Shades-related that was occurring at the same time, you would've seen that she was quietly laying the foundation for the career she does want, long-term.
Richard Shotwell/Invision/AP/Shutterstock
"I'm proud of Fifty Shades of Grey," Johnson told Vogue UK in 2016 ahead of the release of Black Mass, the true-crime drama about gangster Whitey Bulger that starred Johnny Depp, in which she played his girlfriend. "I don't need to distance myself from that. The more work I do, the more the general public sees the different things I can do. Do I think it opened doors? Yeah. More people know my name."
She indeed dug into the opportunities arrayed before her with both hands, modeling, hosting Saturday Night Live and lining up other movies, including Black Mass and the comedy How to Be Single, which coincidentally came about during a window in which she was, in fact, single.
But while Fifty Shades of Grey may have been a fantastical coming-out party, still had promo tours for Fifty Shades Darker and Fifty Shades Freed to go, however, and the Rotten Tomatoes score went from 24 percent for Fifty Shades of Grey to 11 and 12 percent for the 2017 and 2018 sequels, respectively.
By the time the final leg was over, and she was free of contractual obligation, Johnson was already 50,000 miles ahead in spirit.
Asked recently if she found herself typecast at all after playing the sexy heroine, Johnson quipped to The Wrap that "there weren't a lot of big naked franchises" falling into her lap.
"If there's a project or a film that has a similar plot line—or I don't know if that would happen again—I'm not going to steer away from anything," she added. "I want to do everything, and I want to learn. I learn so much, no matter the project. I feel like I have no idea what I'm doing every time I'm working. It's just what I love, and I hope that I get to keep doing this job, because I'm really lucky."
So far, so good, and while it could have been hard to shake the bonds of association, Johnson surrounded herself with people who saw what she was capable of and were happy to continue her education.
In 2015, the actress went toe to toe with Tilda Swinton, Matthias Schoenaerts and Ralph Fiennes in Luca Guadagnino's A Bigger Splash, and the Italian director—who you could say has since adopted her as a muse—knew at the time that he wanted her for his planned remake of the horror classic Suspiria, about an American ballet dancer who enrolls at a dance school in Berlin where something isn't quite right and all goes horribly, gorily wrong.
Speaking to Entertainment Weekly last year, Johnson noted that she felt like "very much like a baby, and sort of Bambi-like" on the set of A Bigger Splash, which premiered at the 2015 Venice Film Festival. To which Guadagnino replied, "Well, you were a baby, but you were not a baby. Because I remember on Bigger Splash, your first shot was you just silently looking at the quarreling between Harry [Fiennes] and Marianne [Swinton] on a little wall and then eating.
"And then I remember the scene, how it came to life through you. And it was so full of nuance and wisdom and sharpness. Beautiful."
After executing his vision for Suspiria, starring Johnson as the dancer who discovers she's under the tutelage of witches, Guadagnino told The New Yorker last year that if he makes a sequel to Call Me by Your Name, which he directed in between the two other films, he would want Johnson playing the wife of Armie Hammer's true-self-denying character.
Amazon/Kobal/Shutterstock
Speaking of which, New Yorker film critic Anthony Lane wrote in his review of Suspiria: "Dakota Johnson, so gentle of speech, leaps up and slams herself down into a feral crouch, as if to rebuke the false and unnatural ecstasies that were demanded of her by the Fifty Shades trilogy."
Exactly. That was a whole different kind of acting, trying to suit material that was written a certain way to satisfy fans of the books.
Johnson acknowledged to MTV News in 2017, about shooting the myriad R-rated sex scenes in Fifty Shades, "It was bizarre to just be in pseudo intimate situations with complete strangers who are so, so, so nervous. So I mean, it's really uncomfortable." 
And she understandably had no interest in repeating that experience.
"Working with Luca is one of the most precious parts of my life," Johnson told the Los Angeles Times in February. "Working with him is a real gift because I can sometimes feel really discouraged in this industry... Like, who can you really trust? And I really trust him."
Tommaso Boddi/Getty Images
One glance at her mid- and post-Shades resume and it's obvious that Johnson's interests are far more varied. In addition to her two movies with Guadagnino, she's been in the wry ensemble caper Bad Times at the El Royale, as well as the quirky and heartwarming Peanut Butter Falcon. Wounds, a supernatural thriller with Zazie Beetz and Armie Hammer, opens Oct. 18 and her drama The Friend, with Gwendoline Christie, Jason Segel and Casey Affleck, premiered at the Toronto International Film Festival last month.
And throughout, while she's been busy working, she hasn't been out chasing the spotlight, preferring to keep a tight lid on her private life.
She's been quietly dating Chris Martin—with all the holidays spent with Gwyneth Paltrow and Brad Falchuk that entails—for almost two years, and she informed Tatler a year ago in no uncertain terms, "I'm not going to talk about it. But I am very happy."
Her mom isn't dishing any dirt, either, Griffith telling Us Weekly last year that her daughter "is very private about her life and I respect that."
And in Martin, Johnson seems to have found someone who has the exact same aversion to fame for fame's sake as she does.
Instead, they're both into using their platforms to raise awareness of causes that matter to them. For two years in a row they've attended the Global Citizens Festival, and this year Johnson spoke about inequality, noting how societal scourges like sexual violence and harassment stem in part from the disenfranchisement of women. 
Last year she posted a phone number for women to call to share their personal experiences in a voicemail, and a few days ago the actress announced a new podcast, The Left Ear, that will be featuring those stories. New episodes are dropping on Mondays.
"In this podcast, I want to create a space where the listener is listening just as honestly and bravely as the speakers who had the courage to call," Johnson wrote, the phone number and the podcast currently representing the entirety of her Instagram footprint (yet she has 2.8 million followers). "Your left ear is the ear closest to your heart. And by listening with your heart, you can save someone even just a little bit."
The fight for gender equality and protecting women have been recurring themes in her activism, Johnson having witnessed firsthand a business that historically has readily discriminated based on age, race and a host of physical attributes.
"As I get older, I realize that beauty is really the way that you treat people and the effect that you have on people," the actress, who's turning 30 on Oct. 4, told S Magazine this summer.
Women's behavior, especially with each other, has always fascinated her creatively, and that was something Johnson dug into making Suspiria.
Alessio Bolzoni/Amazon Studios
"I've always had an interest in movies about women and girls," she told EW. "I've always been interested about movies and stories that are grounding feminine energy and witchcraft. When I was young, it was obvious films like Hocus Pocus or Little Women. But then I discovered films like Heavenly Creatures and Three Women, and that part of it was enticing to me. But then just the mere thought of making a film with 38 women in the cast just felt like an incredible opportunity, especially the women we were working with. They're so talented and of all ages, from every corner of the world. It was an incredible experience. I loved all of these women so much."
In her latest movie, The Friend, she plays a terminally ill woman whose life is affected in ways unforeseen when her husband's friend, played by Jason Segel, moves in with them to help out.
"My focus is drawn toward story and characters that possess a pretty profound level of humanity," Johnson told The Wrap last month. "I really don't know, I don't have a plan. I want to work with great people. I want to work with kind people and make films and shows, and I want to make things that people find themselves in, whether it's in the story or the character."
Fifty Shades may have opened the door, but Johnson is keeping it open with her lust for the next learning experience.