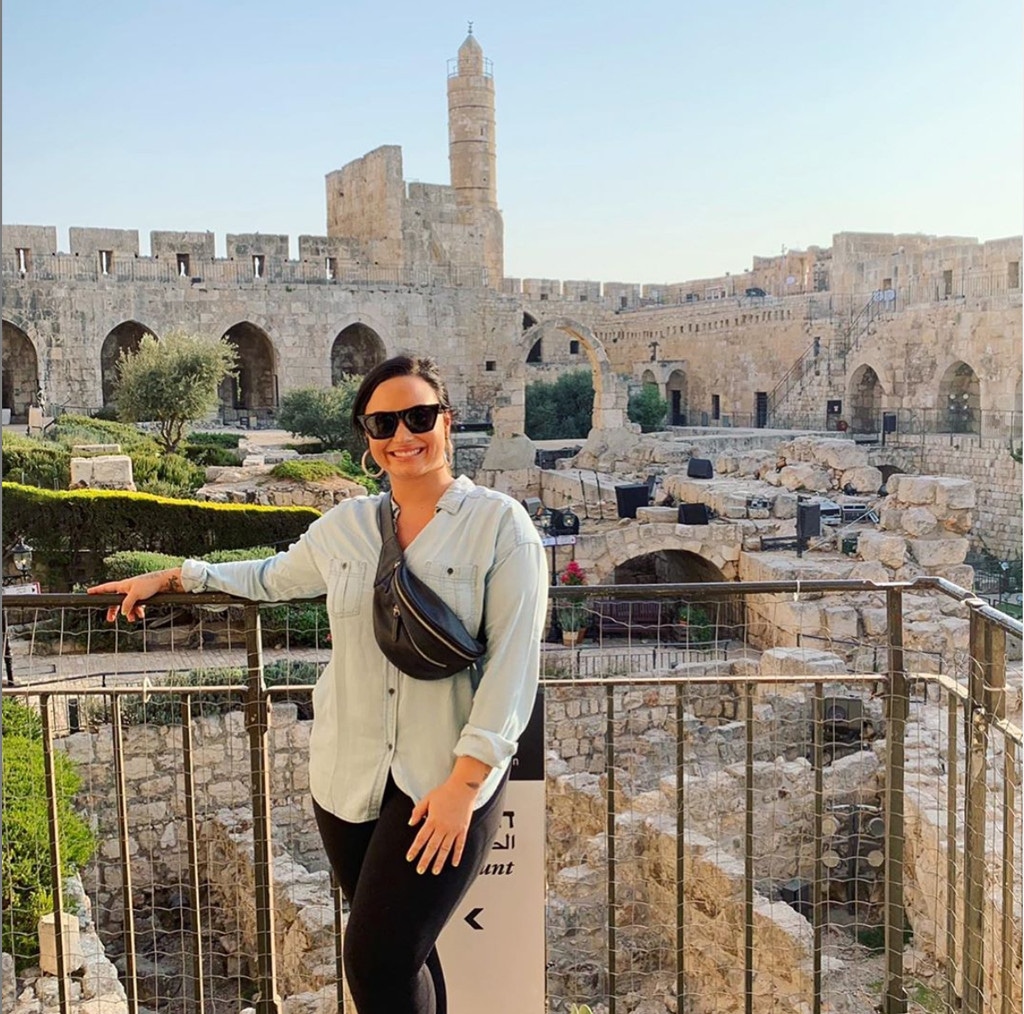 Instagram
Demi Lovato continues to thrive emotionally, physically and spiritually. 
Earlier today, the 27-year-old took to Instagram to share photos of a recent trip she made to Israel, where she also got baptized in the Jordan River. 
"I am an American singer. I was raised Christian and have Jewish ancestors. When I was offered an amazing opportunity to visit the places I'd read about in the bible growing up, I said yes. There is something absolutely magical about Israel," Demi wrote earnestly in her caption. "I've never felt such a sense of spirituality or connection to God...something I've been missing for a few years now. Spirituality is so important to me...to be baptized in the Jordan river—the same place Jesus was baptized—I've never felt more renewed in my life."
As of late, the Disney Channel star has been making significant strides in regards to her personal life and her career.
From surrounding herself with friends and family to going back to her acting roots by landing a guest role in Will & Grace's final season, Lovato isn't stopping for anyone but herself. 
"This trip has been so important for my well-being, my heart, and my soul. I'm grateful for the memories made and the opportunity to be able to fill the God-sized hole in my heart," Demi continued in her caption. "Thank you for having me, Israel."
Aside from sharing a photo of her after being baptized in the Jordan River, she also shared a photo of her visit at the Yad Vashem: The World Holocaust Remembrance Center. "My heart was absolutely broken in Yad Vashem. This was such a beautiful tribute and a reminder that we can never forget," Demi wrote. 
But Demi's trip to Israel wasn't just about her. The 27-year-old also used the trip to visit the Shalva National Center, posting a photo on Instagram of herself with a "little beauty." 
The Israel Association for the Care and Inclusion of Persons with Disabilities is, according to their website, "dedicated to providing transformative care for individuals with disabilities, empowering their families and promoting social inclusion." Further, the center provides services for thousands of people with disabilities from infancy to adulthood and their families. 
"What an amazing center for children with special needs," Demi also said in her post. 
It's no surprise that Demi used her baptism trip to Israel to also give back to the community there. 
On July 24, 2018, the singer was rushed to the hospital from her home in Los Angeles after an apparent drug overdose. Two weeks later, Demi checked into rehab following her hospitalization. Earlier this year marked her one year since her overdose, and since then, she's shown her fans that she's prioritizing herself. 
A source also told E! News earlier this year that Lovato has worked to "clean house and start over." 
"She goes to therapy. She eats healthy food and takes great care of herself," the insider shared with us. "She goes to lunch or dinner with friends. Her health and well-being are her priority. Her life is simple but fulfilling because she is feeling great." 
"I want this new chapter in my life to be about being authentic to who I am rather than trying to meet someone else's standards," she wrote in her Instagram caption. 
We're glad this new chapter of her life is full of self-love and positivity. You deserve it, Demi!