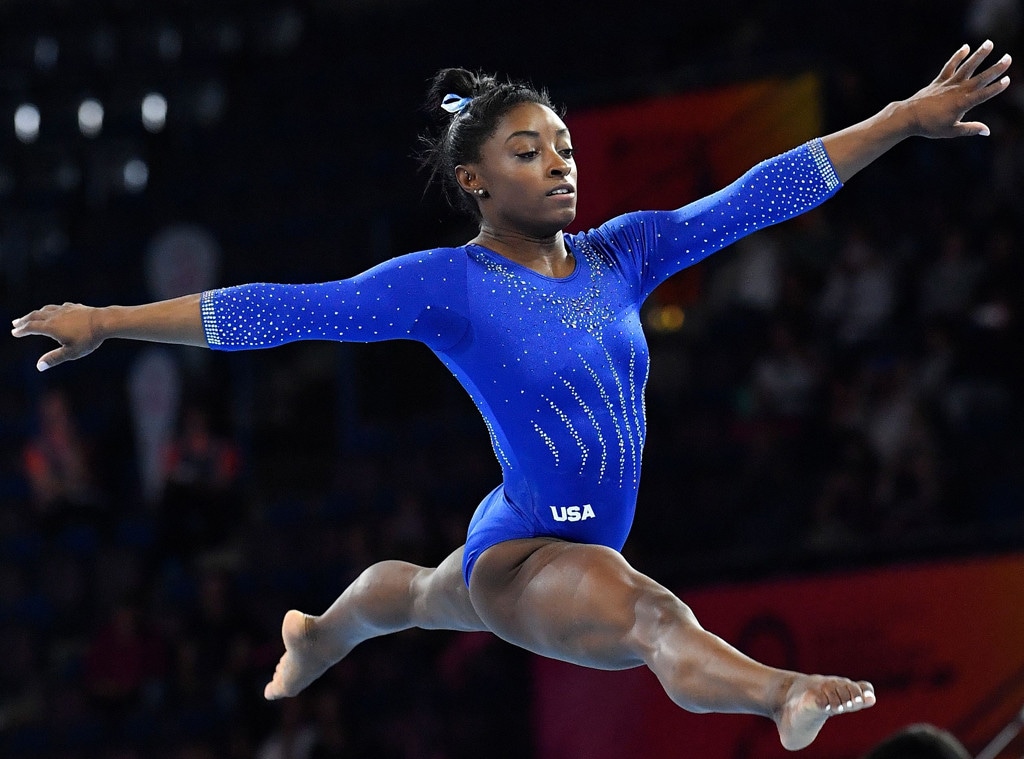 THOMAS KIENZLE/AFP/Getty Images
Many will agree that Simone Biles is a household name. After becoming a four-time Olympic medalist and 14-time World Champion, the 22-year-old gymnast instantly reached celebrity status. However, Biles recently shared that she refuses to "label" herself a "superstar" for a very important reason.
While speaking at the pre-competition press conference at the 2019 FIG Artistic Gymnastics World Championships in Germany, Simone explained, "If I were to label myself as a superstar, it would bring more expectations on me and I would feel pressured, more in the limelight, rather than now."
"I just go out there and compete," she said. "[I] try to represent Simone... not 'Simone Biles' whenever I go out there, because at the end of the day, I'm still a human being before I'm 'Simone Biles, the superstar.'"
It didn't take long for Biles' fans to chime in on her comments, with one person perfectly summing things up: "But you are. You are a goddamn superstar."
At the competition, the 22-year-old star made some major waves. According to USA Gymnastics, Simone landed her first triple-twisting double tuck to ever be done by a woman on a world podium.
In fact, her incredible move made history back in August when she became the first person to land a triple-twisting double during her floor exercise at the U.S. Gymnastics Championship in Kansas City. Furthermore, she is the first person to ever complete the move.
At the time, she said, "We don't want to change too much going into next year. You kind of just want to stay consistent with your routines, and if any upgrades come, you'll see."
We definitely saw on Tuesday, during her competition in Germany, when she effortlessly pulled off the move again!
Jamie Squire/Getty Images
Moreover, fans of the Courage to Soar author will also recall that she made history at the last World Championship when she became the first female gymnast to win four (yes, you read that correctly) World all-round titles. Additionally, she still holds the record for the most World medals of any woman in gymnastics.
Biles' latest accomplishment at the 2019 World Championship in Germany comes nearly a month after her older brother, Tevin Biles-Thomas, was arrested for triple murder—he pleaded not guilty on Sept. 13. Of the incident, the 22-year-old gymnast took to Twitter to open up about the news surrounding her sibling.
"Still having a hard time processing last week's news," she wrote. "My heart aches for everyone involved, especially for the victims and their families. There is nothing that I can say that will heal anyone's pain, but I do want to express my sincere condolences to everyone affected by this terrible tragedy."
She added, "I ask everyone to please respect my family's privacy as we deal with our pain. XO." 
It appears this is the first major event Simone has attended since her brother's arrest.
Despite Biles' tough family news in recent weeks, fans are definitely glad to see the Olympic medalist back in her element. Breaking records and dropping jaws, no less!