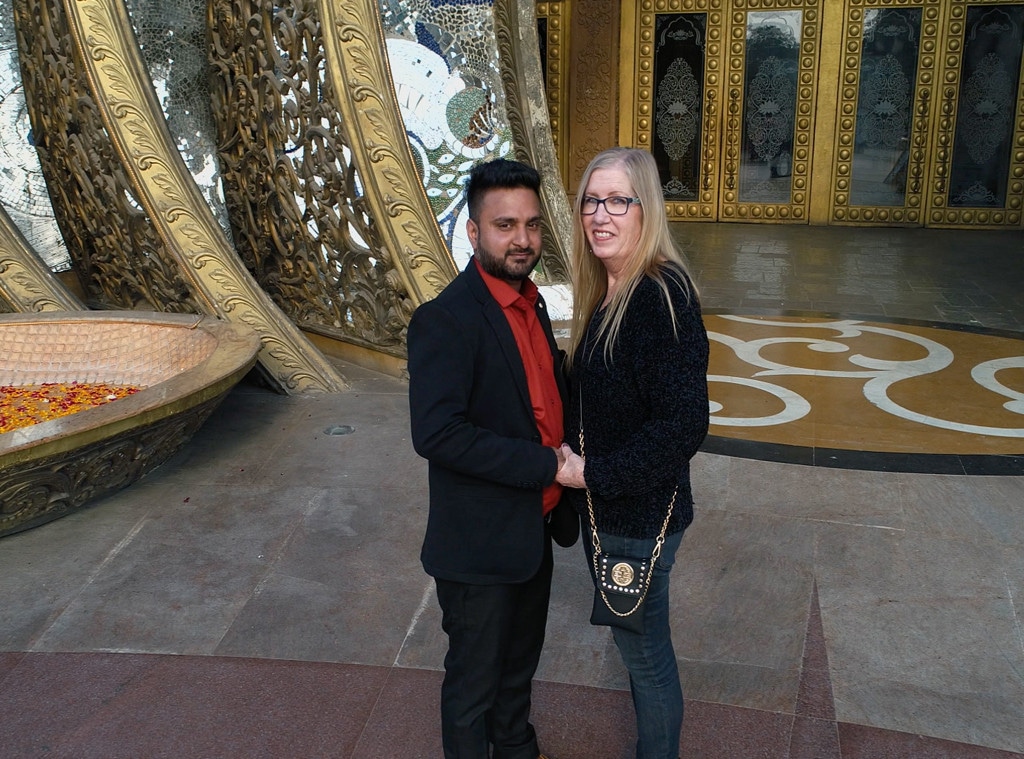 TLC
After a week apart in real time (two episodes in TV time), 90 Day Fiancé: The Other Way stars Jenny and Sumit finally reunited. Their week apart came after Sumit's family found him living with Jenny and he was confronted by his father-in-law. Yep, he's been married this whole time. The reveal was one of the best TV twists this year.
Their emotional reunion—in front of cameras—came with the blessing of Sumit's family. They whisked him away after the confrontation in his apartment. During the confrontation, Jenny met just about everyone, including Sumit's wife.
"Why did this happen?" she cried to him. Sumit explained he was in an arranged marriage. He tried to make it work at first, but said ultimately, he couldn't do it. Yet, nobody in his family would listen to him. The whole time he was in love with Jenny, he said. But Jenny, obviously hurt by the lies, wasn't just going to accept the whole situation.
"The way he talked to me, nothing ever changed," Jenny said.
Sumit continued to apologize and acknowledged what he did to both Jenny and his wife wasn't fair. He took Jenny's right to have a say in the situation away.
"It's all my fault, man, I did wrong. I do realize that," Sumit said in a confessional. He said once Jenny arrived in India, by the time of the reveal she had been there for five months, he planned to talk to her about everything. However, he enjoyed the peaceful coexistence between them. "And now I'm paying for that," he said.
Jenny gave up everything to move to India, including a job, her home, much of her belongings. She can't stay in India, so what does she have to go back to? "I still love you, so that's going to be hard for me," she said about returning to the United States.
"I don't want Jenny to leave. I'm ready to stand up, I'm ready to fight for me and Jenny to be together," Sumit said. But a hurdle stands in his way: His wife. For the divorce to happen, he said he wife needs to say yes, otherwise it will be a difficult process under India law.
Meanwhile…
Laura and Aladin
It's the final day of their three-day wedding and Laura was hellbent on getting her son, Liam, to the festivities. After his discussion with Aladin at the baths, Laura was ready to have some words with her son. However, he apologized for his behavior and said he realized he needed to grow up and accept what he can't control.
Laura explained to Liam that she needs him to give Aladin a chance, not as a stepdad, but as a friend. "If it bombs, you can hate the dude. I'm right there with you," she said.
At the wedding, Liam was by Laura's side, his trusty hat atop his head, but this time he had a new necklace of a camel's tooth. "It's weird," Aladin said in a confessional.
"I know our love story doesn't make sense, probably to a lot of people," Laura said, noting they know they love each other.
Did she hit the love jackpot? "I guess we'll find out," she said
Paul and Karine
In Brazil, Karine talked to Paul's mom, who finally noted she was having trouble adjusting to the heat in the South American country. Karine told Mary she doesn't know what to do when Paul gets out of control and angry and fears the baby picks up on the energy. Mary agreed to talk to Paul and told him he needs to grow up and start earning a living for his family.
After Mary departed—Paul told her her hair smelled good as she got into the cab—Paul and Karine addressed their relationship. They agreed to move forward, not with a divorce, but as a family. In a confessional, Karine said she's hopeful Paul will change, eventually, and now that they have a baby together, she's staying put in the marriage.
Tiffany and Ronald
Finally, Tiffany has made a decision and said her common sense is telling her to leave South Africa. Not only is it for the good of her son, Daniel, but for her unborn baby with Ronald, she said. She told Ronald it's time for her to go back, for the kids, and she'll apply for his visa. However, with her gone, she said she fears Ronald will relapse with his gambling.
90 Day Fiancé: The Other Way airs Mondays, 9 p.m. on TLC.