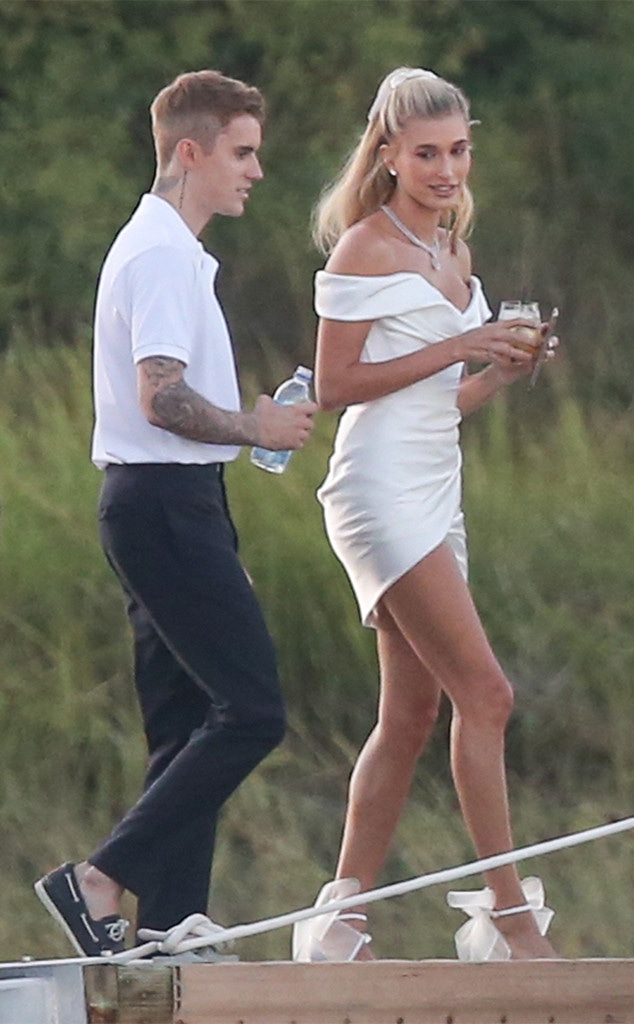 BACKGRID
It's a wedding celebration meant for the big screen!
With Justin Bieber and Hailey Bieber's second wedding occurring any time now, fans are getting even more details as to how the couple's special guests are celebrating the big milestone.
E! News has learned the famous pair had a special rehearsal dinner, which turned into a late-night after party. And according to TMZ, the evening included a screening of The Notebook.
"After the rehearsal/welcome party ended, the guests were shuttled back via water shuttle to the Montage in Palmetto Bluffs where they had an after-hours party. The party was in the bowling and game room," a source shared with E! News. "Everyone was bowling and taking advantage of the games and was having a really fun time. The night went pretty late."
Perhaps The Notebook screening shouldn't be the biggest surprise. After all, the film has some similarities to Justin and Hailey's big weekend.
They both occurred in South Carolina, boats were absolutely part of the scene and both of the grooms are Canadian (Hello Ryan Gosling). We're just saying!
According to our source, guests were dancing to music, singing karaoke and enjoying delicious food like French fries, sliders and fried chicken during the late-night party at Cole's, which is part of the property. "It has a cool trendy vibe but for the party, Mindy Weiss removed all of the existing furniture and refurnished the whole place with her items," a separate insider shared. "They also had these beautiful pillows all over the lawn where guests watched a big video screen."
One of those videos was a sweet clip Justin made for his wife. Awww!
And for those curious if the couple is nervous about the big day, it sure doesn't look like it.
"They aren't nervous. They are so comfortable and have never been more sure about anything. It's really just a celebration of their love in front of family and friends," a source shared with E! News. "They've been waiting for this day for a long time and they are just excited it's finally here. They are both very relaxed and not stressed at all."
Our insider continued, "It's been a great weekend with everyone in one place. They keep looking around and feeling so much love in every direction. It's been a lot of fun and the big day is just the beginning. They are looking forward to saying their vows and then having a big dance party."
Guests spotted at the celebration include Kendall Jenner, Justine Skye, manager Scooter Braun, Pastor Carl Lentz and more than a few family members.
"Me and the wife! and the in laws !!" Justin wrote on his presumed wedding day. "Thanks for lettin ur daughter marry a savage like me."
Congratulations you two!