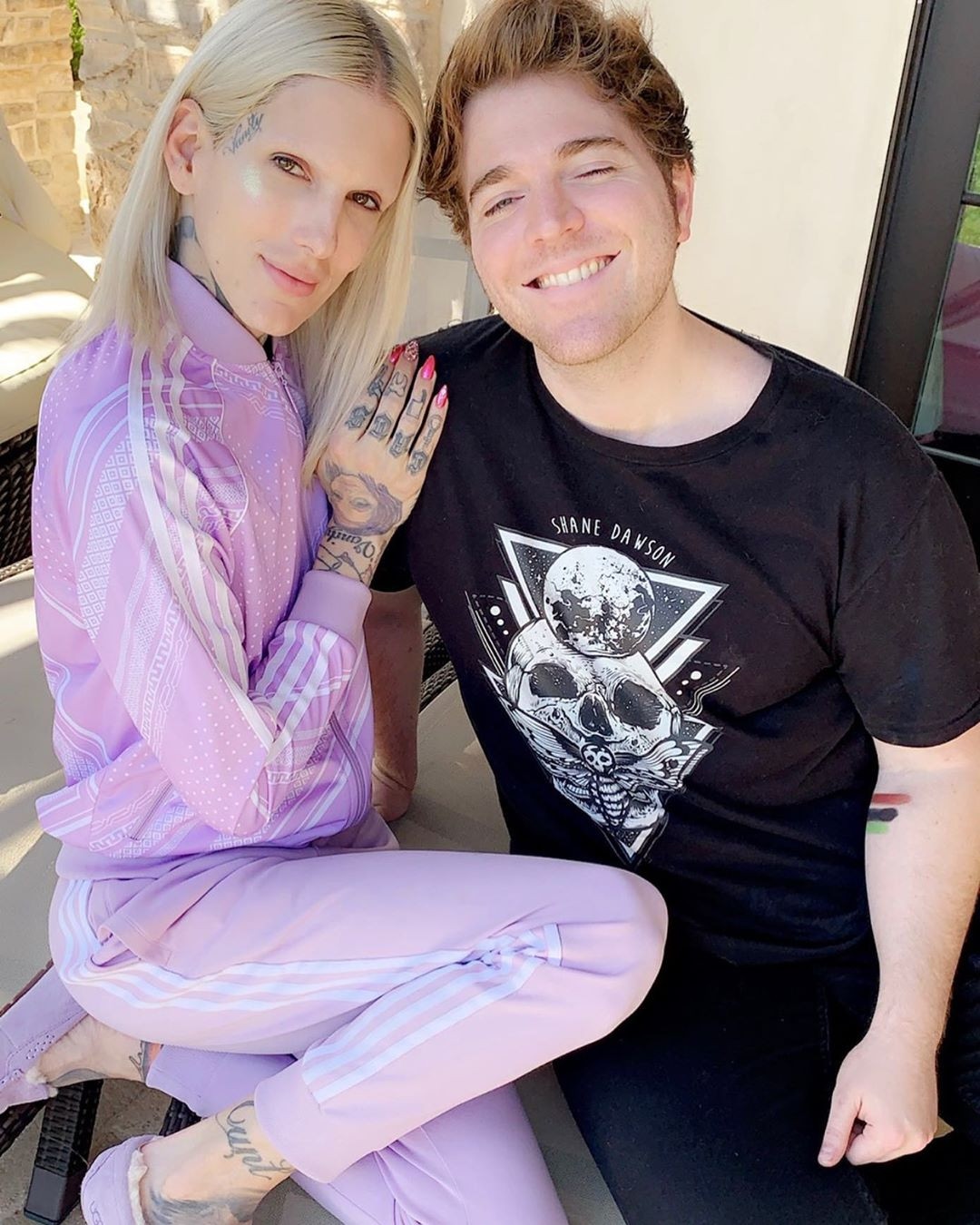 Instagram
Of all the people on YouTube, very few have proven to be lightning rods for controversy like Jeffree Star.
After gaining notoriety on MySpace—in 2006, he was the most-followed person on the gone-but-not-forgotten social media platform—the influencer born Jeffrey Lynn Steininger Jr. made a brief foray into the music industry (believe it or not, a track on his first and only album, 2009's "Lollipop Luxury," features a verse from Nicki Minaj) before beginning his own cosmetics company in 2014, which he promoted to his many subscribers on YouTube. Four short years later, he was making $18 million from his YouTube endeavors along, according to Forbes, making him the fifth-highest paid star on the platform that year.
His rise to beauty mogul has been littered, however, with accusations of racist behavior, both past and present; accusations that he's owned up to at times—"I don't know who that person was," he said in a video posted in 2017 as he attempted to contextualize video evidence of him using the n-word as a slur as the manifestations of anger and depression. "I know who I am today, but I do not know who that person was."—and ignored at others. (When Nigerian-American beauty YouTuber Jackie Aina said in an open letter to Jeffree a year ago that she would no longer "excuse his blatantly racist behavior," adding that "no one in the community should feel like they are protected enough to continuously say things to make black women feel ugly and ashamed in their own skin," followed by his former hairstylist Daved Anthony Munoz releasing a video showing messages where Jeffree allegedly referred to Jackie as a "gorilla," he remained conspicuously silent.)
The accusations and rumors continue to haunt Jeffree despite (or perhaps because of) his enormous successes. And that's something he and fellow influencer Shane Dawson, who knows a thing or two about causing controversial moments himself, addressed head-on during last year's five-part docu-series The Secret World of Jeffree Star. During the series, in which Shane attempted to get a better understanding of the mysterious (and rich AF) life that Jeffree lives, the two spoke about the moments in Jeffree's past, moments that he again attempted to recontextualize. The thing about throwing battery acid in a woman's face to lighten her skin tone? It was a comedy sketch, he said. Calling people the n-word on the street? They were white women, so it wasn't about race, he insisted.
A mostly sympathetic ear to his explanations, Shane, too, has some darker moments in his YouTube past, moments that, beginning in 2008, saw him use blackface and the n-word, as well. He wouldn't apologize for the blackface until 2014. More recently, he's come under fire for crass jokes about bestiality and pedophilia and for giving Jeffree and other controversial YouTuber Jake Paul sympathetic platforms after they've taken heat from the community at large.
Something tell us there's most controversy to come. After the success of The Secret World, Shane and Jeffree have teamed up for a sequel series, The Beautiful World of Jeffree Star, a nine-part series debuting on Shane's YouTube channel on October 1, 2019. While the series ostensibly follows the two as they attempt to make a makeup and merchandise brand from scratch, it'll also appears cameras were running when influencers Manny Gutierrez, Laura Lee, Nikita Dragun and Gabriel Zamora came for Jeffree over his alleged racist behavior after a falling out last year (only for each of them to have their own brushes with racist behavior exposed in the aftermath, when Shane's old jokes came under fire, and when the influencer world was thrown off its axis as James Charles and Tati Westbrook had their falling out—a scandal that came to involve Jeffree as well before all was said and done.
It remains to be seen how Jeffree and Shane respond to their latest round of controversies in the course of filming the new series—and whether those reactions are reflective of people who've truly grown and changed or just people looking to keep their unbelievably lucrative careers afloat with as little damage as possible—but while we wait, let's take a look at the biggest scandals to have hit YouTube since the video-sharing website began cranking out this new era of celebrities.
The Beautiful World of Jeffree Star debuts on Tuesday, Oct. 1 on YouTube.