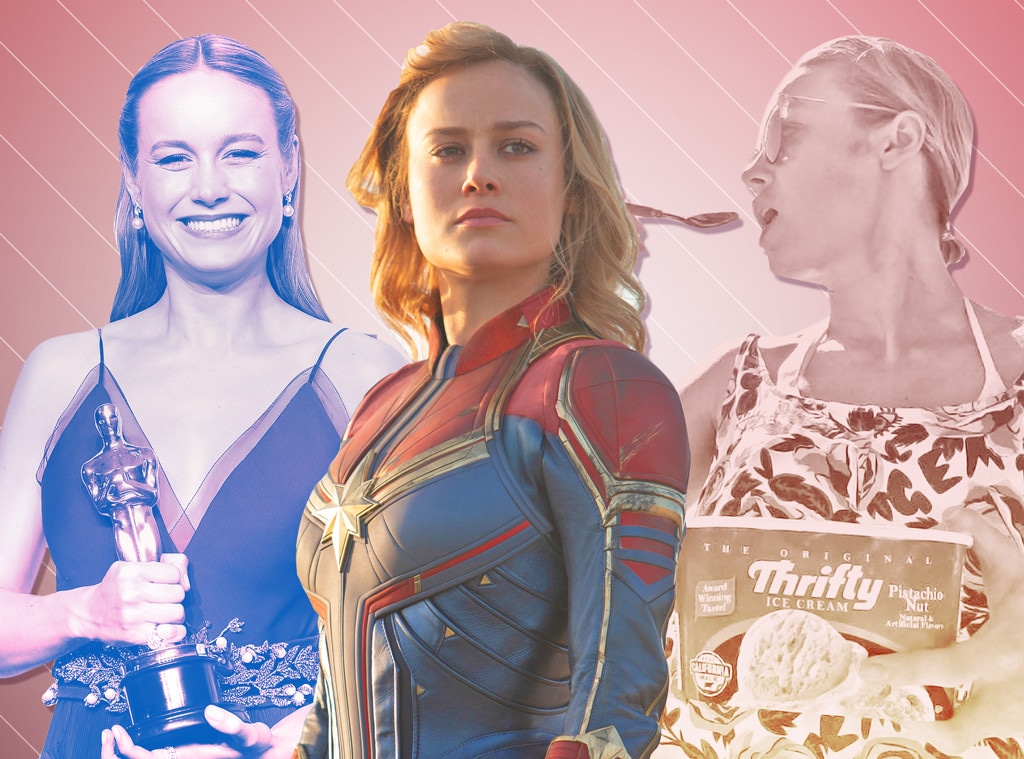 Getty Images; Marvel; E! Illustration
Brie Larson in movies survived being locked in a shed for years with her young son before pulling off a daring escape, and then for her big encore she played an essential role in saving the world from Thanos.
In real life, she jumps when Ellen DeGeneres sets out to scare her, just like everybody else.
Earlier this year they were examining the Captain Marvel action figures made in Larson's image, one of them featuring Carol Danvers' consequential cat, when DeGeneres innocently asked if Larson had a cat, and out popped a guy in a cat costume from what turned out to be a table with a lid next to her, resulting in a scream from the Oscar winner.
"I hate cats," Larson replied, deadpan.
But it's easy to enjoy anyone who falls for Ellen's pranks in the moment. Larson's effortless off-screen appeal goes far beyond that.
"Maybe I'm being naive, but I don't feel any different," she told Style magazine this year. "I'm happy to be getting all these offers and having the chance to work with very talented people, but when I finish shooting a movie, I still lead the same life. Every morning I take the trash out, and every day I walk my dogs Bowie and Jonathan, and scoop up their droppings off the sidewalk."
She also seems to have a healthy regard for pizza that we couldn't respect more.
Emma McIntyre/Getty Images for Disney
In a culture that's heaping new currency on "relatability," Larson happens to have it in spades, though all the more so because she doesn't seem to be taking pains to make herself look or sound relatable. Rather, she sounds deeply curious about other people, and the efforts to relate are coming from her.
"As I have gotten older and I have had the courage to speak out, I realized that the things that are inside of me, the things I am most afraid of, everyone is and I feel a sense of inner freedom by expressing it," Larson divulged in 2016 for Rolex's The Talks, not long before she became a Best Actress Oscar winner at 26 for her devastating, inspiring performance in Room. "By relating to people like yourself, you can go, 'Yeah. You are also crazy. I felt that, too.'
"What I am looking for in this world is a sense of not feeling alone, and that's one of the greatest gifts you can give to another person. I hope that my work does that. I hope that when people leave the theater they feel less alone."
That was a big ask for a film like the heavy Room, but we get what she means—just as much as we get it when she settles in for Taco Tuesday with myriad options in front of her, looking fully committed to sampling every one, when she considered new underwear an indulgence when the bigger checks started coming in, or when she got emotional watching Wonder Woman in the theater.
At the same time, as her Oscar stock rose and the inevitable comparisons to Jennifer Lawrence–another young star who was hardly a newcomer but who all of a sudden arrived with a flourish—were made, Larson was fully aware of how less normal her world was becoming. (They ended up both nominated for Best Actress in the same year, J.Law's fourth Oscar nomination.)
"I can't help but trip out about how similar my life is to Room," she told The Hollywood Reporter at the time. "It's me wanting to stay in my own little bubble and remain anonymous and invisible and at the same time needing to step up to this hand that I've been given...When you go out and people start taking photos of you on their iPhones, it feels really scary and awkward, so it's easy to say, 'I'm going to stay in, watch movies on Netflix and get my food delivered.' But I've spent a lot of my life doing that, and it's not better."
Or as she described it for The Talks, "I still have moments of doubts and I still get scared and I still wish sometimes that I was back at home with my parents, and they were making lunch and I would go to school and life was simpler…"
But at the same time, "To wake up in the morning and choose this life and make something of it is an incredible thing. Not many living creatures have that option. We have so many opportunities and options—it's a huge burden, but it's also the most freeing part of our lives."
Kelly Lee Barrett/Cinespia
The actress is celebrating her 30th birthday, having already been to the movie mountaintop—and, incidentally, rumors are swirling that she'll be joining yet another legendary cinematic universe, that of Star Wars, fueled in no small part by Larson cheekily posting photos of herself in a Jedi robe (and that she wanted to be Princess Leia growing up).
But after becoming the youngest-ever student at San Francisco's American Conservatory Theater at 6, plying her trade in the sitcom trenches as a kid, releasing an album at 16, and working her way into movies (Scott Pilgrim's rocker ex; indie breakout star in Short Term 12; Amy Schumer's harried, responsible sister in Trainwreck) before commanding her own Marvel franchise, Larson isn't taking any role for granted.
"I used to DJ. It was the 'real' job that floated me while I auditioned for the movies I never got," she shared on Instagram in 2017 when the action-heroine phase of her career got underway with Kong: Skull Island. "Even during the filming of Short Term 12 I spun records at magazine parties and hotel bars on weekends because I couldn't survive off of SAG minimum... I was hustling, but I got people dancing and hung with my other DJ friends. I'm grateful for where I am now, but want to give a toast to the life I lived before. To all the dreamers with day jobs, I see you, don't give up. There is beauty in your journey."
There's also the challenging part. While she lost 15 pounds and avoided sunlight for months to look wan and withdrawn for Room, she trained for nine months to get strong for Captain Marvel. She was eventually able to deadlift 225 pounds and physically move trainer Jason Walsh's Jeep with her body—which now makes the scene in which she tows Tony Stark's powerless spaceship to safety in Avengers: Endgame all the more believable. 
"Breaking that boundary of what it means for a woman to be muscular and strong and own your body and use it as a tool, that felt meaningful," Larson told InStyle this year.
But despite her status as one of the most powerful creatures in the Marvel Universe, Larson's interests still lie at getting at the humanity inside of a person, no matter how superhuman. 
"I've struggled watching films where people dressed well and seemed to have it together, where the worst thing that happened was they fell in front of the guy they liked at their office," Larson told THR in 2016. "I don't relate to that."
Pascal Le Segretain/Getty Images
While she has expanded her cinematic interests, Larson has held fast to her long-held beliefs off-camera, seizing the platform that she first ascended to a few years ago and making the most of it.
A year before the #MeToo movement shook Hollywood, Larson made no concessions to the actor-of-the-hour she kept finding herself—as the previous year's best actress darling—on the same stage with in 2017, Casey Affleck, who had previously been accused of sexual misconduct in a lawsuit. She subsequently was one of the early organizers of Time's Up, Hollywood's effort to vanquish sexual harassment and fight for gender equality in all workplaces, not just TV and movie sets or studio offices.
And in 2018, accepting an award at the Women in Film Crystal + Lucy Awards, she decried the dearth of diversity among film critics, whose job it is to weigh the quality and cultural significance of the arts.
"Am I saying I hate white dudes? No, I am not," she said after noting that she didn't care about a 40-year-old white guy's take on A Wrinkle in Time. "What I am saying is if you make a movie that is a love letter to women of color, there is an insanely low chance a woman of color will have a chance to see your movie and review your movie."
"@BrieLarson is a warrior. Much respect," Ava DuVernay, the film's director, tweeted in response to the actress' comments.
And when dudes on the Internet complained that Captain Marvel wasn't flashing her pearly whites at them enough when the first trailer rolled out, Larson posted posters of male Marvel superheroes with Photoshopped dopey smiles on Instagram Story.
Everyone at least likes to envision that she wouldn't just cave and play ball if given an opportunity to reach countless people with her convictions, and Larson has so far held fast to her moral compass. As her visibility grew to Marvel proportions, her voice only got stronger—and she has already started flexing her power-player muscles, actively involving herself in the strive to get more women at the table in the industry and making her feature directorial debut with the Netflix movie Unicorn Store (streaming now). 
Gareth Cattermole/Getty Images for Disney
"The very nature of this film means that I'm having conversations that I'd like to have about what it means to be a woman," Larson told THR this year on the eve of Captain Marvel's premiere. "What strength looks like, the complexities of the female experience, female representation. It's surprising and cool that my first giant movie I get to be having those kinds of conversations. But that's also why I've waited and been particular about what jobs I do."
Not that she wasn't nervous about taking a part with decades of lore behind it and built-in expectations for longtime fans of the character.
"I was hesitant to even meet," Larson recalled. "I was like, 'I don't think what comes with a movie like that is anything that I can harness and hold. I'm too much of an introvert. I'll just collapse.' …But then they started talking to me about this film, and I was like, 'Drat, this is the culmination of a lot of things I've wanted.'"
And doing multiple surefire blockbusters (despite the accolades, Room only made $15 million and was never in wide release) "was, like, my superpower," she described it to InStyle. "This could be my form of activism: doing a film that can play all over the world and be in more places than I can be physically."  
Not coincidentally, she ended up on TIME's list of the 100 most influential people of 2019.
Now with the weight of global fame on her shoulders, Larson is more loath than ever to soil the opportunity with the sort of headlines that distract from her craft and her larger goals. So, not surprisingly, she keeps a tight lid on her private life, which took a relatable hit earlier this year when she and her longtime partner, musician Alex Greenwald, ended their engagement.
Though they were together for most of this decade, the couple operated largely under the radar until Larson's triumphant 2016 award season, because naturally Greenwald was there supporting her every step of the way and she enthusiastically name-checked him every time someone handed her a statue. Which, for about three months, was often.
"If I loved you less, I might be able to talk about it more," Larson, a big fan of the inspirational-but-not-cheesy-quotation, quoted Jane Austen on Instagram on Jan. 6—maybe pointedly, maybe not, but words to live by all the same.
She is willing to share glimpses at the inner sanctum, though, such as her tendency to carry Rao's marina sauce around with her should she need a better dip for her mozzarella sticks.
"A lot of things about my public persona have changed, in that more people know what my face looks like," Larson told Style, "but all of the intimate details, like my private life, the friends I have, how I take my coffee—that's all the same."
However, she does have more famous friends now, including Emma Stone, Amy Schumer and, for the record, Jennifer Lawrence.
Vivien Killilea/Getty Images
"That [group] saved my life," Larson told Vanity Fair in 2017. "I was able to talk with them about everything that was going on in my life, and it was with people who had been through it before and are also hilarious. That support and acceptance was everything. I was home-schooled, so I didn't have friends that had the same interests as me, and I found it to be absolutely incredible."
Though it's possible she and J.Law share an extra-special connection.
"I met Jen seven years ago at a photo shoot," Larson shared with THR in 2016. "We bonded over the craft service table; we were the only ones eating the doughnuts."