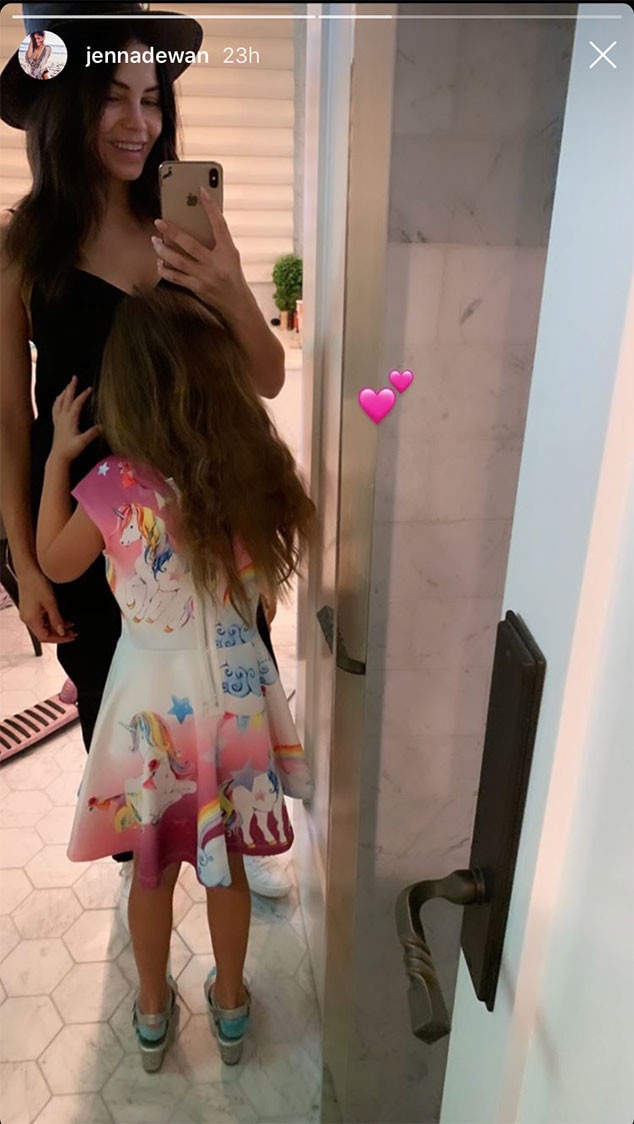 Instagram
Jenna Dewan is going to be a mother of two, and Everly couldn't be more excited!
The actress announced last week that she's expecting her first child with boyfriend, Tony-winner Steve Kazee. Since sharing the happy news, Dewan has been all smiles and happiness on social media, showing how blissful she's feeling to be in this new phase of her life.
And her daughter—6-year-old Everly, whom Dewan shares with Channing Tatum—appears to be super excited to have a younger sibling on the way, based on Dewan's most recent addition to her Instagram story.
The mama gave a bump-date on Sunday, posting a mirror selfie showing off an all-black Hatch jumpsuit, black hat, and white sneakers. The next photo she posted cranked the cuteness up to 1,000, showing Everly giving her mama's bump a hug, seemingly giving the bump a kiss while she's at it. Dewan has a big smile beaming across her face in the photo, which she captioned simply with two pink hearts.
The sweetness of this photo. It's too much.
Someone is excited to be a big sister!
Watch:
Jenna Dewan Is Expecting With Boyfriend Steve Kazee
Dewan and Kazee announced their happy news in a statement to People. "We are beyond overjoyed and couldn't be happier to be expanding our family!" the statement said.
The couple, who has been together since 2018, can't contain their joy now that the news is out.
Dewan posted a sweet photo of her and Everly cuddling in Everly's bed saying, "Becoming a mother is quite simply the absolute best most incredible thing that has ever happened to me." She then sang her praises about her love, Kazee.
"You are a gift from above and I couldn't be more excited to be expanding our family together...! Thank you guys for all the love!!" Dewan wrote.
Kazee's post about the pregnancy news was even more glowing.
"Well...the news is out. I can't even begin to describe the feelings that I have had since we first learned that Jenna was pregnant! I have waited my entire life for this moment and couldn't have found a better person to build a family with," the actor wrote.
We're not crying, you're crying. Congrats to the happy family!