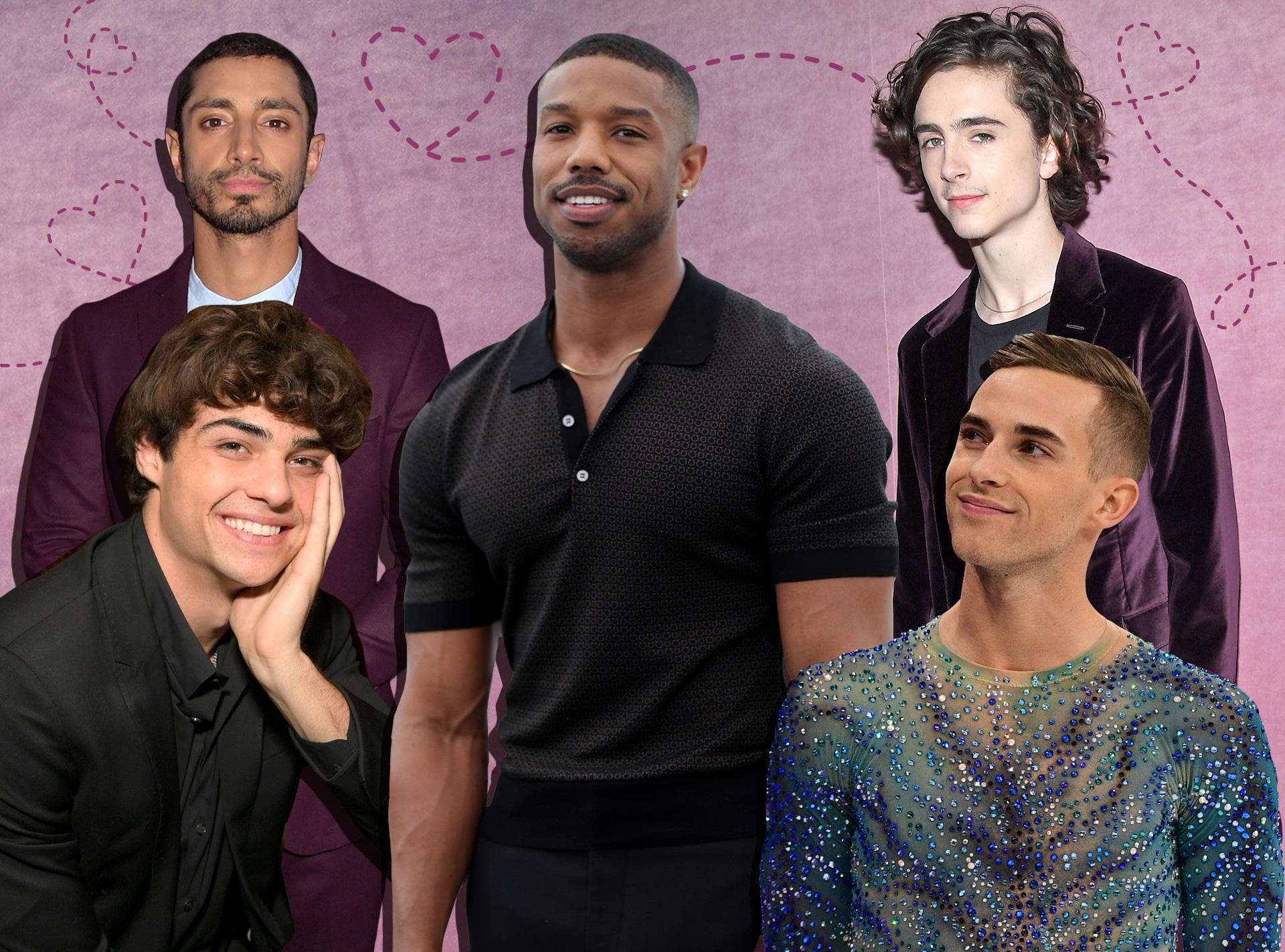 Getty Images; E! Illustration
Just in case you felt there weren't enough holidays offering up the chance to share how #blessed you feel, allow us to introduce you to National Boyfriend Day. 
Some eight months after Valentine's Day, the October 3 smalladay isn't devoted to spreading love (to your work bestie, your family, your squad, whomever) as it is to praising your main male squeeze, likely in a way that's extremely public. (FYI: National Girlfriends Day is August 1.) 
We don't doubt there are a slew of BFs out there that are worthy of a little bragging—we're talking about the ones who never hog the remote, know how to make your favorite dish and are always up for hashing it out, whether that means discussing a potential career change or the latest episode of Killing Eve. But scrolling through a litany of breathless, somewhat cringey Instagram posts (or the equally egregious faux "I can't believe I put up with this dork..." faux put-down) has a way of making the unattached feel real single.
So may we suggest an alternative: Why not take this time to show the appreciation for that other guy in your life? The one whose Instagrams are always worthy of a double-tap, whose musings always leave you replying "yaaaaassss"? The oft-feminist, always attractive, medium- to extremely-famous star who's so fantastic you happily share custody of him with your entire Twitter feed? Yeah, we're talking about your Internet Boyfriend. 
Just because he can't give you a back rub at the end of a long day and will likely never meet your parents, doesn't make your union any less special. (For the record, though, if he could, he would most certainly proffer a firm handshake and a tasteful bouquet of garden roses.) And one could argue that many aspects of the IB relationship trump the real deal. 
Allow us to count the ways. 
Mike Coppola/Getty Images for Turner
1. The relationship happens entirely on your terms. 
Sure, your Internet Boyfriend is likely unaware that you're actually dating (ahem, Keanu Reaves), but that negates the possibility that he'll leave you heartbroken and eating your feelings. Plus, there's no need to feel guilty when the next hot Hulu star with a woke Twitter bio and adorable puppy catches your eye.
Want to play the field? The Internet is your figurative playground. On Monday, you can man crush Timothée Chalamet. Tuesday, rewatch Tom Holland's lip-synched version of Rihanna's "Umbrella" for the fourth (okay, 14th) time and then Netflix and chill with Noah Centineo on Wednesday—or perhaps take a break to hit up your favorite Pilates class, whatever strikes your fancy. 
Which brings us to our next point...
Watch:
Noah Centineo's 10 Most Drool-Worthy Tweets
2. You can do you. 
If you're feeling like you need to focus inward for awhile, whether that means logging extra hours at work, making happy hour a priority or just finally getting around to bingeing Fleabag so you know what all the fuss is about), an IB won't take offense. What you have is so breezy that you can be on a break for months on end with no issue. 
And whenever you feel like checking back in, he'll be there with a gym selfie to quench your perpetual thirst or his latest crusade against Internet trolls. (We see you, Chris Evans.) 
Christopher Polk/Shutterstock
3. Other admirers aren't competition.
Remember in high school when you felt the need to have eyes on your crush at all times, lest he linger too long with someone else in the hallway or, god forbid, accept an invitation to homecoming? There's no need for that nonsense when you're dating the Internet's current obsession. His plethora of other devotees just means there's more people to dig up videos of that time he performed in his hometown watering hole pre-fame or uncover the quotes he's given about what he looks for in a mate. (Someone in touch enough with their feelings to engage in healthy communication that isn't too proud to laugh at his corny Dad jokes. That person could be you.)  
But, unless you're Gigi Hadid or Demi Lovato, you're not really expecting to score a date with The Bachelorette's choicest castoffs, so it's not a huge deal when they start dating someone else. Some of our favorite Internet Boyfriends have graduated to Internet Husbands (see: Ryan Reynolds, Idris Elba), and the bloom is still very much on that rose. 
4. They know just what to say to leave you buzzing. 
Remember, these men are professionals. While an IRL beau may bungle your very obvious send-me-flowers-on-Valentine's Day hints, Centineo (2018's preferred bae) always comes through with a charming GIF and an Instagram caption with just the right level of self-deprecation and earnestness. 
5. In fact, they'll never pierce their flawless façade. 
Real life boyfriends disappoint. No matter how perfect a person might be for you, they aren't, in fact, perfect. They litter floors with their socks, forget to respond to your super funny memes and sometimes take, "I'm fine" as your final answer. But the celebs who are elevated to Internet Boyfriend status would never. 
Okay, maybe they would, but we can all pretend otherwise. Because we've got Michael B. Jordan coming through with impossibly endearing praise for his mama and Riz Ahmed perfecting his soul-piercing gaze and somewhere out there Shawn Mendes is likely putting the finishing touches on a new release. And chances are you'll never get close enough to any of them to learn about their penchant for putting the near-empty almond milk container back in the fridge. 
Plus, if all else fails...
6. There's always a new obsession right around the corner.
Before the phenomenon that was Crazy Rich Asians, most fans didn't realize Henry Golding existed and there was a time when Jonathan Van Ness was just an exceptionally delightful hair stylist. Our Internet Boyfriend relationships are constantly in flux. We mourned when Benedict Cumberbatch announced his engagement only to quickly adopt Oscar Isaac (now married himself), Tom Hiddleston and a slew of other choice mates. 
"The Internet never struck me as being into monogamous relationships," Isaac joked with Rolling Stone in 2016 in response to his fiercely devoted fan base. "It's very promiscuous, the Internet."
That it is. So, by all means, live it up. Double-tap that thirst trap, rewatch your man's entire canon of work and proclaim your committed relationship status, but keep in mind that your next all-encompassing crush may have just signed his first Netflix deal.