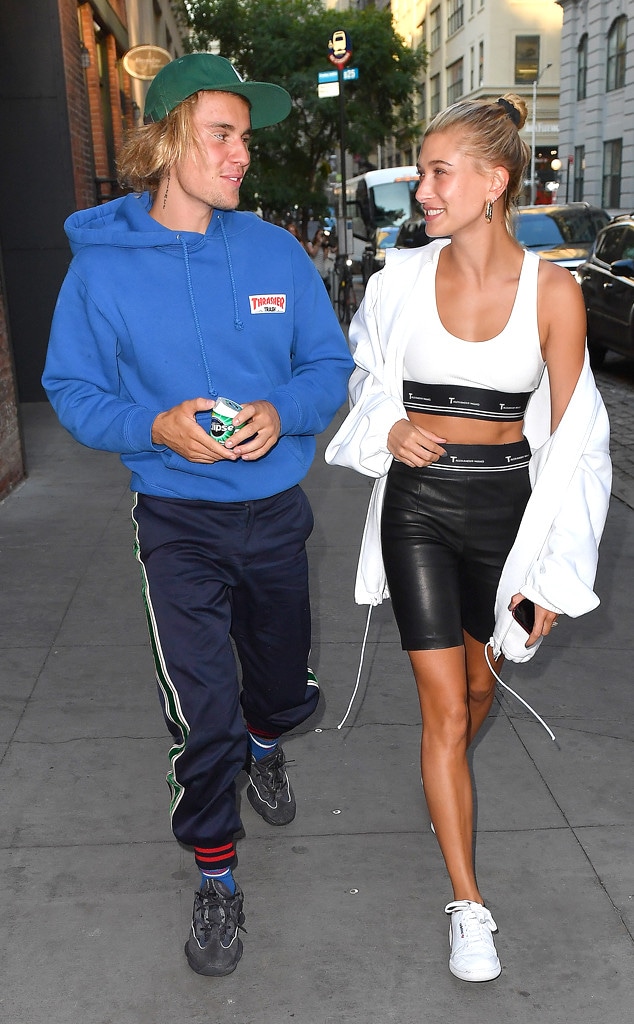 Splash News
The Biebers are getting married... again!
Justin Bieber and Hailey Bieber are just hours away from tying the knot, and the Biebs is celebrating with some nostalgic Instagram posts. Over the weekend, Justin posted a throwback photo of him and Hailey that nearly broke the internet, and now, he's back at it again, this time with a photo of him, Hailey, and their parents.
Justin's first throwback came on Saturday, when he shared a shot of him and his future wife as young teens—presumably the night they met, based on his caption. "My wife and I :) where it all began," he wrote.
On Monday morning⁠—you know, the morning of their wedding day⁠—Justin posted another photo from the same night, this time with Hailey's parents, Stephen Baldwin and Kennya Baldwin, and his mother, Pattie Mallette. He drew pink hearts around his and Hailey's heads to keep things cute.
In his caption, he thanked his in-laws for approving of their marriage, calling himself a "savage." "Me and the wife! and the in laws !! Thanks for lettin ur daughter marry a savage like me," he said.
The caption made at least one person laugh. Hailey's older sister, Alaia Baldwin, commented on Justin's post saying "lol."
Fans of the couple gushed over the photo in the comments section.
"MY BABIES OMG I'M SO HAPPY," one fan said.
"We stan the most adorable couple #jailey forever," another wrote.
Posting on Instagram wasn't the only thing Justin was doing this weekend. On Sunday night, the famous couple hosted their rehearsal dinner at the Montage in Palmetto Bluffs hotel in South Carolina, and the event had a star-studded guest list. Good pals Kendall Jenner, Scooter Braun, and Joan Smalls were all there, as well as Kenny Hamilton, Kyle Massey, Laura and Carl Lentz, Karla Welch, and Justine Skye, just to name a few.
A source told E! the dinner was full of glamour. "Guests arrived by boat to the rehearsal dinner on the Palmetto property. There were several water taxis that took guests over around 6:30 p.m.," they said.
"The dinner was on the edge of the water and was outdoors. There were many string lights hanging and lit candles. Everyone was seated at long tables and the décor was very chic and white," the source continued. "There were waiters standing greeting guests with champagne as they arrived."
Hailey and Justin arrived fashionably late, opting to delay their arrival until all of their guests had the opportunity to settle in, the source dished. And the couple couldn't hide their joy once they arrived.
"Everyone cheered for them and they looked really happy to see everyone," the source shared. "Hailey and Justin both could not stop smiling."
Congratulations to this couple of savages!