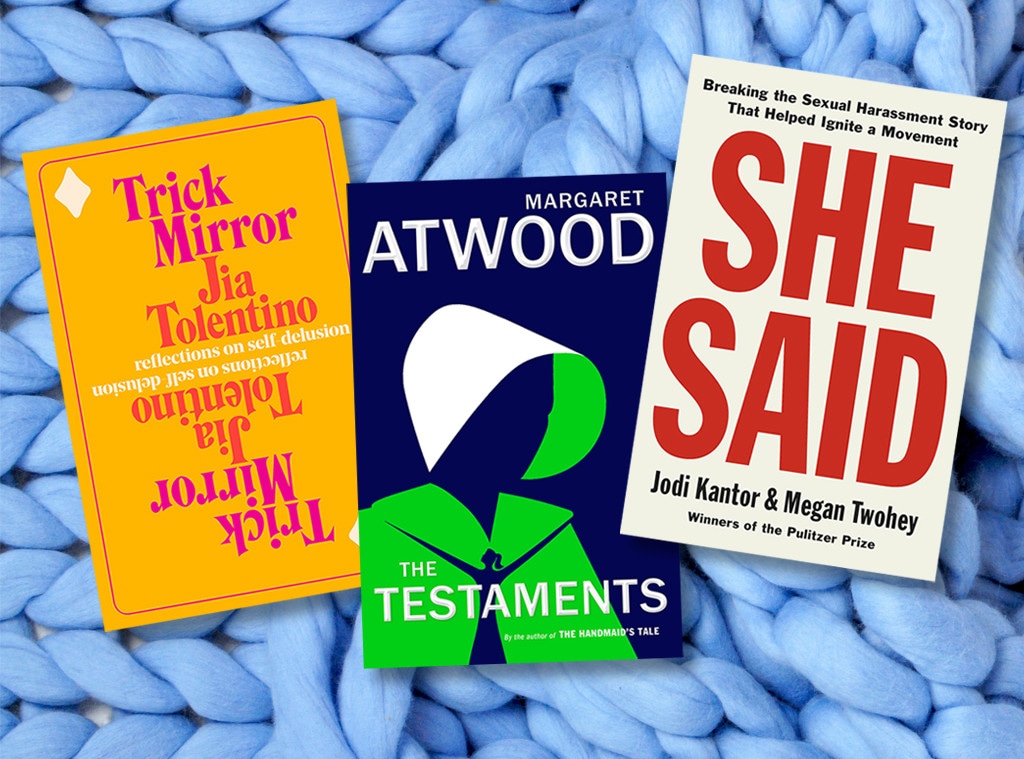 We love these products, and we hope you do too. E! has affiliate relationships, so we may get a small share of the revenue from your purchases. Items are sold by the retailer, not E!.
Picture this: you kick off your clackers after a long day in the office and slip into your sweats and Uggs. You pour yourself a large glass of red wine and snuggle up on your sofa for a date night in with yourself. Rather than channel surf for a few hours while you wait for your take out to arrive, you opt for some brain food instead and turn to your bookcase for inspiration. Only problem? No new book recommendations! Don't worry, we got you covered.
There's nothing more comforting than cozying up to a fantastic book after a long day in the office. And this season, you have no excuse for not having a great read on you at all times. With a wide range of new and exciting titles—from Margaret Atwood to Jodi Kantor—there's definitely a world of contemporary stories and characters for you to get lost in this fall.
Here are 15 of our must-read book picks to get your cozy on this autumn.
Trick Mirror: Reflections on Self-Delusion by Jia Tolentino
Trick Mirror is an enlightening, unforgettable trip through the river of self-delusion that surges just beneath the surface of our lives. This is a book about the incentives that shape us, and about how hard it is to see ourselves clearly through a culture that revolves around the self. 
How to Do Nothing: Resisting the Attention Economy by Jenny Odell
A galvanizing critique of the forces vying for our attention—and our personal information—that redefines what we think of as productivity, reconnects us with the environment, and reveals all that we've been too distracted to see about ourselves and our world.
On Earth We're Briefly Gorgeous by Ocean Vuong
On Earth We're Briefly Gorgeous is a letter from a son to a mother who cannot read. Written when the speaker, Little Dog, is in his late twenties, the letter unearths a family's history that began before he was born — a history whose epicenter is rooted in Vietnam — and serves as a doorway into parts of his life his mother has never known, all of it leading to an unforgettable revelation.
Gun Island by Amitav Ghosh
Amitav Ghosh's Gun Island is a beautifully realized novel that effortlessly spans space and time. It is the story of a world on the brink, of increasing displacement and unstoppable transition. But it is also a story of hope, of a man whose faith in the world and the future is restored by two remarkable women.
Out of Darkness, Shining Light by Petina Gappah
Petina Gappah's novel is about exploration and adventure in nineteenth-century Africa—the captivating story of the loyal men and women who carried explorer and missionary Dr. Livingstone's body, his papers and maps, fifteen hundred miles across the continent of Africa, so his remains could be returned home to England and his work preserved there.
In the House in the Dark of the Woods by Laird Hunt
In this disorienting horror story, a young woman sets off to pick berries in the depths of the forest, but can't find her way home again. Or perhaps she has fled or abandoned her family. Or perhaps she's been kidnapped, and set loose to wander in the dense woods of the north. Alone and possibly lost, she meets another woman who offers her help. Then everything changes. On a journey that will take her through dark woods full of almost-human wolves, through a deep well wet with the screams of men, and on a living ship made of human bones, our heroine may find that the evil she flees has been inside her all along.
Supermarket by Bobby Hall
Flynn is stuck—depressed, recently dumped, and living at his mom's house. The supermarket was supposed to change all that. An ordinary job and a steady check. Arriving to work one day to a crime scene, Flynn's world collapses as the secrets of his tortured mind are revealed. And Flynn doesn't want to go looking for answers at the supermarket. Because something there seems to be looking for him. A darkly funny psychological thriller, Supermarket is a gripping exploration into madness and creativity.
Circe by Madeline Miller
In the house of Helios, god of the sun and mightiest of the Titans, a daughter is born. But Circe is a strange child--not powerful, like her father, nor viciously alluring like her mother. Turning to the world of mortals for companionship, she discovers that she does possess power--the power of witchcraft, which can transform rivals into monsters and menace the gods themselves. A bold and subversive retelling of the goddess's story, this #1 New York Times bestseller is both epic and intimate in its scope, recasting the most infamous female figure from the Odyssey as a hero in her own right.
Once Upon a River by Diane Sutterfield
Once Upon a River is a glorious tapestry of a book that combines folklore and science, magic and myth. Suspenseful, romantic, and richly atmospheric, this is "a beguiling tale, full of twists and turns like the river at its heart, and just as rich and intriguing.