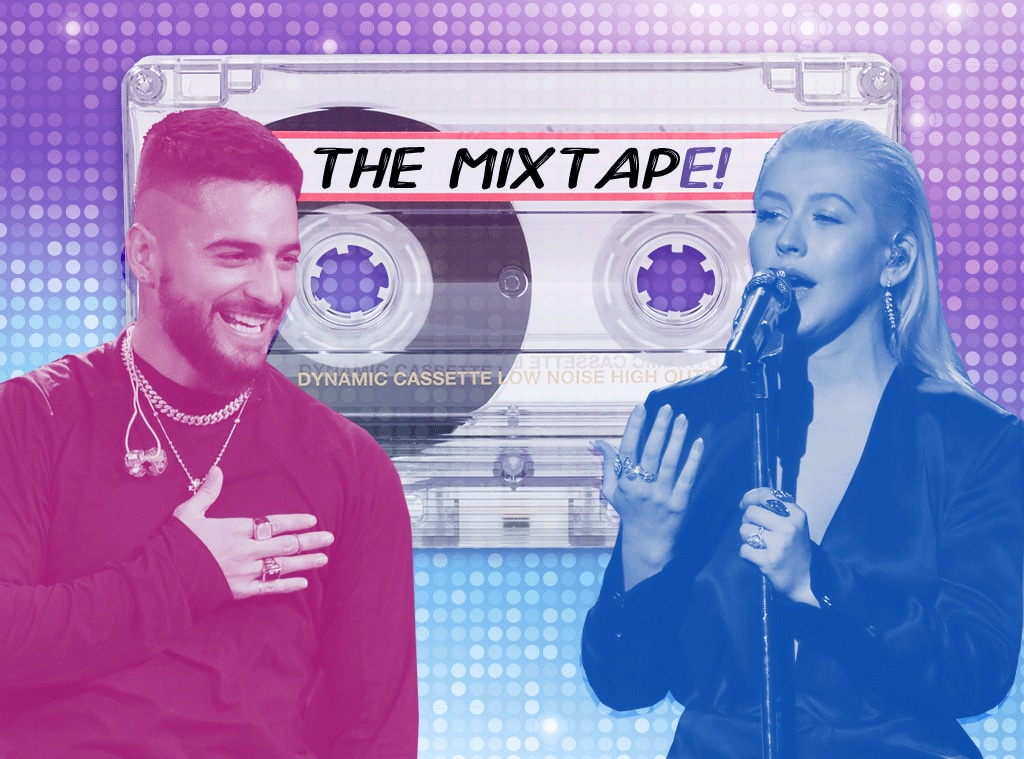 Shutterstock/E! Illustration
New music Fridays are a thrilling, yet daunting prospect for any music lover. 
It's essentially a weekly holiday where fan-favorite artists and fresh faces alike drop their latest offerings for all the world to hear, flooding streaming services and digital retailers with an onslaught of aural goodies. But who has the time to sit there and listen to everything before updating their playlists? There's just too much good stuff! (And, if we're being honest, usually a few stinkers, too.)
As it turns out, we do. Welcome to The MixtapE!
Look, like you, we were expecting this week's New Music Friday to be dominated with talk of Kanye West's Jesus Is King. After reports surfaced earlier this week that the album teased last month by wife Kim Kardashian to be released on September 27 wouldn't be dropping after all, we've seen no sign of the new material from Yeezy. So, it looks like we'll all be waiting a little longer.
There's still plenty of new stuff to dive into, though. By now, you've probably given "Lonely," Diplo's country-fried team-up with the Jonas Brothers, a spin and checked out BTS star J-Hope's collab with Becky G (one of our 15 female Latin pop stars you need to know now) on a remix of "Chicken Noodle Soup," but there's tons of other stuff out there just waiting to be discovered, too. These are our picks for the 10 best. You're welcome.
Maluma and J Balvin — "Qué Pena"
Colombia's two biggest superstars teaming up for their first original song together is a big deal. Luckily, the sexy mid-tempo reggaeton track, whose title translates to "What a Pity," is also a fantastic song, too. And seeing the two legends spoofing each other's social media presence in the beginning of the excellent, Colin Tilley-directed video? Priceless.
Christina Aguilera — "Haunted Heart"
Xtina's contribution to the upcoming animated adaptation of The Addams Family's soundtrack has arrived—and just in time for spooky season to begin. Over a jazzy instrumental, the iconic songstress warns a lover, "My heart is a haunted house. Once you're in, you ain't getting out. It's the trap you've been waiting for. Ain't no windows, ain't no doors. No escaping the way you feel." She serves up some serious vocals on the bop, giving us some serious Back to Basics vibes. (That's a very good thing, trust us.) One listen and you'll find yourself under her spell.
Dove Cameron — "Bloodshot"
After showing off her musical chops as Mal in Disney Channel's musical film franchise Descendants, Dove officially kickstarts a pop music career with the dual release of singles "Waste" and "Bloodshot." While both tracks are great, it's the latter, with its woozy synths and haunted vocal, that stands out as our favorite.  "My friends say I'm losing my mind and my parents check in all the time," she announces in the chorus, singing to an ex she can't quite get over, "but it's harder to see you're not mine with my bloodshot eyes."
Noah Cyrus —"Lonely"
Our favorite of the two tracks called "Lonely" released this week—sorry, JoBros!—this track finds Miley's kid sister turning in a nakedly honest vocal backed by nothing but a piano and the well-timed echoes of a gospel choir. "I'm Slowly killin' myself/I'm trying so hard, at the back of the shelf/It's just the same everyday/I'm writtin' these songs that'll never get played," she sings in the brutally honest first verse. "I get told what's wrong and what's right/I don't have a romantic life/And everyone's dying/So I keep on trying to make them proud before they're gone." Oof.
SHAED x ZAYN — "Trampoline"
We already had a hard enough time getting this song out of our head in its original form thanks to its presence in that commercial for the MacBook Air last year, but now that the former One Director member has added his silky vocals to the electro-pop trio's track for this remix, slipping into all the original's open spaces in a way that deftly avoids pulling focus, we fear the earworm will be permanently lodged in there. But, honestly, we don't really mind.
Carly Pearce feat. Lee Brice — "I Hope You're Happy Now"
In advance of her forthcoming second studio album, one of country music's fresher faces teams with the genre's seasoned pros for this track, a meloncholic little number about the messiness of a break-up that finds Carly wishing the heart she broke well and Lee assuming the role of the fella she dumped. "Go run my name into the ground/Tell everyone you know just how/How I slammed the door on our forever," she tells him. "But I promise you it's for the better."
Zedd & Kehlani — "Good Thing"
We wondered just how well dance music's prince and the high priestess of R&B would play together when we first heard about this track. Well, we're happy to report that Kehlani's R&B sensibilities are front and center, elevating Zedd's production to uncharted, but not unwelcome territory. A good thing indeed.
Tei Shi feat. Blood Orange — "Even If It Hurts"
To announce her forthcoming second studio album La Linda, due November 15, the Canadian-Colombian artist born Valerie Teicher taps frequent collaborator Blood Orange (aka Devante Hynes) for this stunning alt-R&B track that proves yet again they are two of the most exciting voices currently in that space. Let this one's hazy wonders wash over you. We promise it won't hurt one bit.
Kristin Chenoweth feat. Ariana Grande — "You Don't Own Me"
Oh, you want vocals this New Music Friday? We've got your vocals right here, served up on a big fat platter by the Broadway legend and the pop princess who trade verses on this cover of Lesley Gore's 1960s classic, off Kristin's new album For the Girls. No further explanation needed.
Kito feat. Empress Of — "Wild Girl"
After releasing two albums of her own—"I Don't Even Smoke Weed" off 2018's Us is a real favorite—and landing features with Khalid and MØ, L.A.-based vocalist Empress Of (real name Lorely Rodriguez) teams up on this new single from up-and-coming producer Kito. It's a distorted little delight that'll take you right to the dance floor.