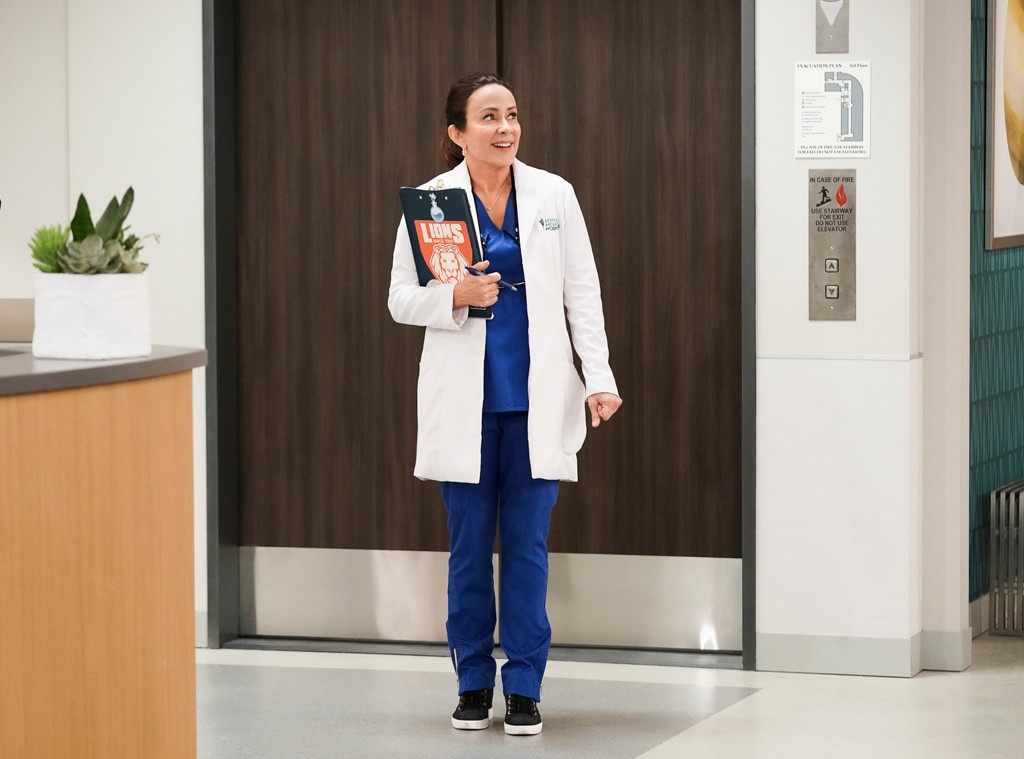 CBS
It might be Carol's Second Act, but in many ways, it's the third act for Patricia Heaton and she's relishing her time to finally shine as the star.
Heaton, one of the most recognizable sitcom faces thanks to her roles on long-running shows Everybody Loves Raymond and The Middle, is the lead in the new CBS comedy about Carol, a divorced mom who retires from teacher and heads to medical school. In the first episode, Heaton's first appearance on the show is met with great applause from the studio audience.
"It's great. I remember many years on Raymond, watching Ray come out and do the intro to the audience. And then I did a short-lived show with Kelsey Grammer called Back to You, and Kelsey would be the one coming out and sort of welcoming the audience. It's actually—I'm a little embarrassed to say it's thrilling to be that person to do that, because we really are trying to create something that we really want everyone to love, and we want them to laugh, and we want to make them feel good about life and humanity. And so, it's fun to be able to be the emcee for that," Heaton said at the 2019 Television Critics Association summer press tour.
Heaton came on board Carol's Second Act after the end of The Middle. She developed the project with Sarah Haskins and Emily Halpern and serves as an executive producer on the hospital-set comedy.
"What was so wonderful, and not sounding too hokey, is that as Carol brings her expertise and her experience and her talent to the hospital universe, Patty has brought her experience and her comedy to us and has made this show, inhabited this character and brought her to life in ways that have been so delightful to see. And it was just magical on the pilot, the first day we shot, to see Patty come out and read our lines and make them much funnier than they were before, which was the intention, but it even went beyond that, and it was just really wonderful to have her involved in all aspects," Haskins said.
"We think this show can be inspirational, aspirational. We hope it will be empowering, and we really want to celebrate the idea that a person can start over at any time and also add value to a field at any age," Halpern added.
For Heaton, the timing to truly be the show's star couldn't have been better. Heaton said her kids are pretty much out of the house and she had been out of work on The Middle for about a year, so she was starting to feel the same itch Carol does. But why can't she just sit back, relax and enjoy the residuals?
"I've been working since I was about 16. I started at a department store in high school, because I never wanted to have to ask anybody for money. I wanted to be able to make my own decisions about what I want. And I value that independence. So, I've been used to working for a really long time. So that's part of it. I just got back. I was in Montana for three weeks. I can only take so much leisure before I start getting really antsy and I have to get back to work. I think it's an internal thing that you're born with. You want to go out and challenge yourself and put yourself in scary positions to see if you can do it. I just think it's my nature," Heaton explained.
And if the executive producers have their way, Heaton will be working on Carol's Second Act for quite some time.
"I think my perfect scenario, as I see death getting nearer and nearer to me, is that I would die on a sound stage. That's how I want to go," Heaton joked. "Full hair and makeup when it happens so that the photos are good. Then as long as I'm No. 1 on the call sheet when it happens, so I get top billing in the news article!"
Carol's Second Act premieres Thursday, Sept. 26 at 9:30 p.m. on CBS.