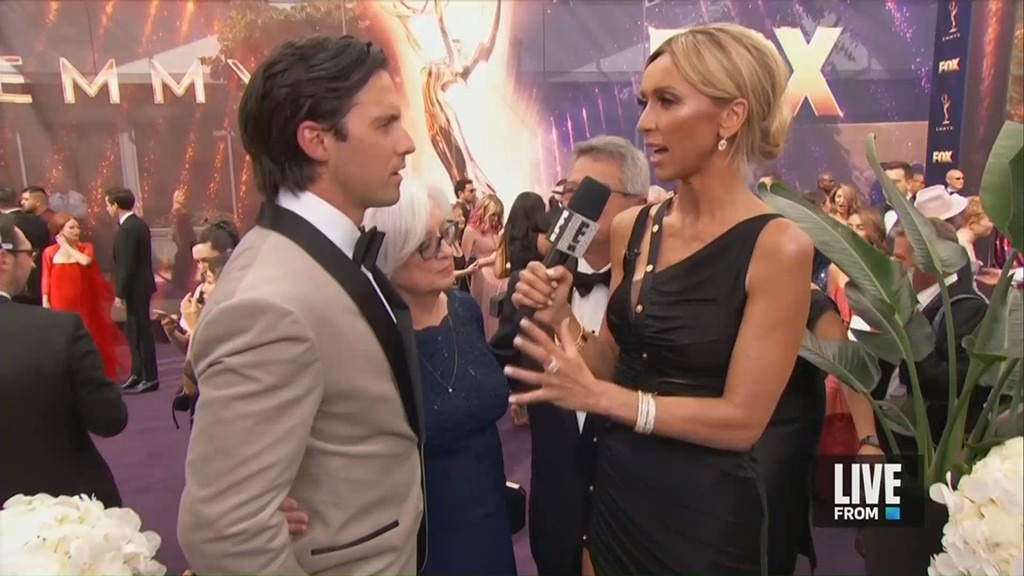 E!
Everything has changed, because the Taylor Swift doppelgänger from the 2019 Emmys has been revealed.
On Sunday night, fans of the Grammy winner could not calm down when they spotted what appeared to be their fave singer on the red carpet at the ceremony. While watching E!'s Live From the Red Carpet interview with Giuliana Rancic and Milo Ventimiglia, eagle-eyed viewers noticed a blonde woman with pink tips in her hair, standing in the background.
As many T.Swift fans will know, the superstar has been rocking pink hair during her Lover era, which is why they made the connection. Alas, it was not Swift at the ceremony, it was actually a Los Angeles singer-songwriter named Eve Coffman.
"Hi I'm the @taylorswift13 everyone's seeing at the Emmys lol," Coffman, who is a Swiftie, wrote on Twitter Tuesday, revealing her identity to the world.
Along with the tweet, Coffman shared a photo of herself in her Emmys attire.
"I even said myself when I was getting ready I was like, 'Wow, I really look like Taylor Swift,' because I know she dyed her hair pink for the Lover album, and I mean I'm a huge fan, so it's super cool to be compared to her at all," Coffman tells Elle.com, while also sharing that her pretty pink dress is from Anthropologie.
Watch:
Milo Ventimiglia Brings Mom & Dad to the 2019 Emmys
It turns out, Coffman actually attended the event with her mom, Jodi Delaney, the executive director of the Television Academy Foundation.
As for all of the attention she's been receiving, Coffman doesn't really know what to make of it.
"I feel very humbled. I've been mistaken for her before, so this was crazy," she shares with the outlet. "I was reaching out to some—I know that there were fan pages that were posting about her on Twitter, so I reached out to a couple of them, and all of a sudden, I posted a picture of myself on Twitter, and a bunch of people have been liking it. I think it's up to 600 likes now. I don't know, it feels like a lot, but it's exciting, I guess. It's just really cool. I really love Taylor Swift, and I'm a singer/songwriter myself, so it's just a weird coincidence."
Take a look at the E! News video above to see if you can spot Coffman!