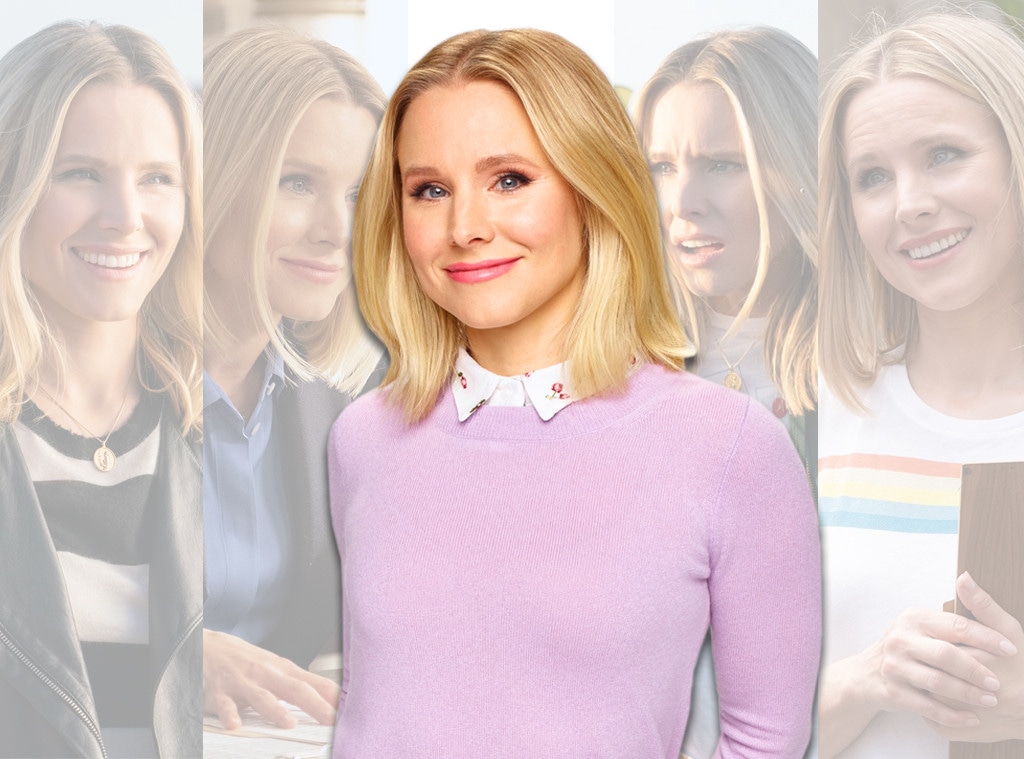 Hulu, NBC
Kristen Bell once told me, "I have no big plans for what I'm going to do with my career," but after finding herself at a crossroads having finished work on the acclaimed NBC comedy The Good Place and reviving Veronica Mars, she knows exactly what she's doing next: Taking a break.
"Yeah, I think what's next, truly for me though, is taking a minute for my family. That's been a very difficult decision and I've only made it over the past two weeks because I was going to do a show and now, I've decided not to," Bell said in August.
And it's a well-deserved break. Over the last few years, Bell was busy. Among other things, she shot Veronica Mars and The Good Place, voiced an animated series for Apple TV+, worked on Frozen 2, executive produced and hosted the upcoming Disney+ series Encore! and produced an animated series for Amazon.
"I have a bunch of other things and it just takes an enormous amount of hours and an enormous amount of focus, and I would like to have the next couple of months to get my kids back on track for school and really just live in my own body for a minute, just for a couple of months," Bell said. "I'm not quitting or anything…I like being an actress, I love being Kristen and I'm going to rediscover that this fall."
The Golden Globe nominee was curled up on a couch at The Beverly Hilton in Los Angeles after speaking to press on a panel for the final season of The Good Place during the 2019 Television Critics Association press tour. The emotional toll of saying goodbye to the series evident.
"I'm going to be processing it for a while. Also, because when I think about it, when people are like, 'The ending' and 'Why?' I start to recall what the ending means and what the plot points are and what the message is, and it is—," Bell paused, her eyes welling up. "It might be the most beautiful thing I've ever been a part of."
The Good Place started out as a conversation about what it means to be a good person, but evolved over time as creator Michael Schur realized just how complicated the topic was. "At the end of the day, I think that objective kind of shifted a little bit, because what we found, as we discussed it and wrote it and executed it, is that some very, very smart people over the last, say, 3,000 years have had a lot of very different opinions about that question… At the beginning I pitched it as 'what it means to be a good person,' and at the end, I think I would describe this as a show that makes the argument that we all ought to try harder than we are. And as long as you're trying, you're on the right path," Schur said on stage at TCA.
Bell said the end of the series, which airs Thursdays on NBC, is "a little bit of tough love" and "it's absolutely poignant and beautiful and will make you think." Needless to say, she's satisfied with the ending. In fact, Bell said she's "more satisfied than I thought I would be."
"[Mike Schur] didn't just end our story, he completed an idea and that is so rare. Especially being a part of Veronica Mars and other shows, which have endings that some people like and some people don't. I don't think…anyone will not like this because it's true. He wrote down some real truths," she said.
For four years, Bell played Eleanor Shellstrop, a woman who, well, didn't live her best life. After dying, she found herself in the Good Place, but quickly realized it was a mistake, she really belonged in the Bad Place. Eventually, Eleanor figured out what she thought was the Good Place was actually a torture experiment, she had been in the Bad Place the whole time. As the show's plot evolved, so did Eleanor in a truly surprising and satisfying character arc that's rarely seen on network TV.
"It was such an honor to show the power of change and what it could do to someone. And, it was especially satisfying for me, for Mike to have written her the same girl who makes different choices," Bell said. "Eleanor still calls everyone babe and dude and will still give you sh—t and will still make fun of you once in a while, but her intent has changed. What she needs out of life has changed because she has formed emotional bonds with people. And Mike talks about, in this whole series, the importance of connecting with other people, why that's valuable. And Eleanor didn't have it prior to season one. Now she has it, and it changed her. And you're right, you don't usually get that big of an arc as an actor and I love it. I love that she didn't lose herself, I love that she's still who she is. She's trained herself to make better choices, she's trained herself to try."
Playing Eleanor and experiencing her growth has left its mark on Bell.
"I mean, Eleanor's comments are usually like a tickertape of what's happening in my brain, some sort of snarky comment, but I think the really big lesson I've pulled from her is that no matter how far gone you think you are, you can always try…And also, it doesn't matter if you're perfect, it matters if you try. That's what I take from Eleanor for sure," she said.
In the final season, Eleanor is no longer the subject of an afterlife experiment, she's leading one…and her failure could doom humans to an eternity of torment. No pressure! Even though Eleanor may be grappling with the heavy consequences of failure, Bell had a lot fun playing a character confronting the "ultimate challenge."
"Eleanor's always been opinionated and a bit bossy, and this season posed the question of saying, 'OK, you think you're bossy? Prove it. Step up when we need you.' Don't call out, 'Run faster from the sidelines,' anymore. That's a very cool thing to play as an actor. And, yeah, I think she does her best this season. I think it was a very cool place to put her, asking her if she'll finally lead 'cause there was no one else who could do it," Bell said.
Michael Desmond/Hulu/Kobal/Shutterstock
Ahead of completing work on The Good Place, Bell paid tribute to her past and the show that launched her career with Hulu's Veronica Mars revival. This time around, Bell not only starred in the series, she also executive produced. She said it's a "phenomenal feeling" to have brought the show that started it all back as she wrapped up the comedy that helped redefine her career.
"It's very strange. I feel very lucky. I don't think it happens all too often that you get to be deeply respectful to the thing that started you like I have gotten to be towards Veronica Mars. Coming back and doing it felt so lovely because I have a profound amount of respect for that show, that character, that creator, those producers, they helped me. Coming back to do it again wasn't just exciting as an actor, it was a way to say thank you."
The series and its titular hero are now back out there, lingering on the periphery, ready for when Hulu, series creator Rob Thomas and Bell can bring her back for another go. Bell said "heck yeah" it's comforting knowing Veronica Mars is out there. "It's all dependent on audience, obviously, but yes, it feels wonderful," she said.
As Veronica Mars stands ready for another season, Bell's in the final stages of saying goodbye to The Good Place. One of the hardest things for her to say goodbye to? The people and the bonds they developed.
"I don't just mean the cast, it truly is the coolest crew to work with, and that is for one very specific reason and that is because Mike Schur empowers people. I've been in a lot of communities that support one another, but I've never seen the level of empowerment that he hands out, he throws at people and it makes people feel safe and it makes them feel comfortable and it makes them want to work harder and it makes them grow and it makes them move up in their career. And it's stunning and something I want to take to other shows, how to truly empower people. He taught me that. Yes, we've all been saying goodbye for the last year, so it's been a lot of grateful moments. It feels a little bit like the last month before you take your kid to college, I imagine, where you're savoring every moment, but you know you have to let them go for them to do good in the world, for everything to be right and just so, you know you have to let them go, but you're also savoring every single moment," Bell said.
The Good Place airs Thursdays, 9 p.m. on NBC.
(E! and NBC are both part of the NBCUniversal family.)