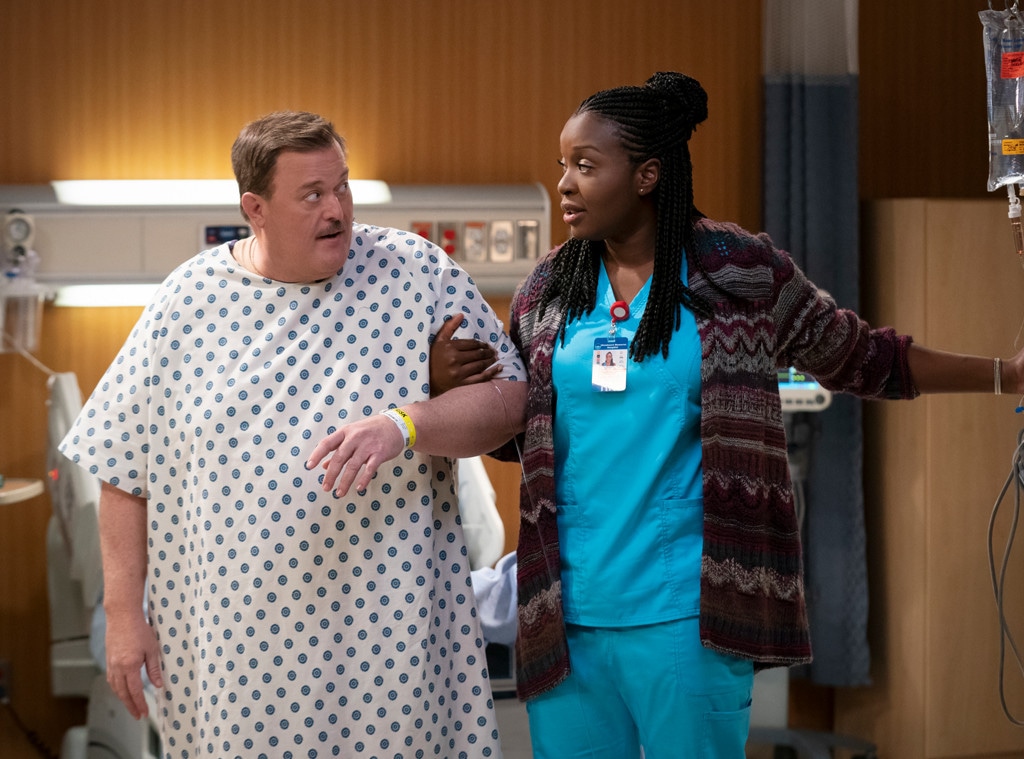 CBS
Fall is officially here, and so is Fall TV, and the networks kicked it off with a bang of four new shows at once! 
We want to know what you thought of each of the new series, so below you'll have the chance to share your 
First, at 8:30, CBS debuted Bob Hearts Abishola, a new comedy from Chuck Lorre about a 50 year-old compression sock salesman (Billy Gardell) who has a heart attack and then falls in love with his no-nonsense cardio nurse, a Nigerian immigrant named Abishola (Folake Olowofoyeku), who isn't totally immune to his charms (or his socks). The show is extremely recognizable as a Chuck Lorre sitcom, but it's also something brand new and completely unlike any other show on TV right now. 
At 9 p.m., CBS debuted its new legal drama, and Fox premiered serial killer series Prodigal Son. 
All Rise stars Simone Missick as a new judge in a chaotic Los Angeles courtroom, joined by a cast of somewhat quirky law-related characters played by Wilson Bethel, Jessica Camacho, Marg Helgenberger, Ruthie Ann Miles, Lindsay Mendez, and J. Alex Brinson. 
It's a little bit goofier than a typical law drama and makes for a pretty fun, colorful, and occasionally emotional ensemble drama, with a delightful Missick at the center. 
Fox's serial killer drama Prodigal Son goes in a bit of a different direction. Michael Sheen stars as Dr. Martin Whitly, a convicted serial killer who's locked up, but still occasionally helping catch other serial killers by way of his son Malcolm Bright (Tom Payne), a brilliant profiler who's definitely suffering from PTSD after learning who his father really was. Bellamy Young is absolutely fantastic as Jessica Whitly, Martin's ex-wife and Malcolm's mother, and it's just the kind of drama you might desire from a serial killer TV show starring two of TV's greatest actors. Keiko Agena is also on hand as a medical examiner and she is always delightful, even when surrounded by the work of serial killers. 
At 10 p.m., NBC debuted its own new legal drama, Bluff City Law, starring Jimmy Smits as Elijah Strait and Caitlin McGee as Elijah's daughter, Sydney. They're both somewhat ruthless lawyers who used to work at the same firm, until they had a falling out that related to him cheating, and then her mom died, and now they work at the same firm again. The backstory's murky, but Caitlin McGee is a star and Smits is always fun. 
Barry Sloane, Michael Luwoye, Jayne Atkinson, Stony Blyden, MaameYaa Boafo, and Mo Gallini also star. 
Share your opinions by voting below for all of the shows above! 
New Fall Shows 2019: Night 1
E! and NBC are both part of the NBC Universal family.