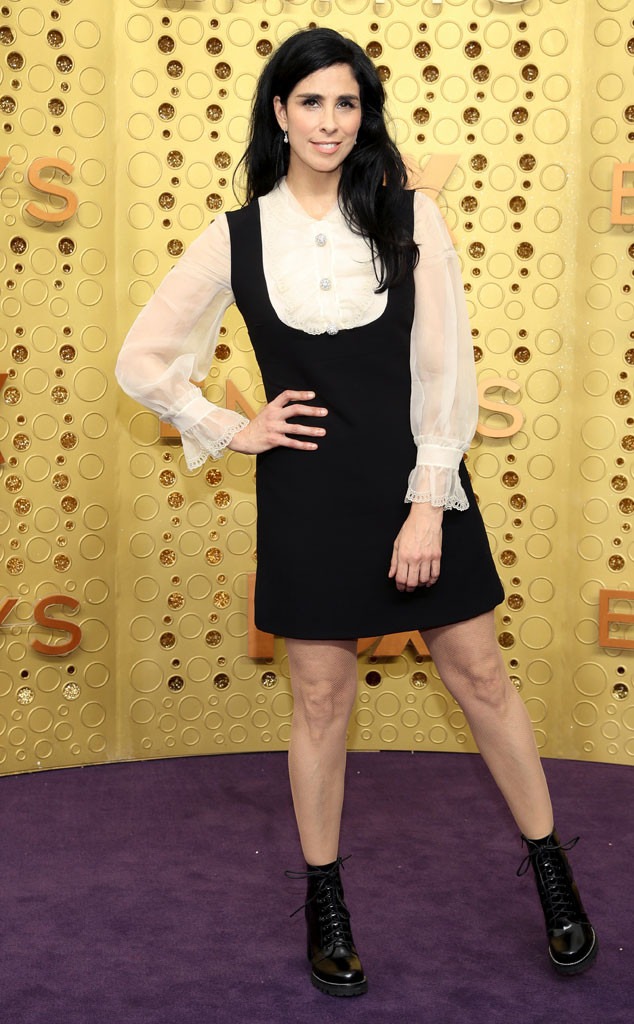 Christopher Polk/Variety/Shutterstock
Sarah Silverman sounded concerned more than anything that there won't be a comedian hosting the 2019 Emmys tonight.
Not that she wanted to do it, no sir.
"They cut us off at the knees," she lamented to Jason Kennedy on E! Live From the Red Carpet. "There isn't even a host anymore at these shows, they don't want comedians to talk."
The TV Academy did indeed take a cue from the Oscars this year in choosing to skip having a host altogether, since it ended up working out for the movies' biggest night.
Because, after all, aren't they all just there to celebrate the best shows of the year?
Which, of course, Silverman also had an opinion about...
Silverman, a nominee in the Outstanding Variety Sketch Series for I Love You, America With Sarah Silverman, which enjoyed two seasons on Hulu, spent some devoted Twitter time singing the praises of pal Sacha Baron Cohen's culturally poignant Who Is America? this year—not realizing, she said, that they might end up vying for the same Emmy.
"Of course I'd love to win," she told Kennedy. 
"First of all, I didn't know that we were eligible," Silverman explained, "so I was just going, like, 'Sacha!'" "He's my brother and all that aside, knowing him personally aside, I just thought that show was so brilliant, so important, so funny, and I just don't understand why—think about it—why wasn't he nominated for best actor? That's high-wire acting like you've never seen in your life."
She added, "They never consider comedy acting."
(Well, they do, they have several categories for it, but that's a chat for another night. Best of luck to all the nominees in the meantime.)